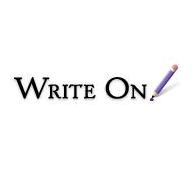 Post your March Goals on Write On Online and weekly goals on Facebook (a new goal-thread starts every Monday) to be entered in a drawing to win a book from Michael Wiese Productions. Btw, you can find some awesome ebooks at the lowest prices at my Write On Online MWP Affiliate bookstore.
Check out Write On Online's #GoalChat Twitter Chat on Sundays at 7pm PT/10pm ET. Share wins, tweet your goals, and chime in on each week's special topic. Go to TweetChat.com and follow the hashtag. Learn more about #GoalChat, read the recaps, and follow @GoalChat and  @WriteOnOnline on Twitter.
Whether or not you live in LA, join the Write On Online Facebook Group for writers, creatives, and entrepreneurs. Chime in on the threads, share your links, and more. Plus, keep an eye on the Write On Online Facebook Page for my spontaneous videos.
Upcoming Events
March 14: Join a trifecta of Branding Experts – Janet Gervers, Yvonne Larson, and Rachel Klewicki – to get your tips, tools, and techniques to align your branding with the message that you intend to present to the world. There's limited seating at their FREE event, from 7 – 9pm, in Culver City, CA, so grab your ticket today.
March 19: SMCLA presents Chatbots: Big Data Tool or Creative Playground? The panel, which starts at 7pm, takes place at General Assembly in Santa Monica. Get tickets.
March 26: "Writers and Social Media: What You Can (and Should) be Doing Now," a panel presented by IWOSC, the Independent Writers of Southern California, at the Veterans Memorial Building in Culver City, at 7:30pm. $15 (free to IWOSC members). RSVP and get more information at IWOSC.org.
April 4: April LA Hangout at C&M Coffee and Milk Westwood Gateway, 11111 Santa Monica Blvd, in Westwood from 1-3pm. RSVP on Facebook.
Ongoing
Join #GoalChat every Sunday at 7pm Pacific/10pm Eastern. Go to Tweetchat.com and follow the hashtag. And read the recaps.
On the 2nd and 4th Tuesdays of each month, writers are welcome to come to the Santa Monica Bay Woman's Club to write from 6:30 to 10pm. The club, at 1210 4th St, asks for a $3 donation. RSVP to MAnnapav@aol.com.
Plus
Need blogging inspiration? Check out my book: Write On Blogging: 51 Tips to Create, Write & Promote Your Blog. Whether you are starting or relaunching your blog, it will walk you through the process.
Author & Expert Q&As on Write On Online. Do you have a new book or an upcoming book release? Do you have an entrepreneurial, marketing, or creative specialty to share? Are you interested in being featured on Write On Online? For consideration email deckerling@gmail.com with your website link and a short bio. Thanks!
Check out the Guided Goals Podcast on Write On's companion site GuidedGoals.com. The podcast is a series of expert interviews, designed to help people pursue their passion projects. Each episode wraps with action items (recommended goals), so listeners can take what they heard, and move forward right away. Watch on YouTube, listen, and subscribe on iTunes, or listen on Stitcher. 
Do your kids love to write? Want to encourage them to hone and expand their writing skills? Check out Purple Pencil Adventures: Writing Prompts for Kids of All Ages.  Although it's geared towards kids, there are plenty of prompts adults can use to exercise those writing muscles! Write on!
* * *
Writers, please email me if you have a 2-3 line news item or event and/or if you are are interested in contributing a Write On! Review or Expert Column. Write On!
Tags:
#GoalChat
Goals
Write On! Wednesday
Writing