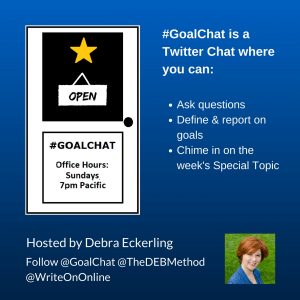 Thanks to everyone who joined us for the 4/29 #GoalChat, where we talked about our monthly, as well as our weekly, goals.
#GoalChat takes place Sundays at 7pm Pacific/10pm Eastern to set goals, ask questions, and get support. Feel free to tweet to @GoalChat throughout the week.
And join us on May 6 for #GoalChat at 7pm Pt/10pm ET. Special topic: Branding. Tweet topic suggestions to @GoalChat.
Below is a recap with tweets from Sunday's chat.
Welcome to #GoalChat How's everyone doing tonight?

— ⭐ #GoalChat ⭐ (@GoalChat) April 30, 2018
Topic: May Goals @WriteOnOnline @TheDEBMethod #GoalChat pic.twitter.com/cfT1WgUCeD
— ⭐ #GoalChat ⭐ (@GoalChat) April 30, 2018
First goal of the week, make it to #GoalChat! DONE!

Good evening everyone!!!

— Dan MacDougall (@Dan_MacDougallx) April 30, 2018
Introductions
Hi All, Please Introduce Yourselves: Who are you? Where do you live? What do you do? @WriteOnOnline #GoalChat pic.twitter.com/TandRSI9eG

— ⭐ #GoalChat ⭐ (@GoalChat) April 30, 2018
I'm Deb. I live in West LA. Founder of @WriteOnOnline and @TheDEBMethod I help people set, plan, and achieve their goals through coaching, project catalyst services, and group workshops. Am also the author of "Write On Blogging" #GoalChat

— ⭐ #GoalChat ⭐ (@GoalChat) April 30, 2018
@s_narmadhaa @TheDEBMethod I created an acronym for my name, based on the teaching and techniques I've been using for years https://t.co/T3SxO6AxKv #GoalChat

— ⭐ #GoalChat ⭐ (@GoalChat) April 30, 2018
Hi. My name is Danny; I am the Sports Information Director and I live in suburban Portland, Oregon (Forest Grove). What does a Sports Information Director do….that's a loaded question. #GoalChat

— Danny Kambel (@DannyKambel) April 30, 2018
Hey. I'm N, from India. Good weekend, everyone? #GoalChat

— Narmadhaa (@s_narmadhaa) April 30, 2018
Hi! So I'm Shiloh I do vlogging in #Alaska I am trying to grow and build my brand and make personal connections with those I meet along the way #GoalChat

— Shiloh Morrison (@ShilohfrmAlaska) April 30, 2018
Still in the beautiful mountains of Colorado, doing my consulting and writing on Leadership and government contracting. #GoalChat

— Tom Reid (@_TomGReid) April 30, 2018
London calling! The alarm has gone off and I'm rubbing the sleep from my eyes but I am here #GoalChat

— AndromedaTrance (@andromedatrance) April 30, 2018
I am Jon from NC & I write historical fiction & detective mysteries. #GoalChat

— Jon Duckworth (@Duck_n_Pulpit) April 30, 2018
Jim Fuhs, split time now between Atlanta, GA and Swansboro, NC. Run a Social Media Marketing Consulting Business #GoalChat

— Jim Fuhs of Fuhsion Marketing #DSATL (@FuhsionMktg) April 30, 2018
Dianna from NY/NJ. I'm on the marketing team of @SourceMediaCo where I manage corporate social and help out with corp comms. And I do a few side marketing gigs as well. 😊 #GoalChat

— Dianna Albanese (@dialbanese) April 30, 2018
HEY! This is Dan from Northwest Oregon! I work for a small "mom and pop" company called Intel. 🙂 #goalchat

— Dan MacDougall (@Dan_MacDougallx) April 30, 2018
Shana here coming to you from "Gig City" aka Chattanooga! Social Media manager and smoothie consumer. #GoalChat

— Shana Browne (@brownetime08) April 30, 2018
So I am excited this month I officially graduate from college with my Associates degree in Human Services and we are planning on escaping #Alaska for a trip to #Florida . Now my next step is attempting to figure out how to create an income with my brand #Goalchat

— Shiloh Morrison (@ShilohfrmAlaska) April 30, 2018
Jeremy in Connecticut. Joining #goalchat for a few.

— Jeremy Bond (@JeremyDBond) April 30, 2018
Hey everyone! I've been so busy I've missed the last two #GoalChat can't wait to see how everyone is doing. I'm April. Freelance writer. Journalist background.

— April (@aprilemaye) April 30, 2018
Last Week's Biggest Win
Q1. What was your biggest win last week? @WriteOnOnline @TheDEBMethod #GoalChat pic.twitter.com/3yA2sEBHWe

— ⭐ #GoalChat ⭐ (@GoalChat) April 30, 2018
A1. I launched @TheDEBMethod, my new business site for my goal coaching and project catalyst business. Please connect on Twitter, Instagram, and Facebook https://t.co/vPgraxkFHP #goalchat

— ⭐ #GoalChat ⭐ (@GoalChat) April 30, 2018
A1b. Interviewed on the @TheFitFifteen by @FitArmadillo for @TheDEBMethod
https://t.co/4rtqrnZ19P #goalchat

— ⭐ #GoalChat ⭐ (@GoalChat) April 30, 2018
OFFICIALLY FINISHING MY ASSOCIATES DEGREE!!! #goalchat

— Shiloh Morrison (@ShilohfrmAlaska) April 30, 2018
A1. Received great interest from others who liked the storyline for my current detective mystery. #GoalChat

— Jon Duckworth (@Duck_n_Pulpit) April 30, 2018
A1: I set a goal to start getting up earlier (recovering night-owl). Making some progress but not quite 6am yet… 🙂 #goalchat

— Dan MacDougall (@Dan_MacDougallx) April 30, 2018
A1: Taught two classes on SMM at two community colleges Small Business Centers and was hired to do a 3 hour workshop for a private group in Mid May #GoalChat

— Jim Fuhs of Fuhsion Marketing #DSATL (@FuhsionMktg) April 30, 2018
A1. My biggest win of the last week has been teaming up with one of my students to turn in the constitution / plans to establish @pacificu, "Red Den" – a student-driven sport spirit organization on campus to help increase student attendance at home competitions. #GoalChat

— Danny Kambel (@DannyKambel) April 30, 2018
A1. Catching up on all of my emails after being out sick. #GoalChat https://t.co/l5p0qKwyFq

— Shana Browne (@brownetime08) April 30, 2018
A1:
Work wise—set up a social media schedule for May and June.
Personal—I cooked for myself after a long time. #GoalChat

— Narmadhaa (@s_narmadhaa) April 30, 2018
A1) Got the latest newsletter out. Got the new webinar page up on my site and created the link for the recording of Webinar #1. #2 is being prepared along with a client webinar in two weeks, and several boxes of records got sorted. #GoalChat

— Tom Reid (@_TomGReid) April 30, 2018
A1) Got the latest newsletter out. Got the new webinar page up on my site and created the link for the recording of Webinar #1. #2 is being prepared along with a client webinar in two weeks, and several boxes of records got sorted. #GoalChat

— Tom Reid (@_TomGReid) April 30, 2018
A1) Got the latest newsletter out. Got the new webinar page up on my site and created the link for the recording of Webinar #1. #2 is being prepared along with a client webinar in two weeks, and several boxes of records got sorted. #GoalChat

— Tom Reid (@_TomGReid) April 30, 2018
#EDParentCamp was my biggest "thing" last week for sure. Not my personal win, tho. Always a group effort. #GoalChat

— Jeremy Bond (@JeremyDBond) April 30, 2018
Goals for the Week
Q2. What are your goals for this week? @WriteOnOnline #GoalChat pic.twitter.com/LsmfPIJtKg

— ⭐ #GoalChat ⭐ (@GoalChat) April 30, 2018
A2: I start my Sabbatical in about a month and NEED to plan it. I hope to have that done by the end of this week. #goalchat

— Dan MacDougall (@Dan_MacDougallx) April 30, 2018
A2 I am currently working on orginizing all my #TinyPlanet and #360photos for editing in photoshop and trying to get ready so they can be batched #Goalchat

— Shiloh Morrison (@ShilohfrmAlaska) April 30, 2018
A2. My goals for this week are to equip my student producers with the support and resources for our sports banquet on May 9 that will be memorable and leave a lasting impression for all involved. #GetSET #GoalChat

— Danny Kambel (@DannyKambel) April 30, 2018
A2: Put together my class presentation on Google My Business for May 8th #GoalChat

— Jim Fuhs of Fuhsion Marketing #DSATL (@FuhsionMktg) April 30, 2018
A2. Making sure May is in order. Take note of any appointments, events, see what free time I'll have, schedule my kickboxing classes, etc. for this month. I like to see the overview so I know what's coming. #GoalChat

— Dianna Albanese (@dialbanese) April 30, 2018
Write. Write. Write. Then take some walks and shoot some photos. #goalchat

— April (@aprilemaye) April 30, 2018
A2. Complete a short story for publication. #GoalChat

— Jon Duckworth (@Duck_n_Pulpit) April 30, 2018
A2: Work—Implementing the schedule I prepared. Studying up for an exciting new project.
Personal—Find more people to read and share feedback on my novel. It's been laying around for a long time. I want to revive it. #GoalChat

— Narmadhaa (@s_narmadhaa) April 30, 2018
A2) I'll get my new virtual assistant fully onboarded, develop the content for the next newsletter, and I have to make a decision about a non-profit for which I serve as President. And I have two webinars to finish developing. #GoalChat

— Tom Reid (@_TomGReid) April 30, 2018
Write. Write. Write. Then take some walks and shoot some photos. #goalchat

— April (@aprilemaye) April 30, 2018
A2. Heading to LA for a conference, hope to read 3 books during my flight time. #GoalChat

— T. Marie King (@tMKing1) April 30, 2018
May – Professional Goals
Q3. What are your professional goals for May? @WriteOnOnline #GoalChat pic.twitter.com/8ouai5dZWy

— ⭐ #GoalChat ⭐ (@GoalChat) April 30, 2018
A3. Launch my video series for @TheDEBMethod and also client dev. Would love to get new coaching clients and schedule some workshops. #GoalChat

— ⭐ #GoalChat ⭐ (@GoalChat) April 30, 2018
A3 to explore at much as I can on my #escapingalaska trip we are going to drive from #Florida to #Chicago so there will be lots to see on the drive #goalchat

— Shiloh Morrison (@ShilohfrmAlaska) April 30, 2018
A3. Transitioning growth opportunities in front of me in my role – personally and professionally. Thankful for the opportunities that I have through @CoSIDAnews @pacificu and more. #GoalChat

— Danny Kambel (@DannyKambel) April 30, 2018
A3: Start a private consulting group for business owners that want to improve their social media #GoalChat

— Jim Fuhs of Fuhsion Marketing #DSATL (@FuhsionMktg) April 30, 2018
A3: Lots of reading and learning. Have a new project coming up and I want to do as much background research as I can. #GoalChat

— Narmadhaa (@s_narmadhaa) April 30, 2018
May Goals #GoalChat pic.twitter.com/MXn1s93Dri

— Tom Reid (@_TomGReid) April 30, 2018
A3. To continue to learn as much as possible in the marketing and social fields! Which means I am on the hunt for book and online course suggestions. #GoalChat

— Dianna Albanese (@dialbanese) April 30, 2018
A3) Um… how do I be any less direct about this? Find a new job. My position is being eliminated as of June 30. #GoalChat https://t.co/JePZF8x17f

— Jeremy Bond (@JeremyDBond) April 30, 2018
Communications/journalism is my background and have been doing education-related communications for nearly 10 years. Now leaning more to education and entirely new ways to branch out, right brain and all. #GoalChat

— Jeremy Bond (@JeremyDBond) April 30, 2018
A3. My professional goals for May are: host another LinkedIn workshop in person, host LinkedIn webinar, develop email marketing plan, and create summer workshops plan. #GoalChat

— Shana Browne (@brownetime08) April 30, 2018
A3. Identify 5 new clients for bias workshops and a new headshot. #GoalChat

— T. Marie King (@tMKing1) April 30, 2018
@WriteOnOnline @GoalChat
A3) I will be taking advantage of any training courses my company has to offer and seeing what my local college can do for me #GoalChat

— AndromedaTrance (@andromedatrance) April 30, 2018
May – Personal Goals
Q4. What are your personal goals for May? @WriteOnOnline @TheDEBMethod #GoalChat pic.twitter.com/0uPbIaZLZn

— ⭐ #GoalChat ⭐ (@GoalChat) April 30, 2018
A3/A4 Would like to get interviewed more. Any recs of places or people? #goalchat

— ⭐ #GoalChat ⭐ (@GoalChat) April 30, 2018
A4. Dance more. Cook more. #goalchat

— ⭐ #GoalChat ⭐ (@GoalChat) April 30, 2018
A4. Survive May. #GoalChat

— Jon Duckworth (@Duck_n_Pulpit) April 30, 2018
A4 To get some good experiences in traveling under my belt in the long run I would love to travel professionally even with my vlog so this first trip is going to be very fun #Goalchat

— Shiloh Morrison (@ShilohfrmAlaska) April 30, 2018
A4. Just one. Have a great birthday surrounded by friends and family. 😁 #GoalChat

— Dianna Albanese (@dialbanese) April 30, 2018
A4. My personal goals are to buy a plane ticket to see my mother and connect in person with friends at @cscc_edu. #GoalChat

— Danny Kambel (@DannyKambel) April 30, 2018
A4: Let's just say I want to pamper myself. Eat better, sleep more, and feel good about myself. #GoalChat

— Narmadhaa (@s_narmadhaa) April 30, 2018
A4: Get consistent on working out, get rid of some of the junk in my house #GoalChat

— Jim Fuhs of Fuhsion Marketing #DSATL (@FuhsionMktg) April 30, 2018
Prepare for June- I have a friend coming over from Tucson and apparently my brother is also coming over. And then there's Wimbledon I am determined not to appear in the papers this year looking as bad as last year so I am saying goodbye to candy😶#GoalChat

— AndromedaTrance (@andromedatrance) April 30, 2018
Hmm No4. Spring and summer is great for my body mind so I will be outdoors a lot and getting caught up with those I haven't seen in awhile. #GoalChat

— April (@aprilemaye) April 30, 2018
A4. Plan a vacation #GoalChat

— T. Marie King (@tMKing1) April 30, 2018
Annual Goal Check-In
Q5. How's your year going? How are you doing on your 2018 goals? @WriteOnOnline #GoalChat pic.twitter.com/witVYLO4Uf

— ⭐ #GoalChat ⭐ (@GoalChat) April 30, 2018
A5. Mine is good. My theme for 2018 is "Create, Launch, Repeat." I launched #GoalChat and @TheDEBMethod. Next up: My video series, new online resources, and workbook … coming soon.

— ⭐ #GoalChat ⭐ (@GoalChat) April 30, 2018
A5 things seem to be going along well I feel that I am completing my weekly goals and growing everyday #Goalchat

— Shiloh Morrison (@ShilohfrmAlaska) April 30, 2018
A5: 2018 has started great and I think things are ahead of schedule as far as the goals for the year #GoalChat

— Jim Fuhs of Fuhsion Marketing #DSATL (@FuhsionMktg) April 30, 2018
A5. Progressing better than I thought, but still miles to go before I get there. The more short stories I write, the closer I get to compiling them into an ebook. #GoalChat

— Jon Duckworth (@Duck_n_Pulpit) April 30, 2018
A5. TBH, I had to redo my professional goals with the departure of a staff person. I have been revisiting them for the last few weeks to put towards a stronger final half of the year. I still subscribe to the motto of 'control the controllables' that I set for myself. #GoalChat

— Danny Kambel (@DannyKambel) April 30, 2018
A5. -moved out ✔
-working out ✔
-working hard ✔#GoalChat

— Dianna Albanese (@dialbanese) April 30, 2018
A5. My 2018 goals are going well. I don't think about them often, but now that I do I see that I'm on track. #goalchat

— Shana Browne (@brownetime08) April 30, 2018
A5: Can't believe we're almost halfway there. Had a super busy first few months at work because we were working for a release. Now that we've released, we're looking to evaluate. So far, this year's been quite well. Nothing much to complain. #GoalChat

— Narmadhaa (@s_narmadhaa) April 30, 2018
A5) Good, but I can always do better. #GoalChat

— Tom Reid (@_TomGReid) April 30, 2018
A5. Great, I broke my goals up by quarters. #GoalChat

— T. Marie King (@tMKing1) April 30, 2018
Next Week
To continue the conversation, please tweet to @GoalChat and connect with @WriteOnOnline on Faceboo – Page: https://t.co/tfJqJJxJW3 and Group: https://t.co/D0VhQ2Dlop #GoalChat

— ⭐ #GoalChat ⭐ (@GoalChat) April 30, 2018
You can also reach out to me on Facebook – https://t.co/r3L0szM4NB and LinkedIn https://t.co/iP8j56vbPT #goalchat

— ⭐ #GoalChat ⭐ (@GoalChat) April 30, 2018
Next week, I will do retweets from @TheDEBMethod & replies from here. So just watch https://t.co/Y6RGu8FRRd #goalchat

— ⭐ #GoalChat ⭐ (@GoalChat) April 30, 2018
What a fun and amazing #GoalChat. Thanks everyone! Tweet to you next week. The 5/6 GoalChat topic is Branding!

— ⭐ #GoalChat ⭐ (@GoalChat) April 30, 2018
Okidokie, it's 11 pm and my eyes are getting heavy. Thanks for a great chat everyone!! Have a good night. It was great being back with this awesome group of talented people. #GoalChat pic.twitter.com/kq1HZZ7WmZ

— Shana Browne (@brownetime08) April 30, 2018
Tags:
#GoalChat
Goals
May Goals
Personal Goals
Professional Goals