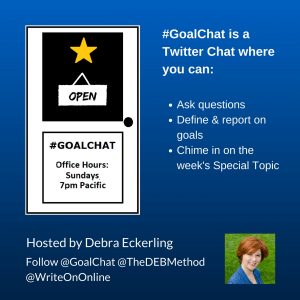 Thanks to everyone who joined us for the 5/6 #GoalChat, where we checked in on our weekly goals AND talked about branding.
#GoalChat takes place Sundays at 7pm Pacific/10pm Eastern to set goals, ask questions, and get support. Feel free to tweet to @GoalChat throughout the week.
And join us on May 13 for #GoalChat at 7pm Pt/10pm ET. Special topic: Healthy Habits. Tweet topic suggestions to @GoalChat.
Below is a recap with many of the tweets from Sunday's chat.
Welcome to #GoalChat. This week's special topic is Branding @writeononline @TheDEBMethod pic.twitter.com/yvklRuERfB

— ⭐ #GoalChat ⭐ (@GoalChat) May 7, 2018
Introductions
Introduce Yourselves: Who are you? Where do you live? What do you do? @WriteOnOnline #GoalChat pic.twitter.com/hLlzSuQaBP

— ⭐ #GoalChat ⭐ (@GoalChat) May 7, 2018
I'm Deb. I live in West LA. I'm a goal coach & project catalyst. My website is @TheDEBMethod https://t.co/NzjbO2HOrW. Am the author of "Write On Blogging" & founder of @WriteOnOnline, a website & community for writers, creatives & entrepreneurs. https://t.co/BKv5f2Aw0h #goalchat

— ⭐ #GoalChat ⭐ (@GoalChat) May 7, 2018
Hello from #Alaska I'm a born and raised #Alaskan and I do Vlogging about my home state I am on snapchat and have recently started building my YouTube channel #goalchat

— Shiloh Morrison (@ShilohfrmAlaska) May 7, 2018
Heeey guys! Shana coming atcha from Chattanooga. I do social media/blog management and social media coaching. I love what I do! #GoalChat

— Shana Browne (@brownetime08) May 7, 2018
I'm Dana, I live in the Bay Area. I'm a Parent Coach and a Teen coach. Also a writer and editor

— Parenting IRL (@Danaparenting) May 7, 2018
I'm Parenting in Real Life. forgot to give my brand! Ha .Coach, Writer, Blogger. https://t.co/2uurdafWcP

— Parenting IRL (@Danaparenting) May 7, 2018
I am Jon, still in Western NC, writing detective mysteries. #GoalChat

— Jon Duckworth (@Duck_n_Pulpit) May 7, 2018
Howdy! I'm a digital marketing strategist and PPC/SEO manager from San Antonio, TX. #GoalChat

— Kim Doughty (@Howdy_Doughty) May 7, 2018
Good evening everyone. I'm Danny; I'm a Sports Information Director at Pacific University in Forest Grove, Oregon. #GoalChat pic.twitter.com/apjV3B1hF8

— Danny Kambel (@DannyKambel) May 7, 2018
I am a social media strategist serving the Catholic Church, Health and Safety, University & Mtg Planners #goalchat

— Sherry Hayes-Peirce (@trainerchick47) May 7, 2018
Hello from #Portlandia where everyone is hip, cool and weird. #GoalChat

— elizabeth traub (@elizabethtraub) May 7, 2018
Hi, hello! I'm Desiree. Live and work in #Longmont #coloRADo. I help people live a better story. 😊 #GoalChat https://t.co/RFioDj5933

— Desiree Townsend (@DNTowns) May 7, 2018
Kevin, from Alexandria, VA (No. VA), work for a #DoD agency (F/T), work/network/learn/volunteer in the #SportsBiz. #GoalChat.

— Kevin Wilson (@KWilson805) May 7, 2018
Q1. Hey everyone! Nice to see you all here. My name's April. West coast creative type. Background in journalism. #GoalChat

— April (@aprilemaye) May 7, 2018
I am Romy from the UK in the middle of the night. I do security #GoalChat

— AndromedaTrance (@andromedatrance) May 7, 2018
Biggest Win
Q1. What was your biggest win last week? @WriteOnOnline @TheDEBMethod #GoalChat pic.twitter.com/MVX1ALvPrk

— ⭐ #GoalChat ⭐ (@GoalChat) May 7, 2018
A1. Set up to be guest on FB live w @depict_media on 5/30 and scheduled to do a goal-setting workshop for @LAReviewofBooks USC Publishing Workshop in July #goalchat

— ⭐ #GoalChat ⭐ (@GoalChat) May 7, 2018
A1. Planted all 24 plants, none have died yet. Learned from a native that my Dutch is "very good." #GoalChat

— Jon Duckworth (@Duck_n_Pulpit) May 7, 2018
A1) I set some daily goals based on a system I've used previously with some success. And for one week – success!! #GOalChat

— Tom Reid (@_TomGReid) May 7, 2018
A1 I made it through the week. #GoalChat https://t.co/0wfoOKq5oP

— Desiree Townsend (@DNTowns) May 7, 2018
A1. I exceeded my savings goal for last month. 💰🙌🏼#GoalChat

— Kim Doughty (@Howdy_Doughty) May 7, 2018
TY. I found an app that worked for me and the rest is history. #GoalChat

— Kim Doughty (@Howdy_Doughty) May 7, 2018
https://t.co/fCC5TtHyg2 #GoalChat

— Kim Doughty (@Howdy_Doughty) May 7, 2018
A1. Getting my team to complete two very big projects, unexpected with deadlines. They ROCKED it. #BIGWIN #GoalChat

— elizabeth traub (@elizabethtraub) May 7, 2018
A1. Booked another speaking engagement this week for November! #goalchat

— Sherry Hayes-Peirce (@trainerchick47) May 7, 2018
A1. My biggest win of the week have been the opportunities that I've been given to do my job with great people around me including my network of colleagues/friends, students, coaches, staff and etc. #GoalChat

— Danny Kambel (@DannyKambel) May 7, 2018
Q1. A. Not giving up when I hit a wall. #GoalChat

— April (@aprilemaye) May 7, 2018
I think this may be the biggest win, because when hitting a wall it is not easy to pick up. Way to go!!!! #GoalChat

— elizabeth traub (@elizabethtraub) May 7, 2018
Climb the wall, April. #GoalChat pic.twitter.com/pMjNZQb62i

— Danny Kambel (@DannyKambel) May 7, 2018
A1. My biggest win was I finished my part and went through a successful panel presentation. #GoalChat.

— Kevin Wilson (@KWilson805) May 7, 2018
I tried making a short video for first time. Also wrote a resume for first time in a million years and sent out a couple of pitches. Also got a health piece accepted… #GoalChat

— Parenting IRL (@Danaparenting) May 7, 2018
A1. Driving two hours to land a new client. 😁😁 #goalchat

— Shana Browne (@brownetime08) May 7, 2018
A1: Connected with some great people. Looking forward to a lot of learning and conversations. #GoalChat

— Narmadhaa (@s_narmadhaa) May 7, 2018
A1. Last week spent supporting clients. All sessions went well, which I consider to be a huge win. #GoalChat

— Ysmay (@YsmayWalsh) May 7, 2018
Weekly Goals
Q2. What are your goals for this week? @WriteOnOnline @TheDEBMethod #GoalChat pic.twitter.com/pzpyomgyye

— ⭐ #GoalChat ⭐ (@GoalChat) May 7, 2018
A2. Another revision of my workbook. Some biz dev to get the word out about @TheDEBMethod #GoalChat

— ⭐ #GoalChat ⭐ (@GoalChat) May 7, 2018
A2: I am taking a Python programming course on LinkedIn learning. I would love to finish it by the end of the week #goalchat

— Dan MacDougall (@Dan_MacDougallx) May 7, 2018
A2. I have so many things I am struggling which one to focus on and in which order this week! Help #goalchat

— Sherry Hayes-Peirce (@trainerchick47) May 7, 2018
I have ALOT of information to input, and honestly I am not the best desk person. So this is a goal to complete by Thursday. #GoalChat

— elizabeth traub (@elizabethtraub) May 7, 2018
Finish editing stories, try to submit a story by May 31 for Mystery novella contest. #GoalChat

— Jon Duckworth (@Duck_n_Pulpit) May 7, 2018
If I can get past Tuesday, I will be relieved. Have to travel 2 hours for pre-op appt & then 2 hrs back. #GoalChat

— Jon Duckworth (@Duck_n_Pulpit) May 7, 2018
A2 Biggest goal to complete this week is to finalize travel plans #GoalChat https://t.co/FpUKX7x3kG

— Shiloh Morrison (@ShilohfrmAlaska) May 7, 2018
A2 I've got to prepare for my duties as Toastmaster at my group this eeek! First time doing this. #GoalChat https://t.co/dSMvRjRtr2

— Desiree Townsend (@DNTowns) May 7, 2018
A2. – Sell/donate some clothes I don't wear anymore
– Finish the novel I'm reading.
– Work out 2x this week#GoalChat

— Kim Doughty (@Howdy_Doughty) May 7, 2018
A2 Biggest goal to complete this week is to finalize travel plans #GoalChat https://t.co/NpNz2m1T1E https://t.co/NpNz2m1T1E

— Shiloh (@IceCaverns) May 7, 2018
A2. Wrap up my formal self evaluation; student worker end of the year evaluations and our end of the year @pacificusaac banquet. #GoalChat

— Danny Kambel (@DannyKambel) May 7, 2018
A2. Consistency is the priority thing I continue to work on #GoalChat

— April (@aprilemaye) May 7, 2018
A2) I have 4 presentations over the next 3 weeks covering 4 days, 1 day, 2 hours, & 1 hour. Only the 4-day is ready to go, & the 2 hour one is on Thursday. The goal is to be ready for each one as it comes up. Will be a challenge, but if it were easy, anyone could do it! #GoalChat

— Tom Reid (@_TomGReid) May 7, 2018
Your #GoalChat fan club is behind you, Tom. pic.twitter.com/WEMsyF0pxJ

— Danny Kambel (@DannyKambel) May 7, 2018
A2. Sitting down and working on some desk duties that I didn't get to lask week. Also, following up on some proposals that I sent out last week. #goalchat

— Shana Browne (@brownetime08) May 7, 2018
A2: Teaching a class on Google My Business to small business owners on Tuesday at a local community college #GoalChat

— Jim Fuhs of Fuhsion Marketing #DSATL (@FuhsionMktg) May 7, 2018
A2. Back on my network #jobhunt so: 1. (6) Follow/up networking calls &/or messages, 2. Finish (2) job applications 3. Sign up for a Fundraising class, 4. Review/map out a plan for & pay💸 for the @NACDA conference. #GoalChat

— Kevin Wilson (@KWilson805) May 7, 2018
A2. My goal for the week ahead is to finish up some client projects and finish the branding for a new package. #GoalChat

— Ysmay (@YsmayWalsh) May 7, 2018
Special Topic: Branding
Special Topic: Branding What's your favorite brand and why? @WriteOnOnline @TheDEBMethod #GoalChat

— ⭐ #GoalChat ⭐ (@GoalChat) May 7, 2018
Why Branding is Important
Q3. Why is branding so important for your business? @WriteOnOnline @TheDEBMethod #GoalChat pic.twitter.com/lVCEyIVc3Z

— ⭐ #GoalChat ⭐ (@GoalChat) May 7, 2018
A3. You want people to be recognizable @WriteOnOnline @TheDEBMethod #goalchat

— ⭐ #GoalChat ⭐ (@GoalChat) May 7, 2018
Branding sets me apart from others. Having said this, I'm not there yet! #GoalChat

— April (@aprilemaye) May 7, 2018
A3. Your business has a brand whether you like it or not. If you don't invest any time in your own branding, you will lose the focus behind your purpose and message. #GoalChat

— Kim Doughty (@Howdy_Doughty) May 7, 2018
A3. Creating a visual/emotional lasting impression #GoalChat

— Jon Duckworth (@Duck_n_Pulpit) May 7, 2018
A3. Branding is your connection with the world. Your brand tells your business who you are and what you stand for. #goalchat

— Ysmay (@YsmayWalsh) May 7, 2018
A3. Branding is how customers/employers perceive you & it's the blueprint of my business. In addition, I strong brand leads to increased rev. & sales & it builds trust with clients over time. #GoalChat

— Kevin Wilson (@KWilson805) May 7, 2018
A3. Branding is how customers/employers perceive you & it's the blueprint of my business. In addition, I strong brand leads to increased rev. & sales & it builds trust with clients over time. #GoalChat

— Kevin Wilson (@KWilson805) May 7, 2018
A3: Good branding is recognisable. It has great recall value, and lets people expect a certain standard. Plus, an established brand does so much of the marketing. #GoalChat

— Narmadhaa (@s_narmadhaa) May 7, 2018
A3 it's the best way people can find you across different platforms by making a name for yourself you are helping the audience know what they are following you for and where they're going to find you and helps you connect with them #goalchat

— Shiloh Morrison (@ShilohfrmAlaska) May 7, 2018
A3. Branding is so important! You have to have something that is your moniker, symbol or concept that is unique to you! #goalchat

— Sherry Hayes-Peirce (@trainerchick47) May 7, 2018
A3: Branding helps keep consistency with message and helps to share your vision with your ideal audience. #GoalChat https://t.co/UDnQ03HPAz

— Jim Fuhs of Fuhsion Marketing #DSATL (@FuhsionMktg) May 7, 2018
A3. Branding is how customers/employers perceive you & it's the blueprint of my business. In addition, I strong brand leads to increased rev. & sales & it builds trust with clients over time. #GoalChat

— Kevin Wilson (@KWilson805) May 7, 2018
A3. Branding is your connection with the world. Your brand tells your business who you are and what you stand for. #goalchat

— Ysmay (@YsmayWalsh) May 7, 2018
Creating A Brand
Q4. What elements go into creating a brand? @WriteOnOnline @TheDEBMethod #GoalChat pic.twitter.com/vCjr3rMRKT

— ⭐ #GoalChat ⭐ (@GoalChat) May 7, 2018
A4. Name consistency across platforms, visuals, such as images, colors & logo, tone, vision, mission. @TheDEBMethod @WriteOnOnline #goalchat

— ⭐ #GoalChat ⭐ (@GoalChat) May 7, 2018
A4. So much goes into branding! A mission beyond yourself; your vision. Positioning, values, your differentiation. #GoalChat

— Ysmay (@YsmayWalsh) May 7, 2018
Great point about values, Kim. It's our philosophies that give credibility to our brand. #GoalChat – A4

— Narmadhaa (@s_narmadhaa) May 7, 2018
A4. Research, a clear message across platforms, good logo, creating great 1st impressions, and I'm sure other key points. #GoalChat

— Kevin Wilson (@KWilson805) May 7, 2018
A4 You can have a main brand and cater to your audience depending on the platform. Overall I am showing #Alaska but my different social media's show different sides of my artwork and message💖 #Goalchat

— Shiloh Morrison (@ShilohfrmAlaska) May 7, 2018
A4:
Voice and tone.
Design and colour choices.
Spelling, grammar, naming conventions.
Analogies and references.#GoalChat

— Narmadhaa (@s_narmadhaa) May 7, 2018
A4. Leaving a lasting positive impression. First impressions do matter.

— Jon Duckworth (@Duck_n_Pulpit) May 7, 2018
A4. Elements of your brand are visual, story, word associations, your face. #GoalChat

— elizabeth traub (@elizabethtraub) May 7, 2018
A4. Accountability and responsibility are the foundation elements in branding, IMO. #GoalChat

— Danny Kambel (@DannyKambel) May 7, 2018
@DNTowns Great Question A4, I just through something on the wall and it stuck. Then created messaging around it. Two years later #goalchat

— Sherry Hayes-Peirce (@trainerchick47) May 7, 2018
A4. Values, goals, voice, visuals. #GoalChat

— Kim Doughty (@Howdy_Doughty) May 7, 2018
A4. Ones voice. Style. What you will provide to otheres. #goalchat

— Shana Browne (@brownetime08) May 7, 2018
I try to tell this to struggling business's to bring all your messaging together, but some just do not want to. #GoalChat

— elizabeth traub (@elizabethtraub) May 7, 2018
Mixed messages create more confusion & more messaging to explain. Keep it simple & focused. #GoalChat

— Jon Duckworth (@Duck_n_Pulpit) May 7, 2018
A4 You can have a main brand and cater to your audience depending on the platform. Overall I am showing #Alaska but my different social media's show different sides of my artwork and message💖 #Goalchat

— Shiloh Morrison (@ShilohfrmAlaska) May 7, 2018
A4. So much goes into branding! A mission beyond yourself; your vision. Positioning, values, your differentiation. #GoalChat

— Ysmay (@YsmayWalsh) May 7, 2018
A4. Research, a clear message across platforms, good logo, creating great 1st impressions, and I'm sure other key points. #GoalChat

— Kevin Wilson (@KWilson805) May 7, 2018
Your Brand
Q5. What is your brand? @WriteOnOnline @TheDEBMethod #GoalChat pic.twitter.com/eypxQnkQh3

— ⭐ #GoalChat ⭐ (@GoalChat) May 7, 2018
A5. Just launched "@TheDEBMethod: Goal Setting Simplified" as a personal brand. I took my systems for setting and achieving goals and put it into a more brand-able package that incorporated me. #GoalChat

— ⭐ #GoalChat ⭐ (@GoalChat) May 7, 2018
A5. My brand is a life-long learning who is open minded, customer service driven strategic thinker. I quicken the pulse of others through focusing on them & not me. #GoalChat 🤔🙏

— Kevin Wilson (@KWilson805) May 7, 2018
A5 #Alaska #360photagrapy #artwork and kindness, motivation and fun💖 #goalchat

— Shiloh Morrison (@ShilohfrmAlaska) May 7, 2018
A5. My brand is me – a strategic thinking, knowledge seeking, digital fangirl. I'm all about helping other brands be better for the people they serve. #GoalChat

— Kim Doughty (@Howdy_Doughty) May 7, 2018
A5. Still researching it. #GoalChat

— Jon Duckworth (@Duck_n_Pulpit) May 7, 2018
A5: My brand = a writer in the making. Personal and professional. #GoalChat

— Narmadhaa (@s_narmadhaa) May 7, 2018
A5. #GetSET – SET stands for strategic • engaged • teamwork. That's my brand and I strive to apply to all aspects of my life – personally and professionally. #GoalChat

— Danny Kambel (@DannyKambel) May 7, 2018
A5. #GetSET – SET stands for strategic • engaged • teamwork. That's my brand and I strive to apply to all aspects of my life – personally and professionally. #GoalChat

— Danny Kambel (@DannyKambel) May 7, 2018
A5 I'm hoping to finalize that this month! Digital marketing friends have a few words to say about who I am but I still want to dial in on who I am. #GoalChat https://t.co/1fEfTz3sBF

— Desiree Townsend (@DNTowns) May 7, 2018
I have three brands Church Social Tips, Social Media Mobile Maven and 5 Things Every Parish Should Post is my signature content #goalchat

— Sherry Hayes-Peirce (@trainerchick47) May 7, 2018
A5. #GetSET – SET stands for strategic • engaged • teamwork. That's my brand and I strive to apply to all aspects of my life – personally and professionally. #GoalChat

— Danny Kambel (@DannyKambel) May 7, 2018
A5: My brand = a writer in the making. Personal and professional. #GoalChat

— Narmadhaa (@s_narmadhaa) May 7, 2018
A5. Having worked in marketing, long before social media I was the behind the scenes building brands. I worked on referrals and did not have to sell myself. Now my "brand" is the ability to communicate the value of marketing, customer relationships and success. #GoalChat

— elizabeth traub (@elizabethtraub) May 7, 2018
A5 #Alaska #360photagrapy #artwork and kindness, motivation and fun💖 #goalchat

— Shiloh Morrison (@ShilohfrmAlaska) May 7, 2018
A5. My brand is about supporting entrepreneurs and helping them bring their expertise into the marketplace. #GoalChat

— Ysmay (@YsmayWalsh) May 7, 2018
Q5b. How are you differentiating yourself? @WriteOnOnline @TheDEBMethod

— ⭐ #GoalChat ⭐ (@GoalChat) May 7, 2018
A5b. My tag is "Goal Setting Simplified" So my content – and my services – revolve around that! #goalchat

— ⭐ #GoalChat ⭐ (@GoalChat) May 7, 2018
A5b: That I'm still figuring it out. There's a lot of noise out there, and I sure don't want to be one of the many. Trying to find my own voice and stick to it. #GoalChat

— Narmadhaa (@s_narmadhaa) May 7, 2018
Promoting Your Brand
Q6. How are you promoting your brand? @WriteOnOnline @TheDEBMethod #GoalChat pic.twitter.com/QwIWFggigL

— ⭐ #GoalChat ⭐ (@GoalChat) May 7, 2018
A6. Launching #GoalChat was the pre-cursor to my new brand. Going to start doing videos and also looking for places to interview me.

— ⭐ #GoalChat ⭐ (@GoalChat) May 7, 2018
A6b. Being out there, meeting new people – online and IRL – and being authentic is the best way to represent yourself & your brand!

— ⭐ #GoalChat ⭐ (@GoalChat) May 7, 2018
A6. Email marketing, podcasting, networking. #GoalChat

— Ysmay (@YsmayWalsh) May 7, 2018
A6. I promote my brand through networking, social media, teaching workshops, and blogging. #GoalChat

— Shana Browne (@brownetime08) May 7, 2018
A6. Still playing with the "message" of my blog & twitter before I expand into further promoting. #GoalChat

— Jon Duckworth (@Duck_n_Pulpit) May 7, 2018
A6. Consistent advertising. Networking as in face to face events. Investing in attending conferences to keep learning and growing. Trade shows, too. Always a very good investment. #GoalChat

— elizabeth traub (@elizabethtraub) May 7, 2018
A6 I don't pay for any adds at this time I just try to DnD like minded people and grow organically right now seems to be doing well 💖 #goalchat

— Shiloh Morrison (@ShilohfrmAlaska) May 7, 2018
A6: I promote my brand through teaching workshops, public speaking, social media, and networking #GoalChat

— Jim Fuhs of Fuhsion Marketing #DSATL (@FuhsionMktg) May 7, 2018
A6: Blogging, Twitter chatting, and posting on LinkedIn (testing the waters there, though). #GoalChat

— Narmadhaa (@s_narmadhaa) May 7, 2018
A6. I'm not actively promoting my brand atm, but I am passively building it by getting more involved on Twitter and continuing to learn more in my industry. #GoalChat

— Kim Doughty (@Howdy_Doughty) May 7, 2018
A6. Twitter chats, social media posts, Information interviews, co-branded business cards for now. More to come in the future. #GoalChat

— Danny Kambel (@DannyKambel) May 7, 2018
A6 Word of mouth 👄 and participation in Twitter Chats, FB groups, etc #GoalChat https://t.co/dHnAsNoVpA

— Desiree Townsend (@DNTowns) May 7, 2018
A6. I use blogging, FB Live and in person speaking engagements to promote my brand. #goalchat

— Sherry Hayes-Peirce (@trainerchick47) May 7, 2018
Next Week
The next #GoalChat will be on 5/13. Topic is Healthy Habits. Any other topic requests? #GoalChat

— ⭐ #GoalChat ⭐ (@GoalChat) May 7, 2018
Thanks for another amazing #GoalChat Please connect with @WriteOnOnline on FB: Page https://t.co/tfJqJJxJW3 & Group https://t.co/D0VhQ2Dlop.
You can also connect w @TheDEBMethod on https://t.co/Z1ukMAkCgL & https://t.co/qTcYgcK5It and with me on LinkedIn: https://t.co/ViSqH7Esj5

— ⭐ #GoalChat ⭐ (@GoalChat) May 7, 2018
Tags:
#GoalChat
Branding
Goals