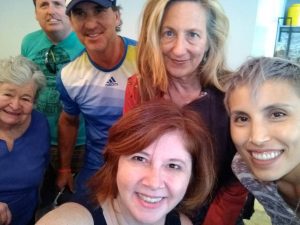 We got so involved in the conversation at the October meeting on Wednesday, October 3, at Caffe Luxxe in Brentwood, I missed the chance to make a video. Still, I wanted to take this opportunity to check in. It's October, which means there's plenty of time to be productive – and achieve your goals – by the end of the year!
Btw, post your October Goals on Write On Online or weekly goals on Facebook to be entered in a drawing to win a book from Michael Wiese Productions.
Watch the videoI did after the October Meeting:
And watch for my spontaneous videos on the Write On Facebook page.
The next LA meeting is on November 7 at Caffe Luxxe on San Vicente in Brentwood. Our meetings will now start at 1:30pm. RSVP on Facebook.
What is your big end-of-year goal? Please share in the comments. #WriteOn
Tags:
Entrepreneurship
Goals
Write On! Online
Writing