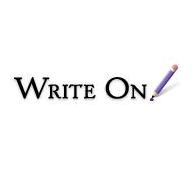 Post your February Goals to be entered in a drawing to win a book from Michael Wiese Productions. Share monthly and weekly goals on the Facebook page and/or group. A new goal-thread starts every Monday.
Whether or not you live in LA, join the Write On Online Facebook Group for writers, creatives, and entrepreneurs for community, support, and connection. Chime in on the threads, share your links, and more. Plus, keep an eye on the Write On Online Facebook Page for my spontaneous videos.
More in this week's Write On Wednesday!
Upcoming Events
February 14: The LifeStyle women's forum presents the first of a 3-part series: "Anything Is Possible If… you set realistic goals, make a plan, and follow-through. Learn strategies for success to achieve your goals with Goal Coach and Project Catalyst, Debra Eckerling of The D*E*B Method. The event runs from 8 – 9:30am at the LAX Coastal Chamber of Commerce. Get more information and register.
February 17: Join us for #GoalChat at 7pm PT on Twitter. Special topic is Meditation. Join #GoalChat every Sunday at 7pm Pacific/10pm Eastern. Go to Tweetchat.com and follow the hashtag. Read the #GoalChat recaps and RSVP for February chats.
February 21: Join Tom Reid at 9am PT for another in his series of free leadership webinars. This month's topic is about how a sustained leader must be focused and disciplined. RSVP here.
February 22: Carolyn Howard-Johnson will be keynoting Greater los Angeles Writers Society Genre-LA Creative Writing Conference. She will speak on Inspiration for Procrastinators: My Never-Too-Late Story. In this confidence-building keynote, the multi award-winning author shares her story and tons of tips. Check the website for a complete schedule and early bird rates.
February 22: Michael Wiese Productions and the Joseph Campbell Writer's Room at Studio School are proud to present the 2019 Livestream Oscar Bash at 2pm PT. Watch for Academy Award predictions and conversations with experts from all over the cinematic universe. RSVP on Facebook.
February 24: Join us for #GoalChat at 7pm PT on Twitter. Special topic is Recommendations & Testimonials.
February 25:
IWOSC
 presents a panel on 
Health and Wellness Writing
 at 7:30pm PT at Veterans Memorial Building in Culver City. Experts answer  questions and share advice about this genre, for those writing a book, shopping articles to magazines and ezines, or creating programs for TV/film. Free to IOWSC members; $15 to nonmembers. Details at 
IWOSC.org
.
March 6: The March LA Hangout at Caffe Luxxe, 11640 San Vicente, in Brentwood from 1:30pm – 3pm. RSVP on Facebook.
Plus
Do you need help setting or achieving your goals? Do you have a project in need of support? I can help. Learn more about The D*E*B Method: Goal Setting Simplified.
For blogging inspiration read my book: Write On Blogging: 51 Tips to Create, Write & Promote Your Blog. Whether you are starting or relaunching your blog, it will walk you through the process.
Do your kids love to write? Want to encourage them to hone and expand their writing skills? Check out Purple Pencil Adventures: Writing Prompts for Kids of All Ages.  Although it's geared towards kids, there are plenty of prompts adults can use to exercise those writing muscles! Write on!
* * *
Writers, please email me if you have a 2-3 line news item or event and/or if you are are interested in contributing a Write On! Review or Expert Column. Write On!
Tags:
#GoalChat
Goal Setting
Goals
Write On Wednesday
Write On! Online