Guest Post by C. Hope Clark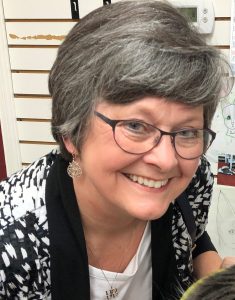 I've established writing goals, accomplished them, and likewise watched them crash and burn, some not even sputtering to lift off the ground. I've love to say that exquisite, detailed goal-setting guided me through two decades of struggle toward successful writing, but my goals were hit and miss, too. That's the essence of being human. Failing until we get it right. But after a lot of trial and error, and a myriad of notebooks, calendars, white boards, files, and folders, I've established basic rules to a goal setting regimen that works.
Set Goals with Measurements
Set benchmarks. How many words per day? Finish the initial draft by what date? Revisit the goals the first of each month for accountability and feasibility. If you missed your goals, why? Words are your commodity, and like any business, you have to study production efficiency. A statement like any progress is good, or I hope to write a chapter soon, is your subconscious making excuses before you ever get started. Nail down specifics to be measured.
Give Your Project an Ending
By what date will you have the first draft completed? Complete a short story for a contest deadline, or before you go on vacation. It isn't a sort of deadline, but instead is one you absolutely have to meet.
In 2018, I juggled two parents with Alzheimer's, one eight weeks in the hospital at death's door. I soon realized that all the time I sat beside a hospital bed could be poured into a manuscript. During that trying time I learned a daily word count was doable under almost any condition, and I met my contract deadline.
Keep a Calendar, or Two
Note your goals on calendars. Not just your phone calendar, but on a larger calendar where you can see a week or month at a glance. Maintain that calendar and include it in your income tax file as proof of time spent. At the end of the year, go over your accomplishments, and alter your next year's goals based on the successes and failures.
Give your Writing Goal a Priority
Writers dream of publication, awards, and sales, but they also have goals to send children to college, pay off the bills, build retirement, complete a hobby, attend night class, go to the ball field. Washing the dishes before bed. Trek to the beach once a month in the summer. However, if writing had to put food on your table, how many other obligations would take a back seat? The only way to fit writing in is to give something up.
Lack of Goals Means Lack of Passion
Many writers who profess to have a writing passion, have more of a like, a desire, or a preference for writing. You can't claim a passion for another person without knowing them well. Therefore, you have to write long enough to tell whether words are a passion, because a passion sticks with you hard and long. It's not forgotten nor abandoned. It doesn't go away or get disenchanted. It's an addictive purpose. Nothing gets in your way in order to write.
And that's why goals are so important. If you feel tiny spits of passion for writing, then fuel the fire. Set goals. Set definitive goals. Fight to meet them, until one day you wake and realize you can't let the day go by without doing what you were meant to do . . . write.
* * *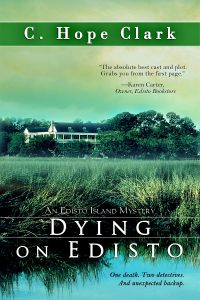 C. Hope Clark is the award-winning author of the Carolina Slade Mysteries and the Edisto Island Mysteries. Her latest is Dying on Edisto, her ninth novel, released March 2019. She married a federal agent-now a private investigator and plots murder mysteries at their lakeside home in South Carolina.
Tags:
C. Hope Clark
Goals
Guest Post
Moving Write Along
Write On! Online
Writing
Writing Goals