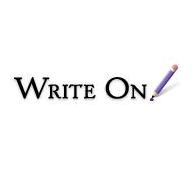 Join us for the May Los Angeles Hangout next Wednesday, May 1, from 1:30 to 3pm at Caffe Luxxe, 11640 San Vicente, Suite 101, in Brentwood. Hang out, set goals, and catch up with your writer/creative/entrepreneur peeps. RSVP on Facebook.
Remember to post April goals and send items for the May Newsletter by Monday, April 29. Details below.
Whether or not you live in LA, join the Write On Online Facebook Group. Chime in on the threads, share your links, and more. Plus, keep an eye on the Write On Online Facebook Page for my spontaneous videos.
Sign up for The D*E*B Method Newsletter for tips, resources, and events to help you define, plan, and achieve your goals.
More in this week's Write On Wednesday!
Upcoming Events
April 27: The Greater Los Angeles Writers Society (aka GLAWS) panel on "How to Bulletproof Your Manuscript" when submiting to agents and managers. This free event starts with networking at 2pm/panel at 2:30pm at Palms-Rancho Park Public Library in Los Angeles. Get details
April 28: Join us for #GoalChat at 7pm PT on Twitter. Special topic is May Goals.  Join #GoalChat every Sunday at 7pm Pacific/10pm Eastern. Go to Twitter.com and follow the hashtag. Read the #GoalChat recaps and RSVP for April chats. 
April 29: Last day to send items for the May Newsletter – news and events. Email 2 to 3 lines + link to deckerling@gmail.com.
April 29: Last day to post your April Goals on Write On Online and weekly goals on Facebook to be entered in this month's drawing to win a book from Michael Wiese Productions.
May 1:The May LA Hangout  at Caffe Luxxe, 11640 San Vicente, in Brentwood from 1:30pm – 3pm. Free 90-minute parking in the lot. RSVP on Facebook.
June 5: The June LA Hangout in West LA from 1:30pm – 3pm. Location TBD. RSVP on Facebook.
Plus
Do you need to make a life change, but are afraid of charting a new course? Are you overwhelmed by too many projects? Do you lose sleep over an awesome idea that you have no idea how to make happen? I can help. Together, we will figure out your mission, set reasonable goals, and then create a plan to make the life you want happen. Get information on my coaching services. Contact me to get started.
For blogging inspiration read Write On Blogging: 51 Tips to Create, Write & Promote Your Blog. Whether you are starting or relaunching your blog, it will walk you through the process.
Do your kids love to write? Want to encourage them to hone and expand their writing skills? Check out Purple Pencil Adventures: Writing Prompts for Kids of All Ages. Although it's geared towards kids, there are plenty of prompts adults can use to exercise those writing muscles! Write on!
* * *
Writers, please email me if you are are interested in contributing a Write On! Review or Expert Column. Write On!
Tags:
#GoalChat
GLAWS
Los Angeles
Networking
Write On! Wednesday
Writing