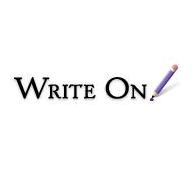 What do you do to fuel your creativity? We talked creative pursuits at out May meeting. Take a look at the May meeting recap and video to hear what some us are doing.
Want more community and connections? Join the Write On Online Facebook Group for writers, creatives, and entrepreneurs. Chime in on the threads, share your links, and more. Plus, keep an eye on the Write On Online Facebook Page for my spontaneous videos.
Remember, post your May Goals on Write On Online and weekly goals on Facebook (a new goal-thread starts every Monday) to be entered in a drawing to win a book from Michael Wiese Productions. Btw, you can find some awesome ebooks at the lowest prices at my Write On Online MWP Affiliate bookstore.
Upcoming Events
May 19: Join us for #GoalChat at 7pm PT on Twitter. Special topic is Visualization.  Join the #GoalChat Twitter chat every Sunday at 7pm Pacific/10pm Eastern. RSVP for May chats. And read the recaps on Twitter Moments.
May 20: IWOSC's Annual Agents Panel: What Writers Must Know about Finding & Working with Representation Today at 7:30pm. Agents answer your questions about submitting a manuscript, what to expect from your agent, book and film deals, and more. At the Veterans Memorial Building in Culver City; free to IWOSC members; $15 nonmembers. RSVP at IWOSC.org.
May 26: Join us for #GoalChat at 7pm PT on Twitter. Special topic is Prepping for Summer.
June 2: Join us for #GoalChat at 7pm PT on Twitter. Special topic is June Goals.
June 5: The June LA Hangout at Cafe Literati in West LA from 1:30pm – 3pm. RSVP on Facebook. 
Plus
Need help figuring out what you want and how to get it? Are you having trouble starting or finishing a project? Check out TheDEBMethod.com. Give me an hour, I'll give you a plan. 
To learn more, watch my appearance on Madalyn Sklar's #TwitterSmarter After Chat and on DIY Marketers pre-#BizapaloozaChat. Plus, check out Jim Katzaman's article covering my method behind "goal-setting madness." Contact me to get started.
For blogging inspiration read Write On Blogging: 51 Tips to Create, Write & Promote Your Blog. Whether you are starting or relaunching your blog, it will walk you through the process.
Do your kids love to write? Want to encourage them to hone and expand their writing skills? Check out Purple Pencil Adventures: Writing Prompts for Kids of All Ages.  Although it's geared towards kids, there are plenty of prompts adults can use to exercise those writing muscles! Write on!
* * *
Writers, please email me if you have a 2-3 line news item or event and/or if you are are interested in contributing a Write On! Review or Expert Column. Write On!
Tags:
Write On! Wednesday
Writing