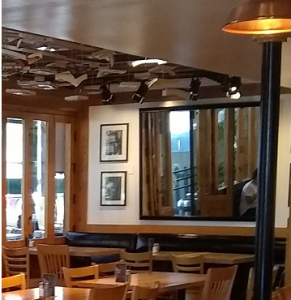 The June meeting at our new location at Cafe Literati in West LA brought out familiar faces, as well as friends we hadn't seen in a while. Everyone seemed to agree that Literati, complete with amazing aura, artist palate door handle, and books hanging from the ceiling, was the best place we've had for our meetings in years. So, at Literati, we will remain.
As is frequently the case at out hangouts, everybody seemed to be working toward their passion in one way or another. It's not enough, however, to be at one with our interest and niche. It's important to share it with the world.
So, for the video I posed the question: "What is your passion and how are you sharing it with the world?" As just about everyone knows, I am passionate about helping individuals define, plan, and achieve their goals, which I do through my coaching, workshops, live hangouts, Facebook page and group,  and Sunday night #GoalChat on Twitter. Next up is my upcoming book – Your Goal Guide – which will be published by Mango in Winter 2020. Can't wait to share that with you all too.
What are you passionate about? See what some of the group had to say,
Watch the video from the June Meeting:
Our next LA meeting is on July 10 at 1:30pm at Literati Cafe, 10281 Wilshire Blvd., in West LA.
There is nearby meter parking, street parking, and a paid lot. The cafe requests each attendee make a purchase (at least a drink).  RSVP on Facebook.
Remember, post your June Goals on Write On Online or weekly goals on Facebook to be entered in a drawing to win a book from Michael Wiese Productions.
What are you passionate about? Please share in the comments. #WriteOn
Tags:
#GoalChat
Meeting
What is your passion
Write On! Online