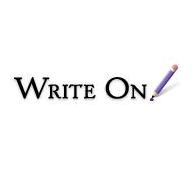 The December LA Hangout is next Wednesday, December 4, from 7 to 8:30pm at Literati Cafe in West LA. We changed the time to accommodate traffic. Hang out, set goals, and catch up with your writer/creative/entrepreneur peeps. RSVP on Facebook.
Whether or not you live in LA, join the Write On Online Facebook Group. Chime in on the threads – Toot Your Horn Thursday, Foto Friday, etc. – share your links, and more.
Post November Goals by November 30 to be entered in this month's goal drawing  to win a book from Michael Wiese Productions.
Plus, send items for the December Newsletter by Monday, December 2. Details below.
More in this week's Write On Wednesday!
Upcoming Events
November 28: Happy Thanksgiving!
November 30: Last day to post goals for the November drawing.
December 1: Join us for #GoalChat at 7pm PT/10pm ET on Twitter. Topic is December Goals. We meet every Sunday night to share wins, set goals, and chime in on the week's special topic. Need a reminder? RSVP on Facebook. Missed a chat? Read the recaps on Twitter Moments.  
For more about Twitter chats, listen to my interview on Madalyn Sklar's #TwitterSmarter podcast.
December 2: Deadline to send items for the December Newsletter – news and events. Email 2 to 3 lines + link to deckerling@gmail.com.
December 4: Join us for the December LA Hangout at Literati Cafe, 12081 Wilshire Blvd, in West LA from 7pm – 8:30pm. Please remember, Literati Cafe requests each attendee/patron purchase at least a drink. There is a parking lot, as well as street and metered parking. Please note the new time. RSVP on Facebook. 
December 8: Women In Business LA Fitness Meetup at Moore Dancing in West Los Angeles from 1:30pm – 3:30pm. The event kicks off with 45 minutes of cardio dance fitness led by Carina Conti, Betsy Struxness, and Lisa Medford, followed by an hour of networking, lite bites, raffle prizes and special guest speaker Debra Eckerling, who will give you 5 tips to set yourself up for success in the New Year! Get details and RSVP.
December 8: Join us for #GoalChat at 7pm PT on Twitter. Topic is Giving Back.
December 15: Join us for #GoalChat at 7pm PT on Twitter for our 2nd Annual Virtual Holiday Party.
December 22: Join us for #GoalChat at 7pm PT on Twitter. No formal topic, but we will have a chat.
December 29: Join us for #GoalChat at 7pm PT on Twitter. Special topic is 2020 and January Goals.
January 14: Publishing day! Your Goal Guide: A Roadmap for Setting, Planning and Achieving Your Goals will be released by Mango Publishing. Keep an eye out for more information, as well as details on live  and virtual events! Your Goal Guide is available for pre-order on Amazon, Barnes & Noble, and more.
January 17: The 5th Annual Goal-Setting Lunch 'N' Learn @ LAX Coworking with Debra Eckerling of The D*E*B Method. Come up with a mission statement, set short and long-term goals, prioritize, make a plan, and get ready to take on 2020! Reserve your spot.
Plus
For blogging inspiration read Write On Blogging: 51 Tips to Create, Write & Promote Your Blog. Whether you are starting or relaunching your blog, it will walk you through the process.
Do your kids love to write? Want to encourage them to hone and expand their writing skills? Check out Purple Pencil Adventures: Writing Prompts for Kids of All Ages. Although it's geared towards kids, there are plenty of prompts adults can use to exercise those writing muscles!
* * *
Writers, please email me if you are are interested in contributing a Write On! Review or Expert Column. Write On!
Tags:
#GoalChat
Business
Goals
Write On! Wednesday
Writing