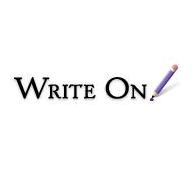 The #GoalChat Twitter chat takes place every Sunday at 7pm Pacific/10pm Eastern. I am currently taking requests for March Chat topics, so tweet your ideas to #GoalChat by the end of the week. Read the recaps on Twitter Moments. You can also join the Write On Online Facebook Group for writers, creatives, and entrepreneurs – and the Your Goal Guide group – for more support to set yourself – and your goals – up for success.
Please send items for the March Newsletter by Monday, March 2.
Thank you, all, for your continued support, encouragement, and enthusiasm for my new book: Your Goal Guide: A Roadmap for Setting, Planning and Achieving Your Goals from Mango Publishing. I have more events coming soon – live and virtual – so keep an eye on The D*E*B Method Facebook page for announcements, as well as live-streams, links, and inspiration throughout the month.
And, if you've found Your Goal Guide helpful, please consider writing me a review on Amazon or GoodReads. Thanks.
More in Write On Wednesday!
Upcoming Events
February 28 – March 2: California Creative Writers Conference in Culver City. There are some great sessions. Plus, I will be participating on two of the Saturday panels.  Check the schedule. And, as a friend of Write On, you can get a discounted ticket.
February 29: Last day to post your February Goals on Write On Online and weekly goals on Facebook to be entered in a drawing to win a book from Michael Wiese Productions.
March 1: #GoalChat at 7pm PT on Twitter. Topic is March Goals.
March 2: Last day to send news and events – 2 to 3 lines + link – for the March newsletter to deckerling@gmail.com.
March 4: Crystal Essentials Workshop at 7pm. Learn the basics of all things crystal in this exciting new workshop in Playa Vista with Courtnay Francis. Get details and RSVP on Facebook.
March 16 – 20: The Gift of Crisis Video Summit, hosted by Bridgitte Jackson-Buckley. Register on Eventbrite.
March 21: WNBA-San Francisco Pitch-O-Rama PLUS from 8am to 12:30pm, at Bethany UM Church, 1270 Sanchez Street (at Clipper) SF, CA 94114. It includes a continental breakfast and pre-pitch coaching. Limited to the first 60 ticketed attendees. Get details.
* * *
Winning Writers 6th annual North Street Book Prize competition for self-published books is offering a free download of Carolyn Howard Johnson's How to Get Great Book Reviews Frugally and Ethically to all who enter . Go to winningwriters.com/north to explore the opportunities. Winners also get a book-marketing consultation with Carolyn in addition to a cash prize. Runs February 15 through June 30.
* * *
Please email me if you are are interested in contributing a Write On! Review or Expert Column. 
Plus
Need help figuring out what you want and how to get it? Are you having trouble starting or finishing a project? Check out TheDEBMethod.com. Contact me to get started.
For blogging inspiration read Write On Blogging: 51 Tips to Create, Write & Promote Your Blog. Whether you are starting or relaunching your blog, it will walk you through the process.
Do your kids love to write? Want to encourage them to hone and expand their writing skills? Check out Purple Pencil Adventures: Writing Prompts for Kids of All Ages.  Although it's geared towards kids, there are plenty of prompts adults can use to exercise those writing muscles! Write on!
Tags:
#GoalChat
Goals
The D*E*B Method
Write On Wednesday
Your Goal Guide