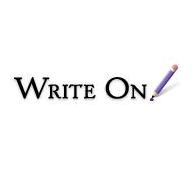 No matter where you live, you are likely feeling some impact of the health crisis. Maybe your classes or events were cancelled or moved online. Perhaps you live in an area where they recommend you stay inside. Could be you are just dealing with winter weather, and wouldn't be leaving the house anyway.
Whatever the reason, people are staying home. Inspired by this, I wrote 5 Things to Do When You Are Stuck Inside for my latest blog post on Writers on the Move. Please share your ideas too!
* * *
Thanks, all, for your continued support, encouragement, and enthusiasm of my new book: Your Goal Guide: A Roadmap for Setting, Planning and Achieving Your Goals from Mango Publishing. If you love the book, please consider writing me a review on Amazon or GoodReads. It could just be a few lines, and would certainly be appreciated. Thanks!
* * *
Post your March Goals on Write On Online and weekly goals on Facebook (a new goal-thread starts every Monday) to be entered in a drawing to win a book from Michael Wiese Productions. For more community and conversation, check out the Write On Online Facebook Group. Also join the Your Goal Guide Facebook Group for tips and resources to keep you motivated and set yourself up for success. Plus, check out the #GoalChat Twitter chat every Sunday at 7pm Pacific/10pm Eastern. Need a reminder? Read the recaps on Twitter Moments.
Upcoming Events
March 13 – 15: Wannacon Virtual Comic Convention. With ECCC postponed until the summer, Wannabe Press wanted to do something to fill the gap. Watch their virtual comic convention from Friday – Sunday, from 12pm to 4pm PT with some of your favorite indie artists and creators. Watch the livestream. Note: The livestream will be on StreamYard, so before leaving a comment, please grant StreamYard permission to see your name at streamyard.com/facebook.
March 15: #GoalChat at 7pm PT on Twitter. Topic is Life Skills.
March 16 – 20: The Gift of Crisis Video Summit, hosted by Bridgitte Jackson-Buckley, will consist of pre-recorded interviews of 5 authors who have undergone a crisis and share their experience and insights through writing. Each guest speaker will discuss how a crisis can be a wake-up call that forces you to reevaluate your life and become conscious of what it is you can do to help yourself. Register on Eventbrite.
March 19: Join Tom Reid at 9am PT for the next free webinar in his Sustained Leadership WBS series. This month's topic is Diversity as a Strength. Register here.
March 21: WNBA-San Francisco Pitch-O-Rama PLUS from 8am to 12:30pm, at Bethany UM Church, 1270 Sanchez Street (at Clipper) SF, CA 94114. It includes a continental breakfast and pre-pitch coaching. Limited to the first 60 ticketed attendees. Get details.
March 22:  #GoalChat at 7pm PT on Twitter. Topic is Course Development.
March 27: Livestream alert! I will be interviewed by fellow Mango author Sherry Richert Belul (Say it Now!) on Mango Publishing's Facebook page at 1pm PT.
March 29:  #GoalChat at 7pm PT on Twitter. Topic is April Goals.
March 30: "It's Time to Get Serious about Your Author Website," presented by IWOSC, the Independent Writers of Southern California. This panel of website developers answers your questions and discusses what you need on your website. Veterans Memorial Building in Culver City; details at IWOSC.org.
Plus
Need help figuring out what you want and how to get it? Are you having trouble starting or finishing a project? Check out TheDEBMethod.com. Give me an hour, I'll give you a plan.  To learn more, watch my appearance on Madalyn Sklar's #TwitterSmarter After Chat and on DIY Marketers pre-#BizapaloozaChat. Plus, check out Jim Katzaman's article covering my method behind "goal-setting madness." Contact me to get started.
For blogging inspiration read Write On Blogging: 51 Tips to Create, Write & Promote Your Blog. Whether you are starting or relaunching your blog, it will walk you through the process.
Do your kids love to write? Want to encourage them to hone and expand their writing skills? Check out Purple Pencil Adventures: Writing Prompts for Kids of All Ages.  Although it's geared towards kids, there are plenty of prompts adults can use to exercise those writing muscles! Write on!
* * *
Writers, please email me if you have a 2-3 line news item or event and/or if you are are interested in contributing a Write On! Review or Expert Column. Write On!
Tags:
Events
Mango Publishing
Online Events
Wannacon
Write On Online
Write On Wednesday
Writing
Your Goal Guide