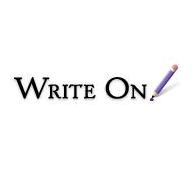 Hi All, Hope you are staying healthy and having a productive week.
Speaking of productivity, check out my latest #GoalChatLive video with author  Sean McLachlan, Writing Secrets of the World's Most Prolific Authors. We had a great conversation filled with fabulous tips.
Catch up on the #GoalChat and #GoalChatLive conversations on TheDEBMethod.com.

* * *
Stop by the Write On Online Facebook Group to participate in daily threads. Plus, keep an eye on The D*E*B Method Facebook page for announcements, as well as live-streams, links, and inspiration.
* * *
Please send items – news and virtual events – for the June Newsletter by Monday, June 1. And post your May goals by May 31 to be entered in this month's drawing.
More in Write On Wednesday!
Upcoming Events
May 28: Susan Valot is hosting a Goal-Setting Workshop for SPJ (Society of Professional Journalists) Freelancers. I will be joining Susan to go through some of the steps in Your Goal Guide. Starts at 12pm PT. Sign up here.
May 29: I will be a guest on Viveka von Rosen's #LinkedInLive at 8:30am PT. We will do a deep dive into what you can do to refresh your goals for greater success in 2020! Watch on LinkedIn. Check out my #GoalChatLive interview with Viveka.
May 31: Last day to post your May Goals on Write On Online and weekly goals on Facebook to be entered in a drawing to win a book from Michael Wiese Productions.
May 31:  #GoalChat at 7pm PT on Twitter. Topic is June Goals.
June 1: #GoaChat Live at 4pm PT on the Mango Publishing Facebook page. Let's talk about May wins and June goals. Fellow Mango author G. Brian Benson, Habits for Success, will join me for the broadcast!
June 1: Last day to send news and virtual events – 2 to 3 lines + link – for the June newsletter to deckerling@gmail.com.
June 7:  #GoalChat at 7pm PT on Twitter. Topic is Pitching. Need a reminder? RSVP on Facebook.
June 8: #GoaChat Live at 4pm PT on the Mango Publishing Facebook page with guest Liz H Kelly, Goody PR.
June 11:  In partnership with the San Francisco Writers Conference and the Women's National Book Association, San Francisco Chapter, The Mechanics' Institute presents, "How to Set New Writing Goals When #ChangeHappens: a conversation with Debra Eckerling and librarian Taryn Edwards." Starts at noon PT. Get more info and Register.
June 13: WNBA-San Francisco's Meet the Agents & Editors: Virtual Pitch-O-Rama Plus 2020 starts at 8am. Get details and register.
June 14:  #GoalChat at 7pm PT on Twitter. Topic is Journaling.
June 15: #GoaChat Live at 4pm PT on the Mango Publishing Facebook page with guests Brenda Knight and Nita Sweeney, authors of You Should Be Writing.
* * *
Please email me if you are are interested in contributing a Write On! Review or Expert Column. 
Plus
Impacted by current events? #ChangeHappens. Need to make a new plan? I can help. Read Your Goal Guide: A Roadmap for Setting, Planning and Achieving Your Goals from Mango Publishing. Remember to join the Your Goal Guide Facebook Group for additional support. One-on-one and group coaching also available. Contact me to get started.
For blogging inspiration read Write On Blogging: 51 Tips to Create, Write & Promote Your Blog. My book will walk you through the process, whether you are starting or relaunching your blog.
Do your kids love to write? Want to encourage them to hone and expand their writing skills? Check out Purple Pencil Adventures: Writing Prompts for Kids of All Ages. Although it's geared towards kids, there are plenty of prompts adults can use to exercise those writing muscles! Write on!
Tags:
#GoalChat
Goals
Productivity
Write On Wednesday
Writing
Your Goal Guide