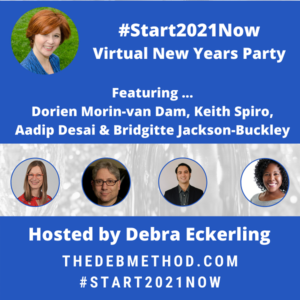 On DEBcember 1st I was joined by some awesome friends for a #Start2021Now Virtual Holiday Party.
This has been a challenging year. Between financial stress, job instability, and upending lifestyles – homeschooling, Zoom fatigue – 2020 can't be in the rearview mirror soon enough. So, why wait for January? Since I decided to add a month to 2021, I kicked off our  New Year on December 1st with a Virtual Party.
My guests for the #Start2021Now Facebook live:
Watch the #Start2021Now Virtual New Years Party
Need more ways to make the most out of an early start to the new year?
Grab your copy of Your Goal Guide and then  join the Your Goal Guide Facebook group.
What's your tip to make the most out of 2021? Please let us know in the comments.
* * *
Read the complete #Start2021Now Party recap on TheDEBMethod.com.
Tags:
#Start2021Now
Aadip Desai
Bridgitte Jackson-Buckley
Dorien Morin-van Dam
Keith Spiro
The DEB Method
Your Goal Guide