Your Goal Guide: A Roadmap for Setting, Planning and Achieving Your Goals
Accomplish Your Goals—Without the Stress 
Start with a plan. One of the biggest reasons goals fail is that we often don't put enough thought into what we really want before diving in. Your Goal Guide by Debra Eckerling starts with that first, crucial step: figuring out your goals and putting a plan in place. As a professional writer, communications specialist, and project catalyst with more than 20 years of experience, Eckerling is prepared to help you achieve success.
A method that works. Eckerling presents readers with her own tested and proven method: The DEB Method. DEB is a brainstorming and task-based system and stands for: Determine Your Mission, Explore Your Options, Brainstorm Your Path. Eckerling's method is a roadmap for goal setting that helps professionals lay down a plan and accomplish their mission.
Making the process as stress-free as possible. Goals can be intimidating because of the pressure we often put on ourselves to succeed. However, Eckerling believes that setting goals should be easy—we just need the right tools to tackle them. Through a combination of writing exercises and systems, Eckerling provides readers with a process for making and setting goals that is stress-free and easy-to-manage.
Debra Eckerling's Your Goal Guide is your next step to success. Open it up and find:
To-the-point advice and user-friendly recommendations
Easy-to-read examples and case studies
Adaptable worksheets and numerous resources to bring you one step closer to goal achievement
Readers of books like Atomic Habits, Your Best Year Ever, and The Bullet Journal Method will love Your Goal Guide: A Roadmap for Setting, Planning and Achieving Your Goals.
Write On Blogging: 51 Tips to Create, Write & Promote Your Blog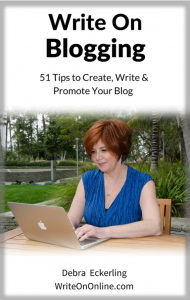 There are many reasons to start a blog. Usually it's because you have something to say. More and more people, however, begin blogging to grow their business.
Before you sell any product or – especially – a service, you need to establish yourself as an expert. Prospective clients and potential customers naturally turn to those who know their industry, and the best way to show you know your field is by sharing your knowledge on your blog.
Starting a blog may seem scary, but remember this:
Writing a blog is as simple as having a conversation, telling a friend something new, or showcasing how to do something.
It's like exercise! The more you blog, the more you will develop as a writer, and the easier the process will become.
Write On Blogging will show you how to plan, write, and promote your blog.
Listen to my interview with Carrie Dils on the OfficeHours.FM Podcast.
Learn more on the New Book Review.
Sign up to receive writers' news and events.

Purple Pencil Adventures: Writing Prompts for Kids of All Ages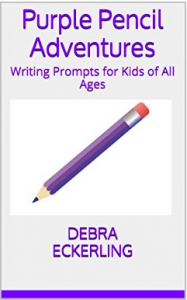 Do your kids love to write? Are your kids creative? Want to encourage them to hone and expand their writing skills?
Purple Pencil Adventures are writing prompts that encourage kids of all ages to tap into their creativity, while practicing and improving their writing. These exercises are written simply with lots of room for interpretation, so all ages can benefit. The book includes tips on journaling, general and seasonal writing prompts, extra credit assignments and more. Purple Pencil Adventures are designed to inspire joy, creativity, and a love of the written word.
Check out Debra's interview on the She Wrote a Book Podcast.
Sample Purple Pencil Adventure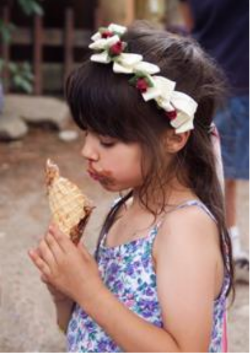 #37: Cool Treats
July is National Ice Cream Month!
There's nothing like a refreshing ice cream cone or a milkshake, especially in this hot summer weather.
What is your favorite flavor of ice cream? Do you eat it in a dish or on a cone? With what toppings do you like? When you describe your favorite ice cream dish, use your senses, especially taste, touch and sight. Be sure to include how eating it makes you feel.
Feel free to do research – eat ice cream – during this exercise.