Write On! switches things up with insight from screenwriter and playwright—and Write On! member—Arthur M. Jolly. Recognized by the Academy of Motion Picture Arts and Sciences with a Nicholl Fellowship in Screenwriting in 2006, Jolly is the screenwriter of Under the Same Sky (in post production) and Eight Ball (Top Ten Finalist – Pavaline Short Screenplay Competition), as well as the playwright of Past Curfew (2008 AOPW fellowship winner, to be published by Next Stage Press) and A Gulag Mouse (2009 Joining Sword with Pen winner, scheduled premiere Chicago 2010). (Check out Jolly's website for more info, as well as a schedule of upcoming readings and performances in Los Angeles, San Francisco, Chicago, and Pittsburgh.)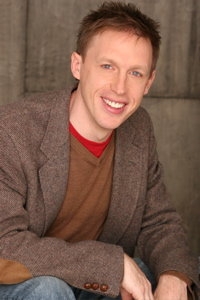 How'd you make the leap from stuntman to playwright?
The two didn't actually follow directly. I had always written for my own amusement, even before I started working as a stunt performer. (I worked in New York for most of the 1990s, doubling Freddy Prinze Jr, Adrien Brody and others). Later, I quit the film industry for eight years to fly helicopters. It was while working for a tour company flying into the Grand Canyon that my first play was produced—seeing the audience reaction to the play cemented my desire to focus solely on my writing.
Where do your ideas come from?
Desperation. Anywhere and everywhere—a painful, traumatic adolescent memory (especially for comedy), an overheard conversation in Starbucks (the main reason to go is to eavesdrop). Frequently, fragments of dreams will spark a scene, and the right scene can spark an entire screenplay. The screenplay that won the Nicholl Fellowship started as a single mental image: An oil rig covered in grass with a little cottage on top. I spent 110 pages to explain that one image—the closing shot of the screenplay (The Free Republic of Bobistan).
What is your writing process?
I try and write for five hours a day, usually starting first thing in the morning. On an off day, I'll quit after an hour or two, and when it's happening, it will be dark out and I'll realize I haven't eaten breakfast yet.
What is the best thing about writing plays? The greatest challenge?
The immediacy of the audience reaction provides a return no other writing can match. People might come up to you and say they loved your book, but you're never sitting next to them when they read it. On a film, your work is only one part of a vast collaboration. In a theatre, to look next to you and see a woman moved to tears by the words you have written is so magical, it's worth going around to random strangers and macing them, just to get that feeling. Okay, not quite.
The challenge of playwriting is the complete freedom. A screenplay has a solid structure—look at Blake Snyder's 15 beats, Truby's 22 steps or Contour's 44 scenes—you can deviate from that formal structure, but it's there to go back to if you get lost. A play is so fluid you can show almost anything, in any format, in any way. The plays—at least the ones I write—have the same kinds of dramatic questions, character motivations, stakes, and obstacles; but the fluidity of structure opens up a much wider—and more difficult to negotiate—arena for the writer. To use a music analogy, a screenplay is a twelve bar blues progression; a play is pure jazz.
How does it differ from the other types of writing that you do?
There's a freedom in playwriting, and a respect given to the written word. A director will—and must, according to most contracts—get written permission from the playwright before changing a single word of dialogue. That's a powerful tool, as well as a hefty responsibility. It allows you to write a line that's challenging on the first read but reveals something about the character once it's analyzed, once it's spoken in the right way. In a screenplay, that line will be cut every time—usually before the actor even reads it. Playwriting can still be provocative, still shock and amaze, with less pressure to make it commercially accessible to the widest audience. For me personally, I relish being able to go from screenplays to plays and back again, depending on the idea. I do have to work at keeping the two separate—my first drafts of screenplays tend to be dialogue heavy; occasionally I'll put a car chase in the middle of a stage play, that sort of thing.
How important are contests and festivals for those who are looking for their big break?
The Nicholl Fellowship opens doors throughout the industry, and I strongly recommend everyone win it at least once. Seriously, there are four or five contests that get noticed; but so many others that, aside from the top few, they are almost meaningless in terms of getting your work read or accepted. Even the smallest ones still play an important role, however, in that they can still provide personal validation for your writing. That's not trivial: if you finish in the top ten of a minor competition, it might be your impetus to keep writing; and your next one might be the killer script that wins an Oscar. Without some validation along the way, it's easy to quit even when you're close. When the top ten are announced, the writer of the eleventh-best screenplay never knows how close he or she came.
What's next?
In the next six months or so, I have three full length plays being produced, two in Los Angeles (Past Curfew and The Christmas Princess) and one in Chicago (A Gulag Mouse), one being published; several short plays happening in various festivals, several monologues coming out in different books… and my agent is going out with my next screenplay, a big action adventure movie about a bunch of crackpot survivalists who get to actually save the world. I'm hoping that one will fund the playwriting for a year or two.
Advice for writers?
Keep at it. It's always hard. If it was easy, everyone would do it rather than going around telling you their ideas and saying how they could be a writer if they had the time.
What do you know now that you wish you knew when you first started writing?
Writing is a violin. The first thing I wrote was crap, and all I had to compare it to was published work by established writers. It was like picking up a violin and expecting to play the music I'd heard at a concert. I guess that would be my real advice: Write crap! Don't worry that it has to be brilliant. That's what re-writing is for. Just write it, crap or not. Keep writing, and keep trying to write a little better every day. Eventually, you will master the instrument of your writing. No one played the violin first time, either.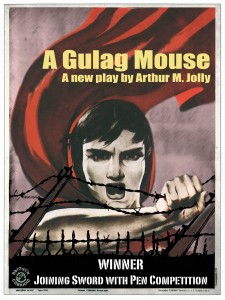 Tags:
Arthur M. Jolly
Author Q&A
Debra Eckerling
Eight Ball
How Blue is my Crocodile
Nicholl Fellowship
Playwright
Screenwriting
The Christmas Princess.
The Fine Print
The Free Republic of Bobistan
The Waiting Room of the Gods
Under the Same Sky
Write On!
Writing
Writing Contests