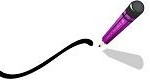 THE OCTOBER CHALLENGE: BOO! – WRITE IN A GENRE THAT SCARES YOU
Write On! Online's monthly contests are designed to encourage you to give those writing muscles a workout. For last month's contest—"Getting to Know You"—I recommended fiction writers take the non-fiction challenge and vice versa. This month, writing out of your comfort zone is the assignment!
WRITE IN A GENRE THAT SCARES YOU
We tend to play favorites when it comes to genres. We write what we like to read and watch (or at least we should) as a way of studying the craft. While it's essential to like what you write and "write what you know," there's value in testing out less familiar territory. You may discover a long lost (genre) love. Also, practicing a less-familiar genre may strength your skills—and give you fresh perspective on—an old standby.
PRIZES
1st Place: A medium-length (or 21,000 word) one-reader iScript, and have your story published on Write On! Online
2nd Place: Save the Cat!® Goes to the Movies by Blake Snyder
3rd Place: The Writers Digest Guide to Query Letters by Wendy Burt-Thomas, compliments of The Writers Store
Submit a 300 to 400 word short story in the body of an email to debra@writeononline.com by Saturday, October 31. Include in the message: your name, email address, favorite genre, and the "genre that scares you." Winners will be announced on Tuesday, November 10, 2009, in the November Write On! Newsletter.
Tags:
Blake Snyder
Fiction
Genre
iScript
October Challenge
Save the Cat Goes to the Movies
The Writers Store
Wendy Burt-Thomas
Write in a genre that Scares You
Write On! Online