Publicity is an essential element to any writers' success. Author Danek S. Kaus wrote You Can Be Famous! Insider Secrets to Getting Free Publicity to help writers and creatives get an edge in that area. He speaks with Write On! about his book and career; plus, offers publicity tips. Kaus, who can be found on Facebook and Twitter, is a produced screenwriter. He has published hundreds of articles in about 75 newspapers and magazines, and is the co-author of Power Publicity: Using Hypnotic Influence to Win in Life, Love and Business.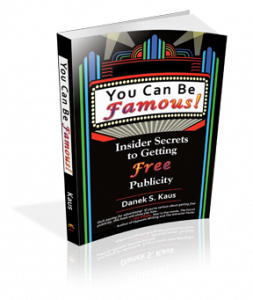 When and how did you start writing?
I wrote my first story when I was in elementary school. It was a pirate tale, with lots of swords and cannons and exploding ships, the things young boys back then liked in stories. Probably still do. I had a good time doing it because I was vividly imagining all the mayhem as I was writing. It was my own private movie.
I was an avid reader and enjoyed novels, biographies, history, and science. They say that good writers are readers, so perhaps all the time spent reading, including under the covers with a flashlight, when I was supposed to be sleeping, filled my subconscious with both a love of writing, and the ability to put words on the page.
When I went to college, I had a double major in creative writing and American lit, with a minor in drama. Once I graduated, I learned nobody was hiring people to write the great American novel, so I went back to school and studied journalism. I started selling newspaper articles before I finished my first semester.
How did You Can Be Famous! come about?
I've worked as a newspaper editor, staff writer, and freelance journalist. Several years ago, I started doing PR, as well. One thing I noticed on a pretty consistent basis is that few of the people approaching the newspapers I worked with, and later my own clients, had any idea of how to go about getting free publicity. I wrote You Can Be Famous! to help small business owners, creative types, organizations, and people with jobs to learn how to effectively promote themselves to the media and the Internet.
What was your process for writing it?
I almost never write with an outline. I usually have some key topics or points in mind and a general sense of the flow and where I want to go. Of course, I often get delightfully surprised along the way.
In You Can Be Famous!, I first introduced the concept of publicity, then described the tools of publicity—the press release, bio, etc. Then I broke down the book into specific media. There's are chapters on newspapers, radio, TV, public speaking, and so on.
How did you go about getting it published?
I approached the publisher who did my first book, Power Persuasion: Using Hypnotic Influence to Win in Life, Love and Business, which I wrote with David R. Barron. I've had several careers along the way. I was a clinical hypnotist for several years and I also worked in sales. David is a Master NLP practitioner and Master Hypnotist. We were a natural fit to write that book together.
What was your favorite part of writing the book? The greatest challenge?
My favorite chapter is "The Care and Feeding of Journalists." I had a lot of fun with that one, because it gave me the opportunity to use my sense of humor and be more playful with the language.
The greatest challenge was dealing with my father's illness and eventual death while I was writing the book. He died from grief about a year after my mother passed. I dedicated the book to both of them.
How is You Can Be Famous! different from your other types of writing?
In this book, I am writing directly to the reader. It is a hands-on, how-to book. Most of the newspaper and magazine stories I wrote were done in newspaper style, which is generally more formal and stylized.
However, I have also written a lot of self-help articles, which often lent themselves to a looser, more flexible style.
I'm also a produced screenwriter. I wrote most of an award-winning, quirky thriller called, The Ante, which got a great review in Variety and was accepted into six film festivals. The film will probably be released early next year. My manager in LA is helping me to shop some of my other screenplays to production companies.
I think my background in journalism helped me to write screenplays, which are much leaner in style and much shorter than most novels. Although I enjoy writing articles and self-help books, I'm passionate about telling stories. I get to blow up stuff again.
Of course, I do want to write novels also. But then, who doesn't.
What are three things a writer can do immediately for free publicity?
1. Buy 10 copies of You Can Be Famous! Put them under your pillow, so all the knowledge in the book seeps into your brain while you sleep.
2. Write a press release and send it to the appropriate media.
3. Try to find a way to tie your book in to current or seasonal events. When the last Star Wars movie came out, David and I sent out a press release showing how some of the techniques in Power Persuasion were similar to Jedi mind-control.
Advice for writers?
Stop writing. There's too much competition already. But if the sickness has already gotten hold of you, then write. A lot of people talk about writing and what they're going to write. But writers write. So write. Almost every day, even if it's for just a few minutes. It builds the creative muscles.
If you're writing a big project, like a book, don't look at the entire project when you start. It's too intimidating. Chunk it down into smaller, bite-sized pieces and commit to writing a certain amount each day, even if It's only one page. The stack of pages will become a chapter. Write a bunch of chapters and you have (drum roll, please) a finished book.
What do you know now that you wish you knew at the beginning of your career?
Write for the market. Consider what editors and publishers want and need, not what you want to write. After you've established yourself, there are more opportunities to write what is more fulfilling to you.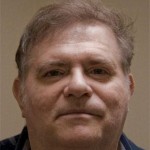 Tags:
Author Q&A
Danek S Kaus
David R Baron
Debra Eckerling
Insider Secrets to Getting Free Publicity
Non-fiction
Power Persuasion
Publicity
The Ante
You Can Be Famous!