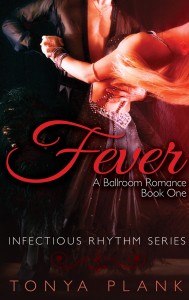 Tonya Plank grew up in Phoenix, Arizona, but spent most of her adult life in New York, working as a criminal appeals attorney. After she'd had enough, she moved back out West to focus on writing. Her first novel, Swallow, an edgy chick-lit comedy about a lawyer with the psychosomatic disorder, Globus Hystericus, won gold medals in the Independent Publisher and Living Now Book Awards and was a finalist in the ForeWord Book of the Year and National Indie Excellence Awards. Her Fever series will be release June 10, 2015.
Why did you write the Fever series?
I wrote the Fever series because I really wanted to write a romance novel and I thought it would be fun to set it in the world of ballroom dancing, since I haven't really seen any of those. I used to take ballroom dancing lessons and I even competed as an amateur and did a few pro/am show dances. There were so many talented, gorgeous, swoon-worthy male dancers, I thought one would make the perfect hero for a romance novel!
How did you incorporate your dance background into the main character's story?
I used some of my own dance experience in the novels, but I totally embellished and even completely made things up for dramatic purposes! For example, I was on a team, albeit a swing team, not a mambo one. A lot of those mishaps – which I hope are funny! – are based on something that really happened, either on the team or in my own show dances. But I did take dramatic license to make them funnier or more resonant. As for the characters and the larger plot, I really kind of compiled elements of various people I knew and shaped them into my own characters. So no one is really based on any one person, but on lots of different people combined, and then I added to them using my own imagination to create the character as a whole, if that makes sense. I've been to Blackpool and other competitions before, but I definitely took dramatic license there too, and changed certain things for the sake of making the story more dramatic and entertaining.
What factored into your decision to self-publish?
I had an agent for my first novel but she could never find a publisher, so, with her blessing, I self-published it. That ended up being a pretty positive experience for me. So, I decided to do the same with this set of romance novels. Also, I used to write a dance blog, and people seemed to like my writing there, and the books are similar in terms of tone and style. So, I figured if people liked my blog, they'd probably like these books.
Why did you decided to release all three at once?
I released all three at once because it's a continuing series. If readers liked the first one and wanted to read on, I wanted the other two to be available for them immediately.
What was your process for writing it? Formatting it?
My process for writing: I basically just forced myself to write every day. It helped to take a class – I was taking Laurie Ellen Horowitz's fiction classes at Beyond Baroque in Venice on Monday nights along with a monthly group of hers that met on weekends – and we made deadlines for ourselves and each other and held ourselves accountable to those.
As for formatting, I took an online class through SavvyAuthors.com. The teacher suggested that people, like me, who didn't know a lot of HTML, use Jutoh for ebooks, which I did. The class helped a lot but didn't answer everything. If I had problems, I'd just research my problem on YouTube and get answers. There's a tutorial there for practically everything! And the guys at Jutoh were pretty helpful as well.
How did you find time to write while doing other things?
Honestly, it was the hardest thing in the world for me to write at nights after my day job as a lawyer. I do contract-based work, and it just so happened that the job I was working on ended. I had four months off and I wrote all three novels in those four months. When I went back to work, it was a little easier to write at night because by that point I was editing and revising instead of getting the words out to begin with, which is the hardest part for me. I really don't know how I would have done it if I didn't have that time off from work.
What was your favorite part of writing the Fever series? The greatest challenge?
The best part of writing was, honestly, just writing it from start to finish! Creating the fun characters – both the main characters and the side characters like the teachers and other students, designing Sasha's tattoos, and choreographing Sasha and Rory's sexy dance routines.
The hardest part was all the cutting back I had to do in revising. I wrote way, way, way too much about the intricacies of learning to dance, the classes, the team experience, and even about her day job as a lawyer. There was a lot that didn't really advance the plot or inform the characters, and I had to get rid of all that. But I feel like I have things that may fit into another story 🙂 I'm writing more books focusing on other characters and romances that develop in the same studio.
Additional advice for fiction writers? Romance writers?
As far as advice for writers, just take workshops and read, read, read. If you're writing in a genre, read a lot of the top-selling or award-winning books in your genre. And join national and local organizations that represent your genre. For romance, that's RWA, and for Angelenos, LARA (the LA chapter). For mystery, that's probably Sisters in Crime and MWA, etc. Go to their meetings and take advantage of their workshops and try to go to their national conferences. You will learn so much about craft, and about the business, which is hugely important if you decide to self publish.
Advice for those who want to self publish?
For people who want to self publish, in addition to getting involved in the local and national chapters of your genre, I would join the Writers Cafe on Kboards.com and subscribe to an email loop, like Marie Force's yahoo group, selfpublish@yahoogroups.com There are also some podcasts you can watch or listen to: Self-Publishing Roundtable, and Rocking Self-Publishing. They usually have a new episode weekly, and you can explore their archives. If you self publish, you're an entrepreneur in addition to being a writer. You have to learn the business as well as the craft!
What do you know now that you wish you knew before you wrote this series?
If I had it to do over again, I would have given myself more time to do pre-release publicity. I didn't know how long it would take me to learn to format myself (all the formatters who were recommended to me were booked until the fall so I pretty much had to do it myself if I was going to have a summer release), and to learn how to upload to the various stores and put my book up for pre-order, etc. There's definitely a learning curve to all of this! Plus, by the time I found an editor I really liked and wanted to work with, she couldn't work on it right away. So I had to wait for the editing to be finished too. The quality people – editors, book cover designers and formatters – get very busy, so you have to book them well in advance. Once my final product was finished and ready to go out in the world, my publication date was practically here. So, I will book those people well in advance next time!
Tags:
Author Q&A
Fever series
Romance
Self-Publishing
Tonya Plank
Writing