Mayra Calvani is an award-winning, multi-genre author for children and adults. A reviewer for more than a decade, she's a regular contributor to Blogcritics Magazine and the Latino Books Examiner for Examiner.com. She's a member of the Society of Children's Books Writers and Illustrators, the CBI Clubhouse, and the Children's Writers Coaching Club. Calvani's non-fiction book—The Slippery Art of Book Reviewing—was a ForeWord Best Book of the Year Award winner, and it's required reading at four universities.
Mayra Calvani and Write On! Online are part of the VBT – Writers On the Move Blog Tour. Please check out the VBT Website for more exciting author interviews and expert columns!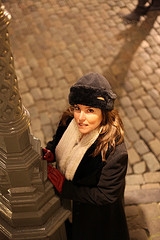 What led you to start writing?
I've been writing since I was about 11 years old. I was a quiet child with a big imagination and I loved creating characters and worlds in my stories. The idea that you can create fictional people and situations is quite seductive. It's like you're a magician with a magic wand. I wrote fiction throughout my teens and later majored in Creative Writing in college. Writing is my life. I write because I have to and because I would be incredibly miserable if I didn't.
What are the benefits and challenges to writing for both adults and children? How did you develop such different specialties?
I'm inspired by many things and this is the reason I don't concentrate on only one genre. I write what I love. I write the types of books I love to read and since I read in various genres, then it comes naturally for me to write in various genres. My favorite genres at the moment are children's picture books and the paranormal (for young adults and adults).
I didn't choose to go this route on a conscious level. I've always loved paranormal fiction and this is the type of writing that is closest to my heart. When I was a teen, this is the genre that captured my imagination the most.
I started writing children's books after I had kids. This is a common trait for many children's authors. They start writing for kids after they have kids of their own and make a habit of reading to them at bedtime. I fell in love with children's literature this way.
Writing for both children and adults has its challenges, though, especially when it comes to branding yourself and to promoting your books. You have to spend more time and effort because you have to target two different audiences.
Do you have a favorite genre? What is it and why?
As I mentioned before, the paranormal genre is the one closest to my heart. It's exciting to delve into the unknown and to create stories and characters that are dark and mysterious. I love creating spooky atmospheres in my stories.
What is your favorite part of being a writer? The greatest challenge?
My favorite part of being a full-time writer is being my own boss and working in my pajamas. The greatest challenge? Making money!
How do you approach the blank page?
I say a writer's affirmation each time I sit down to write. I close my eyes and say the affirmation out loud, meaning each and every word. Then I start writing. This is one of the tricks I use to make my mind do whatever I want it to do. It works wonders!
Advice for writers of children's books?
You have to read children's literature as often as possible and write as often as possible. Create a writing schedule and stick to it. Create a submission schedule as well. Great stories left in a drawer will never see publication. It's also important to join a good critique group for feedback. You need a set of objective eyes to look over your manuscript. Be sure, however, to join a group that specializes in your genre.
Advice for reviewers?
Remember your duty is with the reader, not with the author or publisher.
What do you know now that you wish you knew when you first started writing?
That you can't write only when inspiration strikes. Writing is a job like any other. You may not always feel like getting up and going to work, but you have to do it, no matter how you feel. If I had been fully aware of this back then, I would have been a hundred times more productive.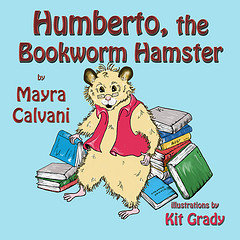 Learn more about Mayra Calvani at www.MayrasSecretBookcase.com and www.MayraCalvani.com.
Tags:
Author Q&A
Blogcritics Magazine
Book reviews
CBI Clubhouse
Children's Books
Children's Writers Coaching Club
Debra Eckerling
Humberto the Bookworm Hamster
Latino Books Examiner
Mayra Calvani
Non-fiction
Society of Children's Books Writers and Illustrators
The Slippery Art of Book Reviewing
VBT - Writers on the Move