Write On! speaks with members Barbara Ransom and Joel Harris, who just published their first children's book Smooshy Strawberries. Ransom is a teacher by trade; Harris has been a full-time artist since 2003, and is also a musician and poet. The couple lives in Venice, California, and discusses collaboration, their creative process, and self-publishing through Create Space.com.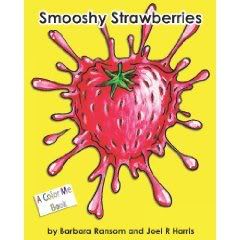 How did you two meet? When did you decide to collaborate?
Barbara: We met on the Venice Boardwalk over two years ago, when I bought a painting from Joel. Honestly, we decided to collaborate after a spiritual advisor, Ellison, at Mystic Journeys Books, suggested it.
You are both artists and writers, yes? How do the two creative elements work together?
Joel: Barbara sees the story in words and I see the images.
Barbara: We inspire each other and bounce ideas off each other.
Why did you write/design Smooshy Strawberries?
Joel: Barbara was trying to teach her two older children the importance of honesty, and she decided to write a story about it.
How did you come up with the idea? What was your process for writing it?
Barbara: My oldest daughter, Sami, had to write an apology letter to her principal, so we felt the story would be "real" to her. Cate, my younger daughter, loves strawberries. I came up with the storyline, then we sat down together and wrote it on the computer. We edited it a lot—and sent it to some people to give us their input and feedback. Finally, Joel sketched out the drawings and we converted it to a file to upload it to Create Space.
What was your favorite part of creating the book? The greatest challenge?
Joel: The final illustrations were the most fun. The most challenging was moving past procrastination.
Barbara: The most fun was collaborating and working together. We act like little kids and laugh a lot. The most challenging was finding the time to do it. We both work and have three kids between us.
Why did you choose this method of publishing?
Joel: I published my other book—Journal: Into the Heart of the Amazon in Search of Truth—through Create Space, as well. It is a simple and easy process to follow.
What's the next project?
Barbara: We are writing a quirky, different ABC book for kids. So far the illustrations are AWESOME!
Joel: The book depicts the current state of the planet.
Advice for writers and artists?
Joel: Stay focused on your inspiration instead of distractions and fears.
What do you know now that you wish you knew before creating Smooshy Strawberries?
Barbara: I guess I wish I knew how easy the process would be because I've wanted to write a children's book for years. The self publishing websites make it as simple as possible.
Harris and Ransom with daughter Lucy Rose.
Tags:
Author Q&A
Barbara Ransom
Children's Books
Create Space
Debra Eckerling
Joel Harris
Journal: Into the Heart of the Amazon in Search of Truth
Smooshy Strawberries
Write On!
Writing