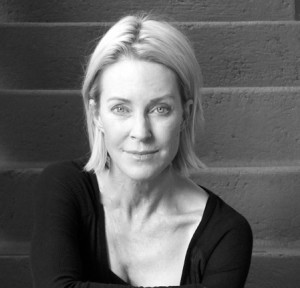 Anna Nicholas's latest play "Villa Thrilla" premieres at Atwater Village Theatre (Atwater Village, CA) this week. Anna's a playwright-actress-novelist-filmmaker whose plays ("Theatre in the Dark," "Lu/Lou," "The Beaver Suite," and "Incunabula") have been produced throughout Los Angeles. She wrote, produced and directed the indie mockumentary Univers'l, as well as the short film, The Big Bowling Ball. Anna's the author of four published novels, as well as non-fiction. She authored a monthly column for Vine Times magazine, and her work has been published in Touring & Tasting magazine, the Los Angeles Times, The Chronicle of the Horse and more.
"Villa Thrilla" is described as "Austin Powers meets The Sopranos by way of Agatha Christie. … [it's] a hilarious seasonal twist on the classic English murder mystery." For tickets and more information, go to VillaThrilla.com.
What inspired you to write "Villa Thrilla?"
It may have started out as a dare. Seeing "Noises Off" with a friend who then said, "Wouldn't it be cool to do a play within a play but have it be a mystery." "Yes," I agreed. But when she didn't write it, I did. It's taken years.
What is your writing process?
I don't always get my way with my writing process and schedule. But when I can dictate how my day goes: it's to get in bed with an idea in mind–either a new project or a problem with something I'm working on–anticipating it will sort itself out while sleeping; then to get to my computer by 7 a.m. ready to write what the Muses have told me the night before.
What was your favorite part of writing it? The most challenging?
It's a very challenging complicated piece. There are many layers of character and plot. But that which was most challenging was also the most fun trying to solve. It really was a house of cards and I had to put it aside several times over the years because it hurt my head to track 10 characters who were not always playing themselves. That said, it will be far less painful for the audience and hopefully will provide engaging entertainment as people try to figure out the plots within the plot.
This play seems a little larger than life. How did you manage that?
Well it is and it isn't. In a straight farce, all the characters tend to be archetypes and hence larger than life: the villain, the bimbo gold digger, the young bookish type, the house boy. In "Villa Thrilla" we have those archetypes but we also see the people beneath them, i.e., the actor characters playing those archetypes. These characters need to be real if the play is to succeed. As for managing them, and how well I've done it, we'll see…
Advice for writing humor?
This is a huge topic. There are so many kinds of funny and a lot of it's cultural and experiential. It's why American film comedies don't always do well overseas. So with that in mind, first I think a writer has to write what she finds funny. If a writer can't communicate what it is about a situation she finds funny, the piece is not likely to succeed; or if it does, it's just a happy accident. This question always makes me think of early Coen Brothers films: Raising Arizona, for example. That wasn't necessarily a script that an executive would have greenlit with Mike Nichols to direct. The Coen Brothers' sense of humor is unique and they're able to communicate that to their audiences in a unique way. I think a writer has to stay true to his or her sense of humor an not try to imitate.
Advice for playwrights?
First I think you really have to love theatre and the community of putting on a play. It's such a wonderful collaborative process, so listening and implementing input from people you trust is vital. On the other hand, I'm not a big fan of dramaturges who often want to rewrite your play. Advice, suggestions, yes. But unless someone is promising you a production if you "fix" things, I wouldn't go down that path. When starting out as a playwright, it's good to get in with a theatre company. Offer to write pieces for them. Many companies do short play and one-act festivals and often need new material that doesn't cost much, and by hanging around, you know who (what actors) you're writing for. If you have the wherewithal, you can self-produce or find someone who can help you raise the finances to put on your play. Most recently I heard that Theresa Rebeck self-produced her early work, which gave me confidence to co-produce my own show.
How do you balance the different types of writing? In what ways does your fiction help your non-fiction, your plays help your novels, etc?
Just as there are many sides to most of us, there are many stories we might tell. Some people, like Nicholas Sparks, are happy writing the same genre over and over to great success. This is the norm, I think, because it's always seemed to me that the way marketing works is people need to know you do X. If you suddenly start to do Y, they can become confused. I have some personal experience with this.
After directing my first feature, Univers'l, starring Tony Todd, which was set at an LA strip mall the day the 1992 L.A. riots started, I secured a powerful agent for directing and writing. That agent sent me to meet the likes of Quentin Tarantino and a few other high profile producers. Well, my next script was a comedy, nothing like the multi-ethnic urban dramedy that was Univers'l. And to a person, they were surprised that the person who made Univers'l would want to do the comedy, which as it happens was called Big Bang Theory (this was before the TV show).
So I suppose the answer to the question is "not very well!" That said, I feel I can move from genre to genre and from stage to novels without much trauma. A few days and I'm happily writing in whatever form I'm working in. I find they can support each other actually. After working on a play, the dialogue in a novel becomes more economical. After working in fiction and returning to plays, it's a relief not to have to spell everything out about a location where a scene occurs.
Any additional advice for writers?
Usually when you sit down to work, it's work. Inspiration can hit but don't count on it. The zen moments when the muse takes hold of your fingers, tapping away on the keyboard, are rare. Be prepared to think and love the puzzle of plotting. I avoid writer's block by never assuming I'm going to have a revelation about what to write. You build a play or a short story or a novel. It's not unlike building a house. You have to figure out what goes first. Sometimes I outline and that's helpful, just as the architect drafts plans. But stay flexible to those "design changes."
What do you know now that you wish you knew at the beginning of your career
I have realized that things don't happen for me unless I make them happen. For years I hoped someone would discover me and decide to help. I have also realized that fear of failure was keeping me from promoting myself and now I'm at the age where I really believe that I only fail if I don't try in the first place.
Tags:
Anna Nicholas
Author Q&A
Comedy
Fiction
Plays
Playwright
VIlla Thrilla
Write On! Online