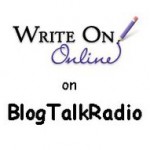 Thanks, Richard Dunn, author of How I Shot the YouTube Megahit "All by Myself" on My iPhone and Why I'm Not Lonely Anymore, for joining us for the October virtual meeting on BlogTalkRadio. We talked about Richards book and viral video, as well as how to create unique and easy videos to promote your story/book/expertise/self.
Watch Richard's video: "All by Myself."
Some of Richard's advice for shooting videos from the show:
• When you shoot/create a video, there's nothing more engaging than a common space with uncommon circumstances.
• Catch people's attention, try different angles, get a cheap tripod or find a way to stabilize your camera and make sure your lighting is good.
• Don't be normal. We are so overwhelmed with content online, find different ways to do things. Be silly. Normal behavior will get normal results. You want results that are out of the ordinary.
* * *
Listen to our entire conversation:
* * *
October 15: October Write On!/Guided Goals Hangout. NEW LOCATION. Join us from 1 – 3pm at Peet's Coffee, 1854 Westwood Blvd, Los Angeles 90025. We'll have some tables reserved inside! RSVP on Facebook. There's free 1-hour parking on the lot (you'd have to move spots after an  hour) and also 2-hour parking on Glendon (1 block east). Also metered parking on Westwood Blvd.
Post your November Goals on Write On Online or Facebook and be entered in a drawing to win a book from Michael Wiese Productions.
Write on!
Tags:
All By Myself
How I Shot the YouTube Megahit "All by Myself" on My iPhone and Why I'm Not Lonely Anymore
Richard Dunn
Write On! Meeting
Write On! Online