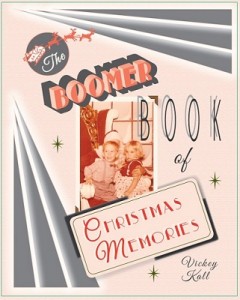 Freelance writer Vickey Kall is author of The Boomer Book of Christmas Memories. She is a baby boomer with a keen interest in history, so much so that she earned a masters degree in that field. An LA-native, Kall is also the creator of WritersCalendarLA.com.
What inspired you to The Boomer Book of Christmas Memories?
I wish I remembered! Once I had the idea, it seemed so obvious: collect all the back stories about Boomer holiday traditions–aluminum trees, A Charlie Brown Christmas, green bean casserole, and all the toys—into a book. But I've forgotten the spark.
How did you decide what to include and what to eliminate?
Everything in the book is related to Christmas and the holidays. So I included bikes and dolls and stocking stuffers—but not summertime toys like Slip 'n' Slides. I asked other Boomers what they remembered too, and got lots of ideas from them. And I looked through books and old magazines, and checked out the top music hits on Billboard.The time frame is another limit: 1946 through 1970—with a few small exceptions.
What was your favorite part of writing it? The greatest challenge?
I love research. Most writers don't, but I do. So scrolling through Proquest or requesting obscure books written by people who collect Christmas tree lights—that was as much fun as the actual writing. The book is full of weird and interesting tales, like the wild lifestyle of some of the most successful toy designers—one of them married ZsaZsa Gabor! Another had his bachelor pad written up in Playboy. Finding out the details and verifying them was like detective work—lots of Ah-ha moments.
The greatest challenge was definitely the pictures. Many came from friends, but when I wanted something more, I found that even the Library of Congress will not verify whether their online photos are in the public domain or are owned by someone else. It's become a tricky area, full of gotchas.
What was your process for writing it? Getting it published?
My writing process is full speed ahead. If I wasn't at the library or researching online, then I was writing for several hours a day. I don't wait for a mood or a muse, because I've found that some of the best work gets done even when we don't feel like writing.
After my writing (and re-writing),  I turned it over to my fantastic editor and book designer, Stacey (TheBookDoctorIsIn.com). She found an embarrassing amount of  errors. She also did the layout, placing the photos and including the small art elements by all the subtitles. She would edit a chapter and send it back to me in Word and pdf, with the corrections highlighted. Once I OK'd the corrections, she deleted the highlighting and we moved on to the next chapter.
Once Stacey convinced me that the book should be in full, glorious color, the choices about publishing were narrowed down. We went with Lightning Source.
Why did you decided to go the self-publishing route?
I had self-published my first book, Death Speaker, a historical novel of Ancient Gaul. Marketing is the hard part, but my understanding is that any author—self-published or not—has to do their own marketing. So that didn't deter me.
Also, I have a few friends who have been traditionally published, and I'm shocked at how shabbily their publishers treat them. The book takes a year or more to come out, the ebook even longer, and no one cares if you like the cover or not. Writers get no information about their sales for months, even years. No marketing at all—maybe one big name newspaper review at best. Everything else is the author's responsibility. So nothing in the big publisher business model appealed to me.
Share three things someone considering self-publishing needs to know?
1. Find and pay for a good editor/proofreader/designer. It's worth it. I've had a couple folks tell me I could have done that myself to save money, but it's a penny-wise, pound-foolish solution. If your book is poorly edited or looks bad, readers won't buy it. They'll use Goodreads and other forums to warn readers away from you.
2. You'll need an ISBN from Bowker.com. Your print and ebook require different ISBNs. If you don't buy your own, then your book will name CreateSpace or Lulu, etc., as the publisher.
3. Start thinking about promotion and marketing, and educate yourself. Read the books, and sign up for newsletters. You can go crazy if you try to do everything, but at least get yourself informed.
What are certain things someone writing a "holiday" book needs to know?
I aimed for a November 1 rollout, and that was a mistake. I should have aimed for October 1, or even earlier. A million little things can delay you. Those delays kept me from offering some of the free articles to magazines, because I was afraid the book wouldn't make it out in time. So bring it out as early as you can, then plan the push for November and December.
Additional advice for writers?
Keep writing. Seriously, that is the best advice. Write.
What do you know now that you wish you knew when you started working on the book?
I wish I'd known there would be delays, and I would've worked with a different timetable. But other than that—marketing seems to be something you learn by doing. There's no way to predict what opportunities might open up, and there are tons of things you just can't know in advance.
Tags:
Author Q&A
Christmas
Non-fiction
The Boomer Book of Christmas Memories
Vickey Kall