The end of the year is a stressful for many. First, there's Halloween and then Thanksgiving, followed by a slew of holiday parties, lots of holiday shopping, Christmas/Hanukkah, and then New Years. Whew!
I'm tired just thinking about it.
How do you get through a marathon activity such as the holidays, moving, a wedding, semester exams, or National Novel Writing Month?
The 3 P's: Plan, Practice, and Pace.
Plan. "Chance favors the prepared." Say, you want to write your New York Times Bestselling novel next month. From a planning standpoint, there are three things I recommend:
1. Spend time before the month starts, determining your overall story arc and characters
2. Create a writing schedule
3. Determine a Plan B for when life gets in the way and the schedule falls apart—you need to have a contingency plan
Practice. If you have been doing the Write On! Online goals and monthly contests, then you are in great shape. You probably already have a writing routine in place and have been flexing your writing muscles. If not, don't fret—but the time to start practicing is now.
Pace. Slow and steady wins the race. (Don't groan, you know it's true.) In April I wrote about how standing up and walking away can be the best thing you can do under deadline—it triggers all sorts of physiologic responses that calm you down and make you smarter. So, by pacing yourself, you are giving yourself time to work on your masterpiece when you are calm and not feeling pressured.
In the book, The War of Art, Steven Pressfield tells the story of a fellow author who claims that he only writes when inspiration strikes. However, fortunately for him, it always strikes every day at 9am. Becoming a master at your craft requires all three of the P's.
I use these exact techniques with my clients when we are trying to create a new habit. Without a schedule and a backup plan to the schedule, it's far too easy to let an ignored alarm clock or a last-minute dinner invitation derail diet and training plans—and the same holds true with the rest of life.
So, remember: "Plan, Practice, Pace." You'll be in great shape by the time end of year rolls around!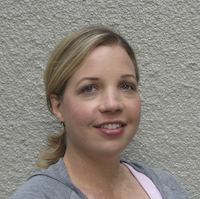 Jen Waak is a Seattle-based movement coach who uses a system that combines eastern philosophy with western medicine to reprogram the nervous system and get people out of pain, moving better, and feeling younger. jen@movefitfun.com.
Tags:
Goals
Jen's Gems ... for the Healthy Writer
Jennifer Waak
Move Fit Fun
National Novel Writing Month
Pace
Plan
Practice
Write On!
Writing
Writing Assignments