Lieutenant Colonel Paul Sinor, an LA Write On! Member who recently moved back to Florida, has been on nearly all sides of the writer spectrum: screenwriter (Madam Murder, Dead Men Can't Dance), author (B$ A Script Sale, Operation Brighteyes), and teacher (Screenwriting: University of West Florida, Shoreline College in Seattle). With more than 30 years military experience, Lt Col Sinor has also worked as military technical advisor on many films, most recently The Messenger, starring Woody Harrelson and Ben Foster. The film premieres at the Sedona International Film Festival on Tuesday, November 10, and opens in Los Angeles and New York on November 13. Lt. Col. Sinor (below, far right) discusses his experience and the facets of writing in multiple mediums, as well as offers tips for writing success.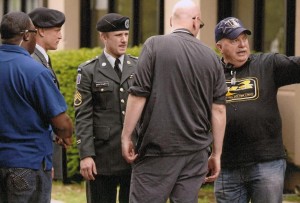 When did you first start writing?
I got serious about writing in the late 70's. I started writing short stories for Men's (genre) magazines. They were mostly detective type stories with a sex scene in them in order to get them published. When the magazines got more graphic they stopped doing short stories so I began writing magazine articles. I did that for a few years and then thought I'd try a novel. I also wrote a weekly newspaper column on two different occasions. I wrote some in high school but that is another long story.
What was your big break?
My big break was probably when I sold my first novel. By that time I had probably 150 articles and short stories published in regional and national magazines. They didn't pay a lot but it was good practice.
You have written novels, screenplays, and non-fiction books. Which is your favorite? What medium is the most challenging?
I like writing novels because I can take my time as I develop a character and the story line. In a novel I can take ten pages to describe a room but in a screenplay it's INT. ROOM — DAY and then you move on. For me non-fiction is the most challenging in that everything is supposed to be factual. In fiction you can just make it up if you need something.
In what ways do all the types of writing help and/or hinder each other?
Writing anything helps a writer perfect his or her craft. If you're writing a postcard on vacation or the last chapter of a trilogy, it's still writing. I think writing is like doing drugs. You start with a little something and that feels good and then you try something else that's new and exciting and that feels even better. For me, going from short stories to novels and screenplays was like feeding my habit. For the record, I don't now, and never did, do drugs. That's my story and I'm sticking to it.
How important is diversification for a writer?
I think it depends on the writer. I know writers who are great novelist who are terrified of the thought of writing a screenplay and vice verse. I am usually writing a novel and a screenplay at the same time. I make sure they are different genres so if I get tired of doing a hard-boiled mystery, I can work on a comedy screenplay. That works for me, but it's not for everyone.
You are a big fan of breaking the rules. What are the best ways for a writer to make his or her work stand out?
Don't listen to anyone's advice about writing unless you've tried it and it works for you. Think in opposites. If the rules say "don't call the publisher" you sent your manuscript to and everyone believes it, he or she probably gets few phone calls and has time to talk to you since you're the only one who has the nuggies to call. Be professional. Do your homework. Know what your target wants. Don't send a slice and dice script to Disney. Harlequin is not looking for Science Fiction. Airline in-flight magazines don't want your story about the lone survivor of a plane crash. Don't send a box of cookies along with the story. At some point you may have to retire that story/novel/screenplay/article because it's not going to sell. We all have one or two or three or….you get the idea. Move on. Keep writing.
What are some of the biggest mistakes writers make?
I know writers who read a book on writing and immediately think they have been on the mountain with Moses and his chisel. A week later they read another book that says just the opposite and now it becomes the Inspired Word. I think it is possible to read too many "how to" books. If you find one you like check out the author. How many other books have they written? If it's a book on writing novels, have they actually SOLD a novel or do they make a living giving advice? I have been a presenter at several writers' conferences and did the same one three years in a row. I was almost on a first name basis with half of the attendees. They kept coming back looking for a silver bullet that would open all the creative and marketing doors that had eluded them. It ain't there. I don't have it and neither does anyone else.
What does being a military technical advisor entail? What part, if any, does it help your own writing?
I had the pleasure of being the Army Liaison to the Television and Film Industry in Los Angeles for four years. When a producer wanted Army support on a project my office got the script and read it. If we thought it was something we could support, we worked with the production team on dialog, action, traditions, terminology, locations, etc. Once the film went into production, I was on the set every day to make sure what we agreed to was done. It was a great help to me because I got to work with some of the best writers, directors, producers, and actors in the business. In every project, I had the opportunity to make changes to the script. And for the record, if any military service supports a film it does not cost the taxpayer a single dime. Any costs are paid back by the production company to the US government.
Additional advice for writers?
Don't give up. If you want to write think of it initially as a second job. How much time would you put in if you worked at the Burger Doodle? Put the same amount of time into your writing. How long does it take to learn to be a barber or plumber or medical technician? Why should it take any less time to become a successful writer? There are no shortcuts or magic potions. It's hard but rewarding work.
What do you know not that you wish you knew at the beginning of your career?
How much fun I would have as a published and produced writer. I would have taken it a lot more seriously.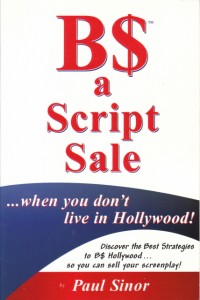 Tags:
Author Q&A
Ben Foster
Debra Eckerling
Fiction
Non-fiction
Paul Sinor
Screenwriting
Sedona International Film Festival
The Messenger
Woody Harrelson
Write On!