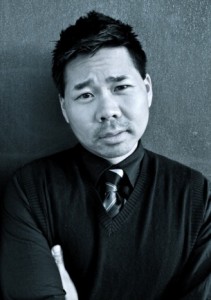 Writer/director/producer  Gary King, Kitchen Table Films, is a "Do-It-Yourself" filmmaker.
"DIY has been a phrase often used in the realm of any trade where someone—either by choice or necessity—takes on the many tasks that are usually performed by a team to complete," he says.  "I felt it appropriate for what I do as I usually am the one that is responsible for taking on many roles to create and produce my films (not always by choice)."
The New York filmmaker speaks with Write On! about his latest film—What's Up Lovely—and his next project: How to Write A Joe Sherman Song, as well as his life-long love of film, his creative process, and more.
The Cinefist Screening Series presents an exclusive sneak peek at King's new arthouse film—What's Up Lovely—at 8pm at the Downtown Independent theater (251 S Main St. Los Angeles).Details on the Facebook Event Page.
How did you get your start as a filmmaker?
I've always loved films growing up, but just never knew one could make a living doing it … which actually could still be the case. I had a corporate 9-5 job until a wake-up call made me reassess what I always loved and wanted to do—make movies. I started making short films in 2003. By 2006, I walked away from my day job and moved to New York to pursue filmmaking. And here I am: four feature films later with more coming down the pipeline. A few years ago, I never thought I'd be in this situation, so every day I'm very thankful.
How did you come up with your company's name: Kitchen Table Films?
The Kitchen Table Films logo and title are inspired by the humble beginnings, late hours and grassroots effort required in creating independent films. I found myself many a night sitting in the dark, wondering where I'd find the answers to many things: writer's block, financing, casting and everything else under the moon. It helps remind me where I started—and pushes me forward towards my goals.
Where did the idea for What's Up Lovely come from? What was your development process?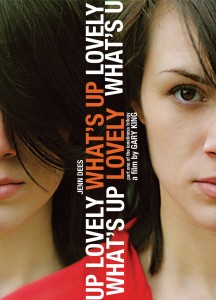 It had been about a year after shooting my first feature New York Lately. I felt the next film to tackle should be something quick and fun—so I took a week to create an 8-page treatment for the story about a woman's struggle with loneliness and her late night journey after being fired from her job. I specifically wanted to work with Jenn Dees again, after having met and worked with her on my previous film.
I sent Jenn the treatment. Thankfully she was interested, so we then worked on revising it together. I wanted to involve her in the creative process from the very beginning. Our approach to this film was to use the treatment as our guide and utilize a lot of improvisation to find our story. This was both exciting and daunting. Jenn and I agreed that although we would shoot many scenarios and options, we would discover our real story when editing the film.
We wanted to create a realistic portrayal of a woman who is not just a one-note character. I asked Jenn if she'd be interested in creating a series of voiceover pieces for Luci (the main character in the film) to describe her world and her life experiences. She enthusiastically agreed and wrote them after we wrapped shooting the film.
As a writer, how do you approach the blank page?
My approach is always to get something down as soon as you can. It's always better to have something to work from than to stare at nothing. For me the hardest part is actually making the time to write—and when I find the opportunity, sometimes I'm not in the right mood or mindset. I'm sure some writers can relate to this dilemma.
As I write, I actually have three documents open: The script itself, a document of notes, and a "parking lot" where bits and pieces of the script that don't work for now are put in a holding pattern (as they may be used later).
In what ways do you collaborate with other artists in your filmmaking? What should writers know about the collaboration process in order to be successful?
I love working with everyone to help formulate my overall vision for a film. I encourage the actors and key crew members to participate in the process with me.
For a writer who plans to direct their own work, there is definitely more control over the final story and how it's presented. However, if one is solely a writer-for-hire whose script is being directed by someone else, my advice is to let go of it as much as you can—because your story will be made into a film based on another person's interpretation of your material. It's hard for people to let go, but as a writer you have to get used to that in order to succeed. If you don't like it, that's when you direct your own work.
How important is it for a creative person to be connected online?
In today's age, I think it's very important unless you're an already established person with a loyal fan base—even then, it's still smart to have some presence online to stay connected and available for people to discover or keep track of your work. For people like me, it's only been an asset to help create awareness for my films and to network with like-minded people. It has enabled me to find a great support system where there's mutual interest to help share and discover each other's work.
In what ways do you use online channels for marketing, outreach, etc., for your films? Will you share us some examples?
Currently I'm a huge Twitter and Facebook user. I have separate profiles for myself and for my film projects—so that way people can choose what they want to follow based on their interests. They are great tools to help share your work and network with people globally. Case in point, it helped you and I to get in contact with each other.
These sites have been tremendous in helping me discover other filmmakers who share the same passion as I do—as well as people who enjoy my films. Without them, my films wouldn't have the same exposure and awareness as they do now. Social networking was absolutely instrumental in helping me successfully reach the goal of my Kickstarter campaign to fund my next feature film.
What is your favorite part about being a filmmaker?
Collaborating with talented people (the natural high of creating)—being on the set (working with actors and crew, becoming a family)—and sharing the film with an audience (seeing people's reactions)
The Greatest challenge?
Collaborating with talented people (knowing you can't please everyone)—being on the set (getting all the shots/performances you need in the given time)—and sharing the film with an audience (getting into film festivals, finding distribution, creating screening opportunities) .
How to Write A Joe Sherman Song is your next film. Why a musical? How did you develop that concept?
While growing up, my parents showed me their favorite films and the musical was a particular genre that I always admired. I noticed that we rarely see them at the indie level nowadays—and when we do they're usually very tongue-in-cheek and comedic. There are not many dramatic musical indie films. So partly I feel that this project is filling a void in the independent film scene while also presenting a unique challenge for myself in dealing with all the intricate components that a musical entails.
I've always been inspired by Broadway musicals and admire the talented people behind them. It's a perfect backdrop for a film. However, at this point in my life, I'm really fascinated in exploring artists who strive for success—who haven't made it yet—as I can relate to it and know many people like this. The film's main character (Joe Schermann) is one that I feel connected to as his struggles are similar to mine. I'm extremely excited to shoot the film this summer.
Advice for screenwriters?
Everyone has their own routine in how they write—so my best advice is to just keep at it. It's very rare that your first draft will be the final draft—so just write. Share it. Get feedback. Write again. Write many scripts. Tell as many stories as you can. My first feature film was actually my fourth feature script I had written. And read other scripts as well—to see sometimes what to do and what not to do.
What do you know now that you wish you knew when you first started out?
I learn something from every film project that I do. I bring each lesson to the next film and that's how I grow as a filmmaker and storyteller. The main lesson I learned from my very first short film is that I didn't have to spend as much money as I thought I had to—and I was too caught up in the technology. I was too into the gadgets and didn't concentrate on the content. Now, the technology is so advanced that I worry less about what camera I plan to use and more about which actor I'd like to work with.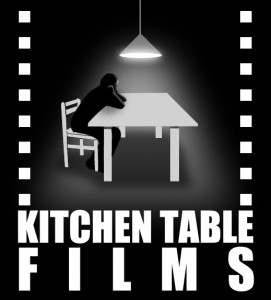 Tags:
Cinefist Screening Series
Directing
Do It Yourself Filmmaker
Downtown Independent theater
Filmmaking
Gary King
How to Write A Joe Sherman Song
Jenn Dees
Kitchen Table Films
New York Lately
Screenwriting
What's Up Lovely?