Moving Write Along: Advice from the Experts – Writing and Publishing a Cookbook
by Laura Trice, M.D., author of The Wholesome Junk Food Cookbook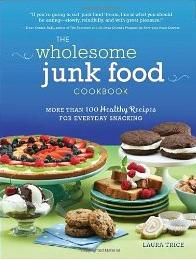 The Wholesome Junk Food Cookbook: More Than 100 Healthy Recipes for Everyday Snacking was  labor of love for Dr. Laura Trice. It began in June of 2008, when an agent asked her if she wanted to write it, and was released May 11, 2010 through Running Press. She shares her insight into the aspects of writing a cookbook: the production of a quality book and the process of actually selling it.

The Creative Process
The Truth About Photos:
1. Photos are expensive for publishers to print. There are the well-known authors where every other page is a gorgeous photo. These are often printed overseas. Photo inserts are also beautiful and printed domestically, but cost less, because there is not written print on the back side of the page.
2. Photos are often what sell cookbooks. Even though you do not have to, participating in the photo shoot as an author (and even if you have to pay all your own way—like I did) is worthwhile, because others will interpret your recipe differently.  It was great to be hands on.
Testing Recipes:
3. Passively watch several friends shop for and make 2 or 3 recipes without saying a word or giving them any hints or tips.  I realized I had to change some of my recipes to include more precise language.  It was an eye opener to observe someone following my cookbook and realize I had left out some information I considered understood.  Clearly communicate how to make each recipe, so that each person feels successful after making the recipe.
4. Make your recipes, even if you think a modification will not change anythings  Baking and cooking sometimes have a mind of their own, and each change is like modifying a chemistry experiment.
Writing & Editing:
5. Imagine sharing your joy of food, as you write your head-notes and introduction. My purpose was to share that great tasting desserts and snacks can be guilt-free and also, fun, easy and simple. Match your writing tone to your food.
6. Be professional. There is a team at the publishing house of editors, copy editors, art directors, book designers, photographers, public relations experts, food stylists, and marketing directors.  They publish books every day and end up making the final decisions about your book.  Keep your deadlines or ask for extra time before your deadline—not on that day or after.  They need you to be reliable, since their team has timelines, as well.  If possible, meet them in person.  My book looks as gorgeous as it does due to them, not me.  I wrote the words, they made it a cookbook available in Borders, Barnes and Noble, and on Amazon.
7. Communicate assertively, honestly, and openly with your publishing team, but also understand that publishing is their business and writing is yours. My editors feedback sometimes felt uncomfortable or I disagreed with a team-decision.  I would respectfully state how I felt about something and sometimes even tried to make my point a second time. Yet, I deferred to their expertise as long as it did not go against the message of the cookbook.
Selling Your Cookbook

8. It really is up to you to sell your cookbook, as it is up to me to sell mine.  My publisher has been excellent about setting up radio and print promotions.  Many book stores have media contacts—offer to help schedule and promote the signings. I hired a family member to schedule book signings and also help with radio interviews.
9. Make the book signings fun. Because my cookbook has easy desserts, I bring treats from the cookbook.  I also have a person to help me at the book signings, so I am free to be present for the audience.
10. Utilize online promotion—most of it is free.  Find out who is talking about your type of cookbook, and start getting the word out 4 to 6 weeks before your book comes out.  There are blogs, reviewers, and your friends and family who can talk up the cookbook to their friends.  Create your own cookbook page online with links to where your book is available.  Create a fan page on Facebook, and ask your friends to sign up and talk about what your area of expertise.  Become familiar with your Amazon page and add photos. Also, look at more successful authors pages to see what you can do. Good luck!

Dr. Laura Trice is the founder of Laura's Wholesome Junk Food, based in Venice, California. For more information, visit her website.
Tags:
Dr Laura Trice
Moving Write Along: Advice from the Experts
Wholesome Junk Food Cook Book
Writing and Selling a Cookbook