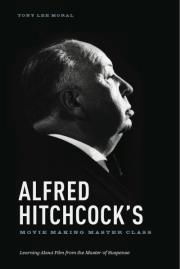 Tony Lee Moral is the author of Alfred Hitchcock's Movie Making Masterclass, as well as Hitchcock and the Making of Marnie and The Making of Hitchcock's The Birds. A successful television producer, Moral has directed more than 100 hours of television for American and British networks. In this Q&A, Moral discusses his background, plus offers advice for screenwriting and writing in the suspense genre.
What inspired you to first start writing?
I've been writing ever since I started reading. I was writing short stories as a kid and, by the age of 16, had written my first novel (unpublished). Since then, I've written three non-fiction books and four novels.
Why Alfred Hitchcock?
I've been fascinated with Hitchcock's films ever since I was a child and saw my first Hitchcock movie: I Confess. Hitch was a master storyteller and I instinctively knew that watching the plot unfold and, since watching that first movie, I have seen all his films. He knew a good yarn and how to tell it and his characters are usually fleshed out and real.
What was your favorite part of writing this book? The greatest challenge?
My favourite part was interviewing some of Hitchcock's surviving collaborators, especially his leading ladies like Kim Novak, Doris Day, and Eva Marie Saint. The greatest challenge was to make the book relevant for contemporary film students who may know about Hitchcock but may not realize how modern day film makers like Spielberg, Scorsese, and Nolan owe a great deal to him.
In what ways has your work in film and television helped in in your book writing?
My film and television work has helped enormously as I am very tenacious in my research and follow up every lead. You never know who will give you the best quote. I also have a journalistic eye and my work as a screenwriter helped me with the logic of plot, character, and dialogue.
How do you balance all the aspects of your career?
This is a very difficult one! My day job is as a television producer and director, so my writing time is in the evenings and during weekends. I worked on the Masterclass book for six months and honestly never took an evening off as I had a deadline and wanted to make it the best I could. I owed it to the film students to make it as good as possible. But I do believe in relaxation so rewarded myself with a month of no writing whatsoever when I finished the book.
What are the biggest mistakes people make when writing in the suspense genre? And how can they fix them?
Hitchcock used to say there is a big difference between mystery and suspense. Mystery is an intellectual process like a whodunnit. But suspense is an emotional process, and I talk about it in the book.
Hitch gives the example of the bomb under the table. All suspense writers need to know the difference. Another key is making your settings logical and believable which Hitchcock was very good at, so people identify and become involved in the story. Also avoid the cliche. This is very important. Instead of the dark, rainy night, Hitchcock had some of his best suspense set pieces in broad daylight. Think of the crop duster attack in North by Northwest.
Advice for television writers? Documentarians?
Watch a lot of television, keep up with the latest trends, and read everything you can get your hands on, whether it's magazines, newspapers, or on the web. The best stories are out there and it's all about finding them.
Additional advice for screenwriters?
Know what the studios are looking for, watch a lot of films, develop your own voice, listen to people, work on distinctive dialogue.
What do you know now that you wish you knew at the beginning of your career?
It's a small business and the key to success is to nurture relationships as well as your talent. Read your copy carefully before you submit. Behave professionally, always.
Tags:
Alfred Hitchcock
Alfred Hitchcock's Movie Making Masterclass
Author Q&A
Hitchcock and the Making of Marnie
Screenwriting
Suspense
The Making of Hitchcock's The Birds
Tony Lee Morel
Write On! Online
Writing