Today, Write On! Online speaks with best-selling author Allen Klein, aka "Mr. Jollytologist," whose books include The Healing Power of Humor, The Courage to Laugh
, and WorkLaughs: A Jollytologist Book: Quips, Quotes, and Anecdotes about Making a Buck
. Klein is an award-winning professional speaker who shows audiences worldwide how to find and use humor to deal with changes, challenges, and not-so-funny stuff. He is a recipient of a Toastmaster's Communication and Leadership Award, a Certified Speaking Professional designation from the National Speaker's Association, and a Lifetime Achievement Award from the Association for Applied and Therapeutic Humor.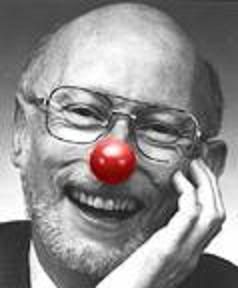 What prompted you to start writing?
It came out of a personal experience after my wife died of a terminal liver disease at the age of 34. Her use of humor during that time showed me how humor can help us rise above any situation. I thought that if someone could laugh at a time like that, then we can all laugh when things like traffic jams, delayed flights, or long lines annoy us.
How has your career evolved over they ears?
For the past 20-plus years I have combined writing with speaking: a great combination to get my message out. And while I love to get in front of an audience and hear the positive feedback of laughter, I realize that I can reach more people with one book than I can with all the speeches I've given in the past 20 years.
How has publishing changed?
It has changed enormously. There are so many more possibilities to get published today—self-publishing, e-books, books-on-demand, etc. The biggest challenge today is not so much about getting published but, because so many publishing houses have merged, to get a mainstream publisher to buy your work.
Have you always had an interest in humor?
No. Although my wife and I laughed a lot, it wasn't until after her death, remembering her great sense of humor and joy, and reading how Norman Cousins healed himself with laughter, that I became interested in exploring the subject.
How can humor help a writer be more productive?
When things get bogged down, laugh out loud. Yes, just laugh. It exercises your lungs, you get more oxygen to your brain, and thus helps you think more clearly.
And how can we use humor to get though the difficult economic times?
Since humor gives a different perspective to a situation, if you can find something to laugh about, you are seeing it in a different way and therefore will not stress out so much about it. For example, the other day I got my first ever speeding ticket. I wasn't too thrilled about it, but it also didn't ruin my day. I thought, "OK, I got a speeding ticket. Now I am an adult." That thought alone made me chuckle. Also, you have the power to not let anyone or anything ruin your day. Why give that power away to someone else?
What is your favorite part of writing?
I love it when, after struggling for hours, maybe even days, on a certain paragraph or thought, it suddenly all gels. Suddenly it is just what I wanted to say in just the right words.
What is the greatest challenge?
If you mean the greatest challenge in getting published, I'd say it is "don't give up." It just takes one publisher to produce your work. And learn along the way. Each rejection, whether in writing or in life, is an opportunity to grow, to learn, to improve.
How do you balance writing with public speaking?
If I have a speaking engagement, I focus on it. If I have an idea for a book proposal, I focus on that. Sometimes I don't market my speaking as much as I should because I'm writing the proposal, which may never sell. So there is always the risk of working on something and not getting paid for it. At the same time I'm not making money because I'm not marketing my presentations, but that is a gamble I'm willing to take to get published. Because once published, then more speaking comes along with less marketing.
Any advice for writers?
In the show, A Chorus Line, the lead dancer says that she wants to dance because "a dancer dances." A writer writes. If you are calling yourself a writer then you have got to sit down and write. You can't talk about writing… Well you can, but you will never get any writing done that way.
What do you know now that you wish you knew when you first started writing?
When my first book came out, The Healing Power of Humor, I didn't do much to promote it. I let the publisher do most of it. Now I would spend a great deal of effort promoting a book because without it, it probably won't sell. You may have written the world's greatest book but if nobody knows about it then you might as well not have written it.
Tags:
Allen Klein
Debra Eckerling
The Courage to Laugh
The Healing Power of Humor
WorkLaughs
Write On!