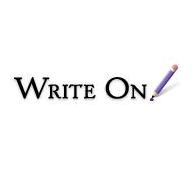 Post your November Goals on Write On Online or Facebook to be entered in this month's drawing to win a book from Michael Wiese Productions.
* * *
Author Q&As are back on Thursdays on Write On Online. We have been featuring speakers from next week's #140conf in Los Angeles. Do you have a new book or an upcoming book release? Want to be featured on Write On Online? For consideration submit your info here or email deckerling@gmail.com.
News, events, and more in this week's Write On Wednesday.
* * *
November: National Novel Writing Month. Are you writing a book in a month? Comment with your profile link, so Write On members can follow each other.
November 16: The Key to Getting Your Books into Libraries and Bookstores with Amy Collins at 7pm. Presented by PALA at 7 pm at the Veterans Memorial Building at Overland and Culver in Culver City.  Free to PALA members; others pay $15.
November 21: Ageism in Writing: How Young Do You Really Have to Be? A panel of experts discusses the issue and takes questions. Presented by IWOSC at the Veterans Memorial Building at Overland and Culver, Culver City, at 7:30 pm. RSVPs accepted but not required. IWOSC members free; others $15.
December 7: December LA Hangout at Peet's in Westwood. RSVP on Facebook.
Ongoing: Female Authors wanted for interviews on the #SheWroteABook podcast with Lena Anani. If interested, please inquire at http://SheWroteABook.com/Guest and please allow up to 24 hours for a response.
* * *
Last October, I launched the Guided Goals Podcast on Write On's companion site GuidedGoals.com. The podcast is a series of expert interviews, designed to help people pursue their passion projects. Each episode wraps with action items (recommended goals), so listeners can take what they heard, and move forward right away. Watch on YouTube, listen, and subscribe on iTunes, or listen on Stitcher. I will be launching the Guided Goals' newsletter soon. Please sign up and receive "5 Ways to Improve Your Productivity."
* * *
Do your kids love to write? Want to encourage them to hone and expand their writing skills? Check out Purple Pencil Adventures: Writing Prompts for Kids of All Ages.  Although it's geared towards kids, there are plenty of prompts adults can use to exercise those writing muscles! Write on!
* * *
Writers, please email me if you have a 2-3 line news item or event and/or if you are are interested in contributing a Write On! Review or Expert Column. Write On!
Tags:
Goals
Guided Goals
NaNoWriMo
Write On! Online
Writing