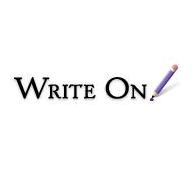 Missed the October LA meeting? Check out the October meeting recap and video. Please share what you are working on in the comments.
Whether or not you live in LA, join the Write On Online Facebook Group for writers, creatives, and entrepreneurs. Chime in on the threads, share your links, and more. Plus, keep an eye on the Write On Online Facebook Page for my spontaneous videos.
Remember, post your October Goals on Write On Online and weekly goals on Facebook (a new goal-thread starts every Monday) to be entered in a drawing to win a book from Michael Wiese Productions. Btw, you can find some awesome ebooks at the lowest prices at my Write On Online MWP Affiliate bookstore.
Upcoming Events
October 21: Join us for #GoalChat at 7pm PT on Twitter. Special topic is #NaNoWriMo. Join #GoalChat every Sunday at 7pm Pacific/10pm Eastern. Go to Tweetchat.com and follow the hashtag. And read the recaps.
October 24: Janet Gervers' BizWomenToday.com Networking Launch Event at OnePieceWork in Santa Monica from 7 – 9pm. Join Janet, Debra Eckerling, and Emmarie Dempsey for a lively panel discussion of Women in Business: Trends, Challenges, and Possibilities. RSVP here.
October 27: "Hope is not a Book Marketing Strategy." Join our three experts for this IWOSC Intensive from 10 am to 4 pm on how to Prepare, Plan and Produce the Perfect Book Marketing Campaign. Details at IWOSC.org. Must RSVP and pay in advance. This event is in Culver City.
October 28: Join us for #GoalChat at 7pm PT on Twitter. Special topic is November Goals.
October 29: 7:30 pm: IWOSC (the Independent Writers of Southern California) presents a panel on Writing Memoir at the Veterans Memorial Building in Culver City at 7:30pm. Details at IWOSC.org; members attend for free; non-members $15.
October 31: Last day to post goals and be entered in this month's drawing.
November is National Novel Writing Month. Are you writing a novel in November? Stay tuned for deets for extra support and encouragement.
November is National Podcast Post Month is in its 11th year. Are you considering launching or revitalizing your podcast? Participate in NaPodPoMo. There are no hard and fast rules as to how you do this. If on November 30th you have recorded 30 shows, then you win.
November 7: The November LA Hangout at Caffe Luxxe in Brentwood. RSVP on Facebook.
Contests
Art Klepchukov compiled  Fiction Writing Contests Worth Your Time in Fall 2018. Each opportunity includes reasons to submit.
Travel Photo Award: For We Said Go Travel's 2018 Best in Travel Photo Award, share your favorite shot. Why do you love it? How did you create it? Submit a photo taken in the last two years. Deadline is November 1, 2018. Free to enter.
Plus
Need help figuring out what you want and how to get it? Are you having trouble starting or finishing a project? Check out TheDEBMethod.com. Give me an hour, I'll give you a plan. To learn more, watch my appearance on Madalyn Sklar's #TwitterSmarter After Chat and on DIY Marketers pre-#BizapaloozaChat. Plus, check out Jim Katzaman's article covering my method behind "goal-setting madness." Contact me to get started.
For blogging inspiration read Write On Blogging: 51 Tips to Create, Write & Promote Your Blog. Whether you are starting or relaunching your blog, it will walk you through the process.
Do your kids love to write? Want to encourage them to hone and expand their writing skills? Check out Purple Pencil Adventures: Writing Prompts for Kids of All Ages.  Although it's geared towards kids, there are plenty of prompts adults can use to exercise those writing muscles! Write on!
* * *
Writers, please email me if you have a 2-3 line news item or event and/or if you are are interested in contributing a Write On! Review or Expert Column. Write On!
Tags:
#GoalChat
Goals
Write On! Online
Write On! Wednesday
Writing