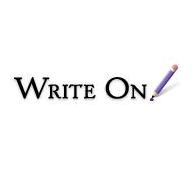 Join us for the last LA Hangout of 2018 on Wednesday, December 5, from 1:30 to 3pm at Caffe Luxxe, 11640 San Vicente, Suite 101, in Brentwood. Hang out, set goals, and catch up with your writer/creative/entrepreneur peeps. RSVP on Facebook.
Post your November Goals on Write On Online and weekly goals on Facebook by November 30 to be entered in a drawing to win a book from Michael Wiese Productions.
Also, send items for the December Newsletter  (2-3 lines + link) to deckerling@gmail.com by Monday, December 3.
More in this week's Write On Wednesday!
Upcoming Events
November 29: I will be a guest on Madalyn Sklar's #TwiiterSmarter Twitter Chat, discussing Twitter Chats! Join us on Twitter at 10am PT. And then go on Facebook Live around 11am PT to watch the After Chat.
PLUS: Win a 30-minute mini goal-coaching session with me: Deb ($75 value) @TheDEBMethod! Tweet a Twitter Goal during tomorrow's chat and tag #TwitterSmarter and #GoalChat to be entered. Drawing will take place after the "After" chat live stream.
November 29: Webinar "Meet a Major Book Editor" with Riva Hocherman from 6pm to 7:30pm, Senior Editor at Henry Holt Publishing. Riva will speak from NYC about what the top book publishers are looking for, how to get their attention, and what to expect once you sign a contract. Presented by IWOSC, the Independent Writers of Southern California. You must RSVP and prepay for this webinar at IWOSC.org: free to members, $15 nonmembers.
November 30: Last day to post goals and be entered in this month's drawing.
December 2: Join us for #GoalChat at 7pm PT on Twitter. Special topic is December Goals. Join #GoalChat every Sunday at 7pm Pacific/10pm Eastern. Go to Tweetchat.com and follow the hashtag. Read the #GoalChat recaps.
December 3: Last day to send news and events – 2 to 3 lines + link – to deckerling@gmail.com for the December newsletter.
December 5: The December LA Hangout from 1:30 to 3pm at Caffe Luxxe, 11640 San Vicente, Suite 101, in Brentwood. The parking lot is free for 90 minutes. RSVP on Facebook.
December 9: Join us for #GoalChat at 7pm PT on Twitter. Special topic is Surviving December.
December 12: Join us at 11am PST/2pm EST when I talk to Tim Sohn of Sohn Social Media Solutions and Jim Fuhs of Fuhsion Marketing where we will discuss Goal-Setting Using the D*E*B Method as you prepare for 2019. Watch on Facebook Live.
December 16: 1st Annual #GoalChat Twitter Holiday Party & Potluck. Join us on Twitter at 7pm PT.
December 23: No formal #GoalChat, but I'll be online in case anyone wants to check in.
December 30: Join us for #GoalChat at 7pm PT on Twitter. Special topic is January and 2019 Goals.
January 9: The January LA Hangout at Caffe Luxxe in Brentwood. To give you a chance to adjust to the new year, we'll be meeting on the second Wednesday this month. RSVP on Facebook.
January 18: Goal-Setting Lunch N Learn at LAX Coastal. Get details and RSVP. Note: You can also watch the Facebook Livestream.
Also
Filmmakers: I have arranged to have the first three short films that meet the criteria to be scheduled and budgeted by my friend who has 25 years of experience in production. All he asks for is a donation to the Parkinson's Foundation. Criteria: Around 25 – 50 pages, preferably in Final Draft. Interested? Email me and I will connect you.
Plus
Do you need help setting or achieving your goals? Do you have a project in need of support? I can help. Learn more about The D*E*B Method: Goal Setting Simplified.
Whether or not you live in LA, join the Write On Online Facebook Group for writers, creatives, and entrepreneurs. Chime in on the threads, share your links, and more. Plus, keep an eye on the Write On Online Facebook Page for my spontaneous videos.
For blogging inspiration read my book: Write On Blogging: 51 Tips to Create, Write & Promote Your Blog. Whether you are starting or relaunching your blog, it will walk you through the process.
Do your kids love to write? Want to encourage them to hone and expand their writing skills? Check out Purple Pencil Adventures: Writing Prompts for Kids of All Ages.  Although it's geared towards kids, there are plenty of prompts adults can use to exercise those writing muscles! Write on!
* * *
Writers, please email me if you have a 2-3 line news item or event and/or if you are are interested in contributing a Write On! Review or Expert Column. Write On!
Tags:
#GoalChat
Goals
TwitterSmarter
Write On! Wednesday