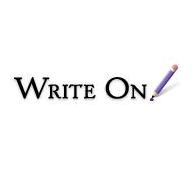 Author & Expert Q&As are on Thursdays on Write On Online. Do you have a new book or an upcoming book release? Do you have an entrepreneurial, marketing, or creative specialty to share? Want to be featured on Write On Online? For consideration email deckerling@gmail.com with your website link and a short bio.
Plus, want to be part of the next book in the Write On series? Take my goal-setting survey. I will be including data and examples from it in the book.
Don't forget to post your May Goals on Write On Online or Facebook and be entered in a drawing to win a book from Michael Wiese Productions. And for more community and connections join the Write On Online Facebook Group. Chime in on the threads, share your links, and more. Like the live hangouts, the group is for writers, creatives, and entrepreneurs. Feel free to invite your friends and peers to join too.
* * *
Need blogging inspiration? Check out my book: Write On Blogging: 51 Tips to Create, Write & Promote Your Blog. Have you read the book? Would love a review. Please and thank you. #WriteOn
* * *
Upcoming Events
May 25: Author Carolyn Howard-Johnson will be speaking at a combined meeting of Independent Writers of Southern California (IWOSC) & Small Publishers, Artists & Writers Network (SPAWN) at 7pm. The meeting is free but you are invited to eat with them a Mimi's Café, 400 N. Moorpark Rd., Thousand Oaks, CA. Details here. If dining, please arrive by 6:30pm.
June 7: June LA Hangout at C&M Coffee and Milk Westwood Gateway, 11111 Santa Monica Blvd, in Westwood from 1-3pm. C&M will validate parking in the building for the first 15.  RSVP on Facebook.
June 8: Book'd in Burbank: The Ultimate Bibliophiles' Night Out  at The Group Repertory/Lonny Chapman Theatre in North Hollywood at 8pm. This special YA Summer Edition features authors Maria Alexander, Maurene Goo, Aditi Khorana, and Lilliam Rivera. Get event details.
June 18 – 23: Writers, hone your craft, pitch industry insiders, and join a new fun and supportive tribe at Santa Barbara Writers Conference. Take it from late co-founder Ray Bradbury, with more than 20 different workshops of all genres, advanced submissions, professional critiques, best-selling author speakers, two full banquet dinners, awards ceremony, afternoon publishing panels, one-on-one agent meetings, a publishing industry cocktail party, plus a fun talent show on the last day, this conference is about the love of writing and writers, and can change your life. Register with more than one and save big. Learn more.
June 23 – 25: ScriptFest/Great American Pitch Fest at the Los Angeles Marriott Burbank Airport (2500 N Hollywood Way, Burbank, CA). Get details.
* * *
Plus
Author Q&As are back on Thursdays on Write On Online. Do you have a new book or an upcoming book release? Want to be featured on Write On Online? For consideration submit your info or email deckerling@gmail.com with your book and website links, as well as your short bio.
Check out the Guided Goals Podcast on Write On's companion site GuidedGoals.com. The podcast is a series of expert interviews, designed to help people pursue their passion projects. Each episode wraps with action items (recommended goals), so listeners can take what they heard, and move forward right away. Watch on YouTube, listen, and subscribe on iTunes, or listen on Stitcher. Season two is starting soon.
Do your kids love to write? Want to encourage them to hone and expand their writing skills? Check out Purple Pencil Adventures: Writing Prompts for Kids of All Ages.  Although it's geared towards kids, there are plenty of prompts adults can use to exercise those writing muscles! Write on!
* * *
Writers, please email me if you have a 2-3 line news item or event and/or if you are are interested in contributing a Write On! Review or Expert Column. Write On!
Tags:
Goals
Write On! Online
Write On! Wednesday
Writers
Writing