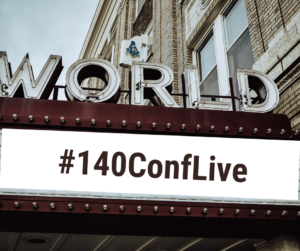 Some of you may know, I co-host the #140Conf events in Los Angeles. Well, I am thrilled to announce that #140Conf is back as an series of online events designed to bring people together: #140ConfLive. Internet pioneer Jeff Pulver created the original #140conf back in 2009 as a way to create community through real-time connection. The first #140ConfLive is next Wednesday, May 27, at 9am PT. In #140Conf-style, each scheduled talk is 10 minutes. Join Devon Glover, Peter Katz, and Liz Nead, along with co-producers Jeff Pulver, Deb Brown, and me for this kickoff event. Learn more.
Have you caught my #GoalChatLive Facebook show yet? Every Monday at 4pm PT, I broadcast from the Mango Publishing page with a special guest, related to that week's #GoalChat topic. Last week, LinkedIn expert Viveka von Rosen of Vengreso and I had a blast talking about LinkedIn. Next week's topic is Productivity. Join #GoalChat on Sunday at 7pm PT on Twitter. On Monday, author Sean McLachlan will be joining me from Madrid on #GoalChatLive. Read all the recaps – and see the videos – on The D*E*B Method blog. And if you have a topic request, tweet to me @TheDEBMethod.
Upcoming Events
May 21: Women's National Book Association – San Francisco (WNBA-SF) presents Publishing Pros Coaching for Writers at noon. The panel of experts Brenda Knight, Michael Larsen, and Nina Amir, will be moderated by Sue Wilhite. Get details.
May 24:  #GoalChat at 7pm PT on Twitter. Topic is Productivity.
May 25: #GoaChat Live at 4pm PT on the Mango Publishing Facebook page with guest Sean McLachlan, author of Writing Secrets of the World's Most Prolific Authors, among many other works.
May 26: Thrilled to be leading another virtual Lunch N Learn for WNBA-San Francisco Chapter. The interactive session on "Virtual Networking Goals for Writers." starts at noon. Get details and RSVP.
May 27: #140ConfLive at 12pm PT on Zoom. Get tickets. RSVP on Facebook.
* * *
Impacted by current events? #ChangeHappens. Need to make a new plan? I can help. Read Your Goal Guide: A Roadmap for Setting, Planning and Achieving Your Goals from Mango Publishing. Remember to join the Your Goal Guide Facebook Group for additional support. One-on-one and group coaching also available. Contact me to get started.
* * *
Please email me if you are are interested in contributing a Write On! Review or Expert Column. 
Plus
Need a dose of community? Stop by the Write On Online Facebook Group to participate in daily threads. Plus, keep an eye on The D*E*B Method Facebook page for announcements, as well as live-streams, links, and inspiration.
For blogging inspiration read Write On Blogging: 51 Tips to Create, Write & Promote Your Blog. Whether you are starting or relaunching your blog, I will walk you through the process.
Do your kids love to write? Want to encourage them to hone and expand their writing skills? Check out Purple Pencil Adventures: Writing Prompts for Kids of All Ages.  Although it's geared towards kids, there are plenty of prompts adults can use to exercise those writing muscles! Write on!
Tags:
#140conf
#GoalChat
#GoalChat Live
The D*E*B Method
Virtual Events
Women's National Book Association - San Francisco Chapter
Write On Wednesday
Writing