This week's Write On! Q&A is with Carrie Borzillo-Vrenna, author of Cherry Bomb: The Ultimate Guide to Becoming a Better Flirt, a Tougher Chick, and a Hotter Girlfriend, and to Living Life Like a Rock Star (Simon Spotlight Entertainment) and Eyewitness Nirvana: The Day by Day Chronicle (Carlton Books). Borzillo-Vrenna is an entertainment journalist who has written for People, Us Weekly, Spin, E!, and more. She is currently an editor at E! Online and advice columnist for SuicideGirls.com.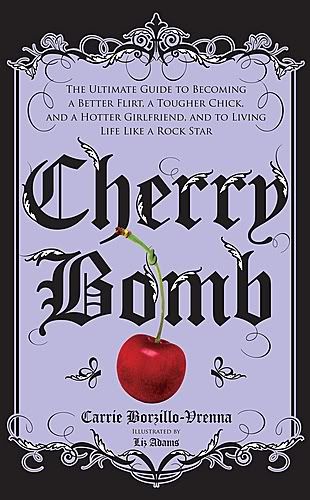 How did you get started writing?
I always did well in English classes in high school and I was a total rocker chick, so I put two and two together and carved out a career as a music journalist. I began writing for free for fanzines in my home state of Connecticut when I was 17 and haven't stopped writing since.
How did Cherry Bomb come about?
I initially wanted to write a book called How to Date a Rock Star, but my publisher thought I should broaden it a bit so it's not just about dating, but about my lifestyle. It's an A to Z on everything a cool, edgy, rock-minded chick needs to know — from how to sneak backstage to how to create your own style.
It's a bit edgy. Has that been a challenge or an advantage in writing/promoting the book?
It was a total advantage. It was the hook of the book. There are so many girl guides out there. Mine got extra attention in the press because it had the edge to it.
What was your favorite part of the process?
It was so much fun to wake up every day for four months and do nothing but write about things I love. I loved every minute it of. My favorite moments, though, were when I'd gather a bunch of my girlfriends over my house to do a "rock chick focus group' to test out the quizzes, advice, and recipes in my book. The Absinthe chapter night was the best. It ended in one big drunken sleepover and good girl bonding.
What's the most important thing you hope people learn from reading your book?
That it's okay to march to the beat of your own drum and that you can get almost anything you want out of life — be it a hot new guy, a great job, or a backstage pass — if you do it with finesse and confidence.
How is writing a book different from articles? Do you have a favorite type of thing you write?
This book is like a collection of Cosmopolitan-on-Absinthe type articles. Ask me again when I'm done writing the memoir of adult film star Tera Patrick, which is my next book.
Any advice for writers?
Write every day. Read every day. Remember: persistence, confidence, and competence sometimes goes a long way over pure talent. I always say I'm not the most talented writer in the world, but I know how to hustle and get the job done.
What is the one thing you know now that you wish you knew when you first started writing?
I wish I took business classes in college, along with my journalism class. There's a franchise out there to be had and it takes a business-minded person to get it. I'm not that business minded.
Tags:
Author Q&A
Carrie Borzillo-Vrenna
Cherry Bomb
Write On!