Moving Write Along: Advice from the Experts – Writing Exercises
by Bob Yehling, The Write Time: 366 Exercises to Fulfill Your Writing Life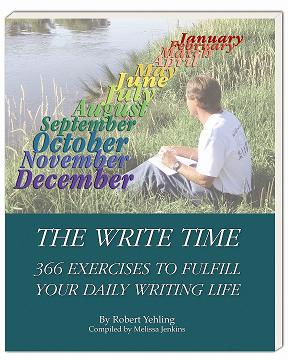 Almost every morning, I work out for 20 to 30 minutes before starting another busy day. However, these workouts are different than my marathon training and fitness regimen. I open my journal, find a writing exercise that I haven't tried before, and set out on a new adventure. I voyage into another new way of putting words together, observing my surroundings and expressing the inner urgings of my deepest voice. Sometimes, I even enter new worlds. Even though I've been writing professionally for 33 years, I never tire of the morning ritual. At this point, it would feel like a naked day without it.
I swear by writing exercises. I'm so convinced of their effectiveness and contribution to a writer's success that I create new exercises for every workshop that I teach—specific to the energy and talent of the group. Recently at the Southern California Writer's Conference in San Diego, I taught a workshop on cross-genre writing, the marrying of two or more genres within a single body of work. It is the subject of a book, The Hybrid Writer, I am co-authoring with fellow author Verna Dreisbach. In the middle of the workshop, a four-part exercise came to me: write 200 words in your favorite genre; then write 200 words on that subject in a genre you've always wanted to explore; then write 200 words in a genre from which you've shied away in past; then try to blend the genres to create a finished piece.
While the intent was for participants to practice working in different genres, many experienced something I hadn't considered: Using the other genres to look at the piece they wanted to write in different ways, from different angles. Some even switched genres on works in progress because of this 40-minute exercise.
This is why writing exercises are so effective for writers of all abilities— from teens exploring the written word to the most crafty and well-published professionals. Among other things, writing is about breaking down barriers of style, structure, and perception to create fresh new ways of communicating the inner or outer world. That takes practice; practice leads to diversity. "The ways of employing words and forming expressions are indeed infinitely varied," Chinese philosopher Lu Chi wrote 1,700 years ago in his seminal essay, "Wen Fu: The Art of Writing."
All of us have our favorite genres or styles, but writing exercises expand our scope and versatility. Every time we complete an exercise, we expand our range as working writers. When we do this regularly, we begin to engage in a form of practice familiar to musicians, martial artists, and  visual and performing artists. Our command of our mind grows, as does our discipline to write. Most importantly, we gain the confidence to try something new in our work, to see a character or scene from a different perspective, to break some structure we learned in high school grammar class. We better convey the feeling of the moment—a feeling readers will then experience, rendering them incapable of putting down your piece of writing. This approach leads to a mastery of writing: the ability to write about any subject, at any time, through any character's voice, in any point of view, using precise word choices, point of view, genre, structure, and languaging that the moment requires and reflects.
Writing exercises can hand you these keys to mastery. Consider this: when you are given exercises created by a workshop instructor, author of an exercise book, or website you visited, you are receiving a nugget formed through years of direct writing experience. The process of an exercise's creation is similar in some ways to poetry: Countless words, works, and experiences are concentrated into a single paragraph or prompt. Well-crafted exercises not only give you instruction, but also invite you to explore further. They take you by the hand, one day after another, and say, "Let's go. Time to meet a little more of the best of yourself."
For writers seeking to expand their range, create more deeply and readily and polish their craft, exercises are more than diamonds in the rough. They are the diamonds themselves.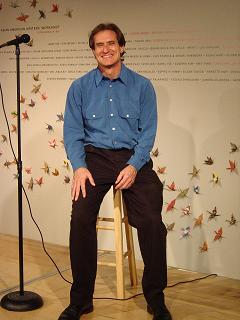 Bob Yehling is the managing editor of The Hummingbird Review: America's Newest Literary Anthology and author of The Write Time: 366 Exercises to Fulfill Your Writing Life, available through Pen & Publish. His Write Time Writing Contest, based on exercises in the book, continues through May 1 and features $500 in prizes. Go to www.wordjourneys.com for more information.
Tags:
Bob Yehling
Moving Write Along: Advice from the Experts
Pen & Publish
The Hummingbird Review: America's Newest Literary Anthology
Word Journeys
Write On!
Write Time Writing Contest
Writing Exercises
Writing Prompts
Writng is Exercise