Write On! Making Comic-Con Work for You
by  writer/artist Scott Gross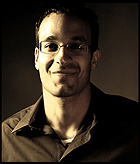 Each year at Comic-Con, the number of movie previews, video game launches, autograph panels, costumed nerds, and general mayhem increases, making it even more difficult for aspiring creators to do the kind of professional networking that was the original purpose of the event. I got my first break with Warner Bros. at a portfolio review, so I appreciate how much energy and anticipation is building in the hearts of scriptwriters, artists, and editors all over the country hoping to make that fateful connection at the show that starts the ball rolling. If you're going down to San Diego portfolio in hand, I've compiled some practical tips and points of view on how to make Comic-Con work for you.
Three Principles
The first thing to remember: The Prime Directive of Comic-Con (PDCC) is that people are interested in their own needs—not yours. Even though showing your work and getting that job or selling that script is the most important thing in the world to you, none of the other 100,000 attendees are there for that reason. So do your homework on whatever individuals or small publishers you are trying to target. Figure out why they are attending. Be thoroughly familiar with their product line and past work. Keep an open mind—you might say "yes" to a $50 coloring job and end up writing three stories.
Second Principle: Maximize your time (MAX). You are looking for that one magical connection where Hollywood-Producer-with-a-Need meets whatever you have in your messenger bag. Be prepared to query every single person on the floor in order to find it. Waiting in lines, sitting idly, not moving, not talking—these are your enemies.
The Third Principle flows from the second: Don't Be a Mark (DBM). Hustling at Comic-Con is serious business. Save the autograph panels, action figures, silly parties, and dressing up as a Klingon for when you already have a job. The people who can hire you are looking for a responsible professional—not a fanboy.
Take a lot of cards as you meet people and make sure to follow-up on each of them when you get home from the show. Prepare yourself for the letdown—99% will not respond because you don't have what they're looking for (PDCC) but in that one case where there is a match, a follow-up reminder might be all you need to get the job.
Don'ts
Avoid Artists' Alley (DBM). You need to believe in your talent if anyone else is going to. Nothing will destroy the self-confidence of a rookie like browsing through the work of artists who have been in the business 20 years. Those guys are looking for publishers to give them more work—not to give you your first gig (PDCC).
Avoid the DC Booth (MAX). Many of the big industry booths are stocked with hired jabrones who have no information and no capacity to help you. The DC booth is the worst. If you are looking for a particular editor, set up an appointment and have a mobile number. Otherwise you'll waste hours of valuable time standing around waiting and being lied to.
Avoid After-Parties (MAX). All day you'll hear people scurrying about whispering who's going to which hotel after the show. To the extent that a publishing party is fun at all, it's not because anyone is talking shop. Consider the crowd and focus your efforts on business hours.
Never Sit Through a Panel―(DBM/MAX). The two hours you spend listening to Seth Green narrate a slideshow could be spent networking on the floor and making connections. Maximize your time.
Don't Stand in Line for Food―(MAX). Bring a backpack with some granola bars and bottled water, along with your phone and notepad. The restroom situation is decent at the convention center, so don't skimp on hydration.
Comic-Con can be a career-changing experience or an exhausting, expensive waste-of-time. If you follow these principles and avoid the "Don'ts" you'll be well on your way to making it productive. Get plenty of rest, wear comfortable shoes, and Excelsior!
Scott Gross is a writer and artist living in Los Angeles.  You can see his work at www.nickel-dime.com.
Comic-Con in San Diego runs from July 22 through July 26. Become a Fan on Facebook.

Tags:
Comic-Con
Comic-Con International
Graphic Artists
Making Comic-Con Work for You
Networking
nickel-dime.com
Scott Gross
Write On!