Congrats to the writers who were honored at the 62nd Annual Emmy® Awards. Best Comedy Modern Family and Best Drama Mad Men were also the winners for Outstanding Writing.
And the writing-winners are …
Outstanding Writing for a Comedy Series:
Modern Family – Pilot – ABC
Writers: Steven Levitan and Christopher Lloyd
Outstanding Writing for a Drama Series:
Mad Men – "Shut the Door, Have a Seat" – AMC
Writers: Erin Levy and Matthew Weiner
Post a Question for Erin Levy in the StoryLink Community.
Outstanding Writing For A Variety, Music Or Comedy Special:
63rd Annual Tony Awards – CBS
Writer: Dave Boone
Special Material Written By: Paul Greenberg
Outstanding Writing For A Variety, Music Or Comedy Series:
The Colbert Report – Comedy Central
Head Writer: Barry Julien
Writers: Stephen Colbert, Allison Silverman, Tom Purcell, Rich Dahm, Michael Brumm, Rob Dubbin, Opus Moreschi, Peter Gwinn, Jay Katsir, Frank Lesser, Glenn Eichler, Peter Grosz, Meredith Scardino, Max Werner, and Eric Drysdale
Outstanding Writing for a Miniseries, Movie or a Dramatic Special:
You Don't Know Jack – HBO
Writer: Adam Mazer
For a complete list of Emmy Awards Winners go to www.emmys.com.
* * *
Sublime Primetime: On Thursday, August 26, 2010, the Writers Guild Foundation and Writers Guild of America – West conducted their annual panel of Emmy-nominated Writers.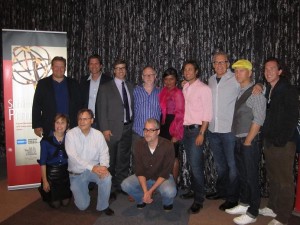 Lost's Carton Cuse (third from right) moderated the panel which included (bottom row) Robert King & Michelle King, The Good Wife; Rolin Jones, Friday Night Lights; (top row) Andy Richter, The Tonight Show with Conan O'Brien; Steven Levitan, Modern Family; Bruce C. McKenna and Robert Schenkkan, The Pacific; Mindy Kaling, The Office; Brad Falchuk & Ryan Murphy &Ian Brennan, Glee.
Tags:
2010 Emmys
Emmy-Winning Writers
Erin Levy
Mad Men
Mdern Family
Steven Levitan
Sublime Primetime
Write On!