Write On! Creative Marketing
by children's author Martha Swirzinski, M.A.
The greatest challenge for me has been marketing.  I have come up with some fun ways to get my books out there. Here are few recommendations to help you think beyond the bookstore.
1. Bookstores are not the only place you can do a booksigning. Who are your characters? What are their interests? Do they like to cook? Have a booksigning in a kitchen store or the grand opening of a new restaurant.
2. Since I sell children's books, there are many types of places I can go to get out and promote. You'll find me at children's boutiques, festivals, and grand openings of any type of company that caters to children's activities.
3. Are your books geared towards female readers? Pair up with women who do home shows. Think Pampered Chef, Mary Kay and so on. Around the holidays your books may be just the last minute gift people are looking for.
4. Workshops are fabulous ways to share expertise and get books out there. Do you have something you can teach your readers? My books are geared toward getting children to move during the story, to use their imagination and their bodies to bring the story to life, so I give workshops on health, exercise, and nutrition.
5. If you don't feel like you could give a workshop, pair up with an expert. Are romance novels your niche? Connect with a marriage counselor for a free workshop on building a better marriage. Are murder mysteries your passion? Pair up with a police officer or marital arts expert to give a free seminar on protecting yourself.  If poems are your thing, pair up with a chocolate shop and have a tasting and a reading around Valentines Day, Mothers Day, or any holiday.
Remember, anything goes! The only limitation is your imagination.
* * *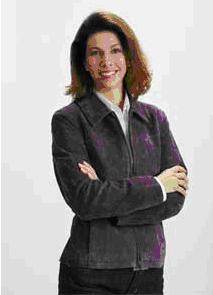 Martha Swirzinski is the author of three children's books focused on movement: Leap… Laugh… Plop, Guess… Giggle… Wiggle, and Kick… Catch… Buzz. With more than 15 years of experience working in the field of movement with children, Swirzinski is also a certified personal fitness trainer.  She holds a Bachelor's degree in therapeutic recreation from Clemson University and a master's from the University of Maryland in Kinesiology.
Martha Swirzinski and Write On! Online are part of VBT – Writers On the Move. Please check out the VBT Website for more exciting author interviews and expert columns!
Read the Write On! Online Author Q&A with Martha Swirzinski
Tags:
children's author
Creative Marketing
Marketing beyond the bookstore
Martha Swirzinski
VBT – Writers on the Move
Write On! Online