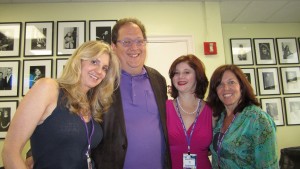 What an amazing experience! I had the opportunity to lead a writer panel last week at Jeff Pulver's 140 Characters Conference in New York. Screenwriter, documentary filmmaker, and author Tracey Jackson; aspiring author, screenwriter, and co-founder of scriptchat Jeanne Veillette Bowerman; and I talked about creating community, sharing your unique voice through the social web, and more.
Check out my photos from New York. Also, read Tracey's recap of her experience at the conference.
Watch our #140conf writer panel here:

Follow @WriteOnOnline, @TraceyJackson4, @Jeannevb, @JeffPulver, and the rest of the characters from #140conf.
Tags:
#140conf
Debra Eckerling
Jeanne Veillette Bowerman
Jeff Pulver
New York
Tracey Jackson
Writer Panel