Write On! My Kickstarter Success Story
by Allison J. Waldman, TheBarbraFiles.com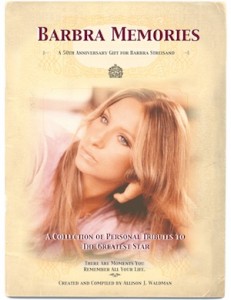 These days it's getting harder and harder for writers to share stories, because there aren't many J.K. Rowling "star is born" tales, if you know what I mean … In fact, considering that websites are offering to pay for words by quantity rather than quality, and publishers folding publications like origami, it's getting more and more difficult to thrive as a writer.
What's a professional writer to do in order to get his or her projects produced and make ends meet? This is the story of how Kickstarter has rescued one writer in distress: me.
Many writers when faced with the dilemma I described have sought out ways of self-expression via creating their own blogs or web sites, which is one way to go, albeit not necessarily lucrative unless you're a marketing wiz. And what if you want to write something substantive—a book, screenplay or an encyclopedia about flowers of the upper Michigan peninsula?
For me, it wasn't flowers I wanted to write about, but Barbra Streisand. I wrote The Barbra Streisand Scrapbook for Citadel Publishing in 1993 and did an update in 2001, but the publisher wasn't interested in any new projects I pitched … on Streisand or any other celebrity.
Neither were any others I approached, citing tough times and offering no encouragement. Not a single idea enticed them and while I continued writing constantly as an entertainment blogger (TV Squad), broadcast industry journalist (TV Week) and soap scribe (SoapCentral.com and Speaking of Soaps, a syndicated weekly column), I really wanted something more. Another book project…
Fortunately, I'm well-known in the Streisand fan circles and have a loyal readership, so I wrote and self-published newsletters and other publications. Learning about self-publishing and print-on-demand was a valuable lesson. It seems like the way to go for many writers who know they can sell directly to their audience, but cannot get a publisher to agree with him or her.
Last November, while contemplating a publication that would sell to my "peeps," I came up with a great concept. Since 2012 would be Barbra Streisand's 50th anniversary in show business, it was the perfect time for a new book about her. But not another biography or retrospective. No, I had the idea to make the book about Streisand fans. Not a slam book, like an attack on Trekkies, but an outlet for their stories of collecting, going to movies and concerts, what they would say if they could thank her for the 50 years of her work.
Clearly, this was a niche idea, but I knew I could sell it to many people who loved Barbra.
It was at that very same time that a writer buddy of mine said to me, "Do you know about Kickstarter?" Well, no, I didn't. But I quickly learned by checking out their web site. It was so simple; Kickstarter would afford me a way to avoid publishers entirely. If Kickstarter approved my proposal, I would be able to sell the plan for my book by going directly to the future readers. If they liked the idea, they could pledge financially (receiving a reward or premium) and help me fund the project. Then, if I reached the goal, the project was a "go." If not, the pledges would not have to follow through, and I could go away and create another idea.
Well, it was too good an opportunity not to give it a try! I prepared by proposal—my pitch to Kickstarter readers, created a tier system of rewards, from $10 to $1000, and determined that $4,000 would be enough to create the book. If I received it, I would self-publish and then sell the book. Kickstarter approved the project within a day and I was ready to launch.
That was 31 days ago. I'm happy to report that my project—"Barbra Memories"—reached a successful conclusion. It was funded 192% percent: a robust $7,705! That's more than enough to create the book and even some money to market it, too!
Kickstarter worked! It was everything it was touted to be and within the next 14 days, I'll receive the funds (via Amazon which is in league with KS), and be off and writing. So, for any of you who are thinking of taking control of your career, who are ready to find a new way, take a look at Kickstarter. It's not just for indie films and webseries. It may be the next big thing.
Do you have a success story you'd like to share with the Write On Community? Send me an email with your pitch. Write On!
Tags:
Allison Waldman
Barbra Memories
Barbra Streisand
Kickstarter
The Barbra Files
Write On!