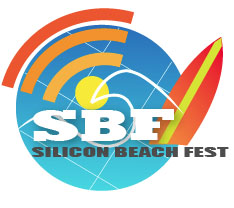 Silicon Beach Fest starts today, and will take place at 12 locations in Santa Monica and Venice. Innovators from the tech, entertainment, and startup industries will share their knowledge at this fabulous event, created by Digital LA and presented by engage:BDR.
Here are some events and panels of note for those working in content.
Thursday, June 21
6pm – 8pm: Mastering Public Speaking and Presentations – Startups Uncensored
– Docstoc's CEO Jason Nazar with comedian Ben Gleib
Friday, June 22:
10am – 12pm: Social Media and Broadcast Panel, Social Media Hub, PromoJam Tech Cube
– Anna Liza Bella, VP Marketing Solutions, NBCUniversal, STYLE Network
– Chris Wong, SVP Bus Development, Ooyala
– Dan Feinberg, Executive Editor, HITFIX
– Adam Goldstein, Sr. Mgr Bus. Dev LA, Ustream
12pm – 2pm: Movies: Digital & Social Media Marketing Panel, Hollywood Trek, Hotel Erwin
– Moderator: Kate Neligan, CEO / Founder, Mindful Media (Formerly Lionsgate)
– Ann Glenn, Director, Social Media Marketing, Sony Pictures Interactive
– Megan Westerby, Social Media Manager, JuntoBox Films
– Erica Alshuler, Director of Social Media for MovieClips
– Taylor McPartland, Co-Founder/President, FilmBreak
12pm – 2pm: PR Tips for Startups Panel, Startup Trek, Hotel Erwin
– Emily Scherberth, CEO/Founder, Symphony PR & Marketing
– Nicole Jordan, CEO/Founder, Radix Collective
– Kelley Coughlan, Co-Founder, Melrose PR
– Heather Meeker, VP Corp. Comm., textPlus
– Callie Miller, CMO, YogaGlo
2pm – 4pm: Press in Silicon Beach Panel, Startup Hub, Hotel Erwin
– Moderator: Debra Benson, Co-Founder/Partner, Illume PR
– Lori Kozlowski, Forbes
– Brian Deagon, Investors Business Daily
– Adam Popescu, LA Business Journal
– Amanda Coolong, Techzulu
4pm – 6pm: Music: Discovery and Social Media, Hollywood Trek, Hotel Erwin
– Moderator: Rynda Laurel, Owner, 1968Media, Digital Manager, Smashing Pumpkins
– Lindsay Gabler, Social Media Specialist, The GRAMMY
– Ricardo Diaz, Director, Creative Technology, TBWA\Chiat\Day
– Thomas Ford, US Ambassador, Soundrop
– Andrew Mains, COO, Mobile Roadie
4pm – 6pm: Silicon Beach: Creative Inspiration Panel by Venice Media District, Startup Hub, Hotel Erwin
– Moderator: Colleen O'Mara Diamond, Co-Owner/Hype and Co-Founder & Chair/Venice Media District
– Robert Feist, Ravenswork and Founder/Venice Media District
– Bill Megalos, Independent Filmmaker
– Debra Kaufman, Assoc. Editor, COW Magazine & Freelance Writer, Variety
– Holly Mosher, Independent Filmmaker
– Chris Raih, Founder/Managing Director, Zambezi
Saturday, June 23:
10am – 12pm: Digital Art and Online Artist Communities Panel, Art/Lifestyle Hub, Hotel Erwin
– Moderator: Ted Werth, Chair, Create:Fixate
– Joshua Wattles, Advisor in Chief, deviantART
– Matt Munson, CEO-Co-Founder, Instacanvas
– Bettina Korek, Founder, ForYourArt
– Andre Cook, Co-Founder/COO, Filter Foundry
10am – 12pm: Getting the Edge in the Future of Web Design and Development Panel, Community Hub, Working Village
– Moderator: Adam Bell, Design Director/CEO, dataTV
– Jose Caballer, Chief Visionary, CCO, The Skool
– Crystal Ehrlich, The Los Angeles User Experience Meetup
– Tim Perry, Briabe Media
– ShaRon Sache, Front End Developer/Interactive Designer, DDLA-manager
12pm – 2pm: Original Web Content Panel, Art/Lifestyle Hub, Hotel Erwin
– Moderator: Josh Cohen, Co-Founder, Tubefilter
– David Beebe, VP/GM Digital, Fishbowl
– Jason Steingold, VP Bus. Dev, Branded Entertainment, engage:BDR
– Liz Dubelman, VP Production and Programming, JibJab
– Todd Roy, Creative Producer/Director, HDFILMS
2pm – 4pm: Mindshare LA presents: SMART Money: Where Science Meets Art … for Profit!, Art/Lifestyle Hub, Hotel Erwin
– Moderator: Douglas Campbell, Founder, Mindshare
– Sean McDonald, Digital Storyteller, Data Visualize
– Brent Bushnell, Entrepreneur, Game Developer
– Dick Whitley, Founder, Consolidated Pixel
Plus networking parties, beach activities, and much more. Check out the full schedule.
If you'll be at Silicon Beach Fest, tweet @WriteOnOnline, so we can meet up. Write on!
Tags:
Digital LA
Entertainment
Events
Silicon Beach Fest
Tech
Write On! Online
Writing