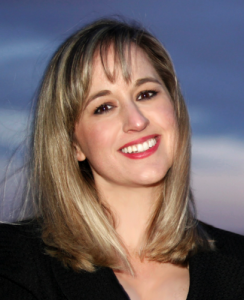 Babette Pepaj is the founder at BakeSpace, Inc, as well as creator of Cookbook Cafe, a DIY publishing platform. Pepaj shares her "foodie" background and offers advice for food and cookbook writers.
Pepaj is part of tonight's Social Media Club Los Angeles panel on Social Publishing in Santa Monica, along with author Nolan Bushnell, Finding The Next Steve Jobs; Tim Sanders, Net Minds Publishing; Mark Jeffrey, Glossi; and moderator/author Marsha Collier. Not in LA, watch the livestream, starting at 7:30pm pacific.
Why does everyone love cookbooks?
Everyone eats … and we're always searching for a new recipe to feed ourselves and our family. Cookbooks provide inspiration and utility—they can be great for reading, as well as reference. They enhance our knowledge and skill as they entertain… and they help us prepare food that tastes great. Food also bonds people across different regions and cultures, and cookbooks are, in essence, a guide for getting and staying connected.
What are three things people should decide before writing a cookbook?
1. Pick a niche to stand out and define your audience.
2. Decide to what degree (if any) your cookbook is meant to be a marketing tool for your brand. This will help you choose the best platform for your needs.
3. Size matters—sure readers appreciate large photos and graphics, but if your cookbook is 300 MB, the person who buys it may not appreciate the 10-plus minutes it will take to download the file on their iPad. For Cookbook Café, we tell our authors it's better to publish a smaller, highly-focused cookbook on a particular topic than one large cookbook with 100-plus recipes.
What are three biggest mistakes cookbook writers make?
1. Waiting for their idea to be validated by a traditional publisher. Going this route will take a minimum of two years, and that's after you get the cookbook deal signed.
2. Authors sometimes forget that no matter where/how they publish (traditional or self-publishing) they are still responsible for marketing their cookbooks. While we offer our authors a custom widget they can add to their own website, they still need to promote their cookbooks on their social sites to help drive sales.
3. Forgetting to leverage "previews" of cookbooks to generate pre-sale buzz or bonus recipe packs. Even if you have a traditional cookbook publishing deal, you should generate ongoing buzz before your book gets published. Lots of our authors create mini "previews" of their cookbooks on Cookbook Café as a way to generate buzz and turbocharge future sales. Because our cookbooks have links to each author's social sites (that open within the book) and video, authors are able to use the platform to build their fanbase.
What certain things/elements are specific to cookbook writing?
Cookbook writing is recipe writing on steroids. You cannot simply wing it or approximate an amount or pick ingredients on a whim. Someone at home will be making your recipe, and if it's not written clearly or in a format most home cooks understand, no one will buy your cookbook.
Advice for food bloggers/writers? Additional advice for cookbook writers?
Food bloggers should look at their existing content and find ways to repurpose it into digital cookbooks. This will help them build their fanbase and turn existing recipes into revenue.  They should also try to incorporate their web publishing knowledge into book publishing know how. When publishing a collection of recipes, they need to leverage their community, social feeds and publishing skills—just as they do every day on their blog.
What inspired you to start BakeSpace? And Cookbook Cafe?
BakeSpace launched in 2006 as the Web's first food-themed social network that connects home cooks through recipes. The site has earned multiple Webby Award honors, as well as back-to-back Webby nominations for "Best Social Network." Over the years it has grown to become an online media, native advertising, and app publishing platform for people who are passionate about cooking and the culinary lifestyle.
The company recently launched Cookbook Cafe—the first do-it-yourself publishing tool that enables anyone (home chef, brand, nonprofit organization, etc.) to create, market and sell a cookbook as both a web-based ebook and an iPad app. Authors publish and market their cookbook at no cost.
One of the goals for Cookbook Cafe is to improve how non-profit organizations (schools, hospitals, faith-based institutions, clubs, etc.) use crowdsourced cookbooks for fundraising.  In the past, nonprofits that created such cookbooks were limited by the cost and complexity of book publishing, marketing and distribution. They were forced to publish cookbooks that were either modest in format or limited to a single technology platform, and their distribution was usually limited to a small network of supporters. Cookbook Cafe eliminates these restrictions.
Authors simply upload their recipes using the web-based cookbook builder, and can add photos and embed video from sites like YouTube. They don't need a designer, app developer or marketing pro to help them publish their cookbook as a web based ebook or iPad app. It's also easy for families and groups to collaborate on a cookbook by sharing their personal "add a recipe to my cookbook" link.
How has the cookbook industry changed in the last few years? And what is Cookbook Cafe's part in that?
In the past, cookbook publishing and the ability to market a cookbook beyond an author's personal network of friends and family members was a process reserved for big-name chefs, celebrities and TV food personalities. But thanks to digital self-publishing tools like Cookbook Café, it's now possible for anyone to create their own cookbook and sell it to the world.
Cookbook Café is unique in that all of our cookbooks are discoverable to BakeSpace.com's large built-in community of people who are passionate about food and cooking (discoverability is vital for grassroots indie authors).
In addition, each cookbook is connected through our proprietary contextual search and indexing system, which further enhances discoverability and makes it easy for consumers to find cookbooks that match their interests.  The system works by individually indexing each recipe in all the cookbooks offered in the Cookbook Cafe marketplace. Cookbook Café is the only cookbook publishing platform that employs such technology.
What do you know now that you wish you knew before you started BakeSpace?
That is a loaded question. Hmm… To anyone thinking about creating a community or publishing platform, my best advice is to keep it simple. Your community is the core of your business… everything else is just decoration.
What's your favorite recipe to prepare?
My favorite recipe is my Chocolate Cupcakes with Chocolate Ganache Frosting & Centers. They are even better the next day.
Tags:
Author Q&A
Babette Pepaj
Bakespace
Cookbook Cafe
Cookbooks
Expert Q&A
Food
Writing