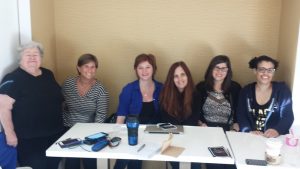 The February 2017 meeting started with a relocation. Peet's can no longer reserve a table for us, so we ended up at the Bon Bon Berry across the strip mall, which worked well for that day. We are, however, on the lookout for a new location in the area (Westwood/West LA). Please message me or comment with any suggestions. Thanks!
We had several familiar faces, as well as some new ones: welcome back to LA, Lena; nice to see you Bronte. What's on everyone's mind? How to be more productive, increase visibility, and/or drive more business in the new year.
One member is going full-throttle with relationship development, another (who works on other people's websites) is launching his own. There's also a podcast relaunch and voice work exploration in progress. As for me, I am working on releasing a physical book and audiobook versions of Write On Blogging.
The main benefit of going to the live meetings is the personal connections you make. We did spend some time talking about our specialities, such as career coaching (Alyson), fiction and memoir book development (Kelly), websites (Dennis), interviewing female authors (Lena), editing (Shannon), and more. You never know who will send your next lead to you or alternatively who you can assist with a friendly intro.
The next LA meeting is on March 1. RSVP on Facebook.
Don't forget to post February 2017 Goals. #WriteOn
Tags:
Goals
Los Angeles
Network
Write On! Meeting
Writing