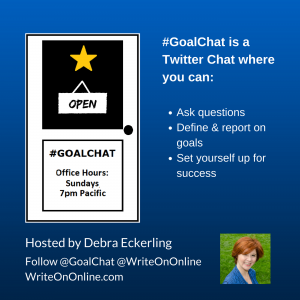 Thanks to everyone who joined us for the 3/11 #GoalChat, where we talked about marketing goals.
#GoalChat takes place Sundays at 7pm Pacific/10pm Eastern to set goals, ask questions, and get support. Feel free to tweet to @GoalChat throughout the week.
And join us on March 18 for #GoalChat at 7pm Pt/10pm ET. Special Topic: Personal Goals. Tweet topic suggestions to @GoalChat.
Below is a recap with tweets from last night's chat.
Welcome to #GoalChat. This week's special topic is Marketing Goals @writeononline pic.twitter.com/JdlifsCotO

— ⭐ #GoalChat ⭐ (@GoalChat) March 12, 2018
Introduce Yourselves: Who are you? Where do you live? What do you do? @WriteOnOnline #GoalChat pic.twitter.com/dCOWDY2eR5

— ⭐ #GoalChat ⭐ (@GoalChat) March 12, 2018
I'm Deb. I live in West LA. I help people set, plan, and achieve their goals. I do coaching and group workshops. Am the author of "Write On Blogging" and founder of @WriteOnOnline, a website and community for writers, creatives & entrepreneurs. https://t.co/BKv5f2Aw0h #goalchat

— ⭐ #GoalChat ⭐ (@GoalChat) March 12, 2018
Hello, Jim from Swansboro, NC I am a social media marketing consultant #goalchat pic.twitter.com/gWQYQYSN1t

— Jim Fuhs of Fuhsion Marketing #SMMW18 (@FuhsionMktg) March 12, 2018
Dorrie tweeting from my home office from outside Phila, Pa! #GoalChat

— Dr. Dorrie Cooper (@sittingpretty61) March 12, 2018
Tweeting from the mountains of Colorado where I write, teach, and consult on government contracting and #Leadership. Also where I truly love the sunrises. #GoalChat pic.twitter.com/brh2noJAJx

— Tom Reid (@_TomGReid) March 12, 2018
Q1. What was your biggest win last week? @WriteOnOnline #GoalChat pic.twitter.com/Luv98mmNVY

— ⭐ #GoalChat ⭐ (@GoalChat) March 12, 2018
I made some nice progress on writing my workbook, so very excited. #goalchat

— ⭐ #GoalChat ⭐ (@GoalChat) March 12, 2018
A1: Teaching a class about Facebook and being able to bring in some of what I learned at #SMMW18 #GoalChat https://t.co/FoYZJ29bxW

— Jim Fuhs of Fuhsion Marketing #SMMW18 (@FuhsionMktg) March 12, 2018
Here is the link for my post https://t.co/9wMo9lVrs4

— Jim Fuhs of Fuhsion Marketing #SMMW18 (@FuhsionMktg) March 12, 2018
Here is the link for the @ManyChatHQ course https://t.co/xe7LWGlMzv #goalchat

— Jim Fuhs of Fuhsion Marketing #SMMW18 (@FuhsionMktg) March 12, 2018
My biggest win was achieving a consulting contract on social media management for educators. #GoalChat pic.twitter.com/X2tZPPc8qR

— Dr. Dorrie Cooper (@sittingpretty61) March 12, 2018
A1) I experienced a MAJOR setback without totally losing my cool. Might not sound like a win, but it was. #GoalChat

— Tom Reid (@_TomGReid) March 12, 2018
A1. Traveling with a 1 and 2 year old out of state and making it home with everyone alive and no missed flights. #GoalChat

— Ben Sailors (@SailorsBen) March 12, 2018
A1: Named to the Board of Directors for the Catholics In Media Associates

— Sherry Hayes-Peirce (@trainerchick47) March 12, 2018
Q2. What are your goals for this week? @WriteOnOnline #GoalChat pic.twitter.com/fyxrTzYvdE

— ⭐ #GoalChat ⭐ (@GoalChat) March 12, 2018
A1. Get my workbook ready to send out for one more review. Work on website for new branding! #goalchat

— ⭐ #GoalChat ⭐ (@GoalChat) March 12, 2018
A2. Get caught up on my JIRA tickets, make sure a client is happy with their customizations so they'll stop asking for more, and get some time to make some PowerBI metrics created for my boss. Also, don't die. #GoalChat

— Ben Sailors (@SailorsBen) March 12, 2018
I have started one on one of my Facebook pages and am doing a deep dive into the @ManyChatHQ 10 hour free video training #GoalChat

— Jim Fuhs of Fuhsion Marketing #SMMW18 (@FuhsionMktg) March 12, 2018
A2: One goal completed, wrote a LinkedIn post on #SMMW18 and finish the chatbot training #goalchat https://t.co/vFeBkvURuN

— Jim Fuhs of Fuhsion Marketing #SMMW18 (@FuhsionMktg) March 12, 2018
I was asked to share social media leadership and social channel content for a state educational foundation. #GoalChat

— Dr. Dorrie Cooper (@sittingpretty61) March 12, 2018
A2) 1. Newsletter content done
2. Webinar software integrated into website and ready for registration,
3. Attend ABA CLE and network like crazy
4. Travel to Annapolis & then San Diego
5. Generate 30 billable hours #GoalChat

— Tom Reid (@_TomGReid) March 12, 2018
https://t.co/C4d7pUVvKR achieve a finished blog post, fulfill appoinments, and stay positive focused for some faculy lectures.#GoalChat pic.twitter.com/tNLwwJ6fJ1

— Dr. Dorrie Cooper (@sittingpretty61) March 12, 2018
A2. Heading to @LACongress this weekend and meeting with over 10 prospects and serving as master of ceremonies for two sessions. Hoping to increase visibility and secure more speaking engagements. #goalchat

— Sherry Hayes-Peirce (@trainerchick47) March 12, 2018
Special Topic: Marketing Goals @WriteOnOnline Ready? #goalchat

— ⭐ #GoalChat ⭐ (@GoalChat) March 12, 2018
Q3. What are your marketing goals? @WriteOnOnline #GoalChat pic.twitter.com/lTbkdu99xs

— ⭐ #GoalChat ⭐ (@GoalChat) March 12, 2018
A3. Set up social profiles for my new biz website … coming soon. #goalchat

— ⭐ #GoalChat ⭐ (@GoalChat) March 12, 2018
A3b. Play with Facebook chatbots #SMMW18 #goalchat

— ⭐ #GoalChat ⭐ (@GoalChat) March 12, 2018
A3) Keep the newsletter every two weeks, get registrations for free leadership webinar starting in April, get first task under a signed contract, and sign two new contracts all by the end of April. (Just a reminder that goals have to have deadlines.) #GoalChat

— Tom Reid (@_TomGReid) March 12, 2018
Yes, deadlines are essential. I announced on FB Live that I'd launch by 4/1. Nothing like a public deadline. #goalchat

— ⭐ #GoalChat ⭐ (@GoalChat) March 12, 2018
A3: Consistently write a post a week sharing what I learned at #SMMW18 and increase my live video on Facebook #goalchat https://t.co/CkSz0A2llU

— Jim Fuhs of Fuhsion Marketing #SMMW18 (@FuhsionMktg) March 12, 2018
My marketing goals to grow my online prescence and grow my psychology social media conslting practice.#GoalChat pic.twitter.com/lJFBF1PskG

— Dr. Dorrie Cooper (@sittingpretty61) March 12, 2018
A3. Just had new cards printed and registered on the conference app to make connections. #goalchat

— Sherry Hayes-Peirce (@trainerchick47) March 12, 2018
Q3b. Why are marketing goals important? #goalchat

— ⭐ #GoalChat ⭐ (@GoalChat) March 12, 2018
A3b) All goals, including marketing goals, keep you focused on the actions that must be taken every day toward achieving your goals. #GoalChat

— Tom Reid (@_TomGReid) March 12, 2018
A3b: It is so important, to be strategic and capitalize on opportunities.#goalchat

— Sherry Hayes-Peirce (@trainerchick47) March 12, 2018
Q4. Which social media platforms work best for you? @WriteOnOnline #GoalChat pic.twitter.com/OXCC5jhNu6

— ⭐ #GoalChat ⭐ (@GoalChat) March 12, 2018
A4. Facebook has always been my base. Page: https://t.co/IGQ6l8uFLp and Group https://t.co/v9p406Nbyu #goalchat

— ⭐ #GoalChat ⭐ (@GoalChat) March 12, 2018
A4b. Twitter has always been my second fav. I heart Instagram, but usually use it once a week or so. #goalchat

— ⭐ #GoalChat ⭐ (@GoalChat) March 12, 2018
I love LinkedIn too, but don't post on it nearly enough #goalchat

— ⭐ #GoalChat ⭐ (@GoalChat) March 12, 2018
A4: Lately Twitter works best because of the conversation and Instagram second. #GoalChat https://t.co/o8IYsjIeDd

— Jim Fuhs of Fuhsion Marketing #SMMW18 (@FuhsionMktg) March 12, 2018
A4. I love Twitter because it's dialogue, conversant, and socially engaging. Google offers informational, video, and empowering. #GoalChat

— Dr. Dorrie Cooper (@sittingpretty61) March 12, 2018
A4. I have to say for business connections LinkedIn, but Facebook serves as an example of how what I do works.

— Sherry Hayes-Peirce (@trainerchick47) March 12, 2018
Q4b. How does everyone feel about YouTube? #goalchat

— ⭐ #GoalChat ⭐ (@GoalChat) March 12, 2018
A4b. I have started to use it more. You have to pay attention as it is the 2nd largest platform after Faceboook #GoalChat https://t.co/uNuEqekL7s

— Jim Fuhs of Fuhsion Marketing #SMMW18 (@FuhsionMktg) March 12, 2018
4b) I have a YouTube channel, but video production has a LOT more steps and takes more time than I"ve been able to give it lately. #GoalChat

— Tom Reid (@_TomGReid) March 12, 2018
When I did my Guided Goals podcast I uploaded videos to YT and released the audio. #goalchat

— ⭐ #GoalChat ⭐ (@GoalChat) March 12, 2018
Going to do something different with YouTube for my new project. #goalchat

— ⭐ #GoalChat ⭐ (@GoalChat) March 12, 2018
Q5. What marketing advice do you have for others? @WriteOnOnline #GoalChat pic.twitter.com/byRCXaJt7R

— ⭐ #GoalChat ⭐ (@GoalChat) March 12, 2018
A5. Have a presence on all platforms, but focus on one to master with content and consistency. Then, bring another into the fold. #goalchat

— ⭐ #GoalChat ⭐ (@GoalChat) March 12, 2018
Excellent point, Debra – You don't have to master them all or you won't be able to excel in any of them #goalchat

— Sabrina Cadini (@SabrinaCadini) March 12, 2018
If I may add to that, we should start with the platform that our audience is on. #GoalChat

Hi, newbie here.

— Narmadhaa (@s_narmadhaa) March 12, 2018
A5) Watch carefully what I do, and then do the opposite. #GoalChat

— Tom Reid (@_TomGReid) March 12, 2018
A5: Make sure to focus on posts that create engagement as the algorithm changes favor community. #GoalChat https://t.co/mD2F9TbkQk

— Jim Fuhs of Fuhsion Marketing #SMMW18 (@FuhsionMktg) March 12, 2018
Best way to glean engagement: Answer audience's questions. #GoalChat

— Narmadhaa (@s_narmadhaa) March 12, 2018
Focus on a channel and determine social media goals and audience. Build and establish community first. #GoalChat pic.twitter.com/2bfK1YKK5r

— Dr. Dorrie Cooper (@sittingpretty61) March 12, 2018
Deb I keep folding things in and still working on strategies for sharing. Have held off on SnapChat. In the process of uploading my thirty FB live videos onto my You Tube!

— Sherry Hayes-Peirce (@trainerchick47) March 12, 2018
Thanks for joining us. Hope to see you again on #GoalChat every Sunday at 7pm PT

— ⭐ #GoalChat ⭐ (@GoalChat) March 12, 2018
Don't forget to Toot Your Horn and share your wins in the Facebook group https://t.co/D38rtwcgnM #goalchat

— ⭐ #GoalChat ⭐ (@GoalChat) March 12, 2018
Join us for GoalChat next week. Please tweet topic suggestion to #GoalChat pic.twitter.com/bAQ52zt1Zy

— ⭐ #GoalChat ⭐ (@GoalChat) March 12, 2018
Tags:
#GoalChat
Goals
Marketing
Marketing Goals
Social Media
Writing