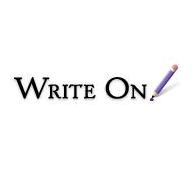 There are several monthly challenges coming up in November, including #NaNoWriMo (Novel Writing), #NaPodPoMo (Podcasting), and #NaBloPoMo (Blogging). To help you prepare, #GoalChat will cover each of these topics in October … after the weekly check in to share wins and tweet goals, of course. Join us for #GoalChat every Sunday at 7pm PT on Twitter. To get a reminder, RSVP for October chats. And read the recaps on Twitter Moments.
Share monthly and weekly goals on the Facebook Page and/or Group. And post your October Goals to be entered in a drawing to win a book from Michael Wiese Productions. 
More in Write On Wednesday!
Upcoming Events
October 9: The film The Need To Grow, fresh off from winning awards at Sundance, will be premiered at the Landmark Theater, 10850 Pico, in Los Angeles at 7pm. The film brings awareness that we are running out of time to find solutions to feed our population in the very near future. And it features long-time Write On member David King of The Learning Garden.
October 12: Lummox Press and Lummox # 8 Group Reading at Beyond Baroque in Los Angeles at 4pm. Hosted by RD Armstrong, the event features Lynn Bronstein, Don Campbell (and Calokie), Jackie Chou, Kit Courter, Sharyl Collin, Alicia Viguer-Espert, Martina Gallegos, Friday Gretchen, Charles Harmon, Gil Hagen Hill, Marie Lecrivain, Mike Meloan, Linda Neal, Kevin Ridgeway, Lisa Segal, Nancy Shiffrin, Vachine and Kelsey Bryan-Zwick. Get tickets.
October 11 – 13: She Podcasts Live in Atlanta, GA. Learn More.
October 11 – 13: 1st ITTF World Parkinson's Table Tennis Championships in New York. Get tickets and details.
October 13: Join us for #GoalChat at 7pm PT on Twitter. Topic is Preparing for #NaNoWriMo.
October 15 – 17: VidSummit in Los Angeles. Get the deets.
October 17: Join Tom Reid at 9am PT for the next free webinar in his Sustained Leadership WBS series. This month's topic is Persistence Vs Knowing When to Quit. Register here.
October 19: Self-Publishing Intensive presented by IWOSC (Independent Writers of Southern California) from 9am – 4pm in Culver City. Early-bird and member discounts! Get the full description and reserve a spot.
October 19: Los Angeles Suspense Master Class from 10am to 6pm at the Holiday Inn Burbank-Media Center. Forensic specialist Jennifer Dornbush will walk you through the foundational principles of crafting a crime drama/thriller, "Hitchcock Whisperer" Jeffrey Michael Bays will explore the basic steps to planting suspense into your film, and HBO/Showtime writer William C. Martell will then bring you into the world of thriller-writing. Get more details and tickets.
October 20: Join us for #GoalChat at 7pm PT on Twitter. Topic is Podcasting to prepare for NaNoPodMo in November.
October 25: TexasPodCon in San Antonio Texas. Get details.
October 27: Join us for #GoalChat at 7pm PT on Twitter. Topic is Blogging.
October 28: Publicity for Books, presented by IWOSC (Independent Writers of Southern California), at 7:30pm in Culver City. IWOSC members free; others $15. Details coming soon. RSVP.
November 2 – 3: The 805 Writers Conference in Oxnard, CA. Get details and tickets.
November 3: Join us for #GoalChat at 7pm PT on Twitter. Topic is November Goals.
November 6: We are keeping the LA hangouts in the evening. Join us for the November LA Hangout at Literati Cafe, 12081 Wilshire Blvd, in West LA from 6:30pm – 8pm.. RSVP on Facebook. 
Write On! Members: Let me know if you have a book being released or some awesome news, so we can include it in the next newsletter.
Plus
Need help figuring out what you want and how to get it? Are you having trouble starting or finishing a project? Check out TheDEBMethod.com. Give me an hour, I'll give you a plan. 
To learn more, watch my appearance on Madalyn Sklar's #TwitterSmarter After Chat and on DIY Marketers pre-#BizapaloozaChat. Plus, check out Jim Katzaman's article covering my method behind "goal-setting madness." Contact me to get started.
For blogging inspiration read Write On Blogging: 51 Tips to Create, Write & Promote Your Blog. Whether you are starting or relaunching your blog, it will walk you through the process.
Do your kids love to write? Want to encourage them to hone and expand their writing skills? Check out Purple Pencil Adventures: Writing Prompts for Kids of All Ages.  Although it's geared towards kids, there are plenty of prompts adults can use to exercise those writing muscles! Write on!
* * *
Sign up for The D*E*B Method Newsletter for tips, resources, and events to help you define, plan, and achieve your goals, as well as info about  my upcoming goal-setting book – Your Goal Guide – which will be released by Mango Publishing in January 2020.
* * *
Writers, please email me if you have a 2-3 line news item or event and/or if you are are interested in contributing a Write On! Review or Expert Column. Write On!
Tags:
Business
Events