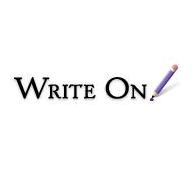 Happy Wednesday, Everyone!
I am thrilled to announce my latest way to connect …
Starting April 13, I will be hosting #GoalChat Live every Monday at 4pm PT on the Mango Facebook page. Share wins, set goals, and get support. This is an extension of my Sunday night #GoalChat Twitter chat.
Let's keep each other on track, whether it's to charge ahead on a new project or set a new course. And, if you have questions you would like me to answer during the Live, please send them my way.
* * *
There are plenty of virtual events coming up – including my Goals for Writers Virtual Lunch N Learn on Tuesday – so check out the links below. And if you are planning or participating in a virtual event, please let me know, so I can include it next week.
* * *
Post your April Goals on Write On Online and weekly goals on Facebook (a new goal-thread starts every Monday) to be entered in a drawing to win a book from Michael Wiese Productions. For more community and conversation, check out the Write On Online Facebook Group. Also join the Your Goal Guide Facebook Group for tips and resources to keep you motivated and set yourself up for success. Plus, check out the #GoalChat Twitter chat every Sunday at 7pm Pacific/10pm Eastern. ead the recaps on Twitter Moments.
Upcoming Events
April 9: Mechanics Institute presents "Publishing in the Time of Coronavirus. over Zoom at 12pm PT. Join publishing veterans Brenda Knight and Laurie McLean for a timely discussion about how the publishing industry may be irrevocably changed by the global pandemic. This event is in partnership with the San Francisco Writers Conference and the Women's National Book Association, San Francisco Chapter. Get details.
April 12:  #GoalChat at 7pm PT on Twitter. Topic is Virtual Events.
April 13: #GoaChat Live at 4pm PT. Tune in on the Mango Publishing Facebook page.
April 14: Thrilled to be leading virtual Lunch N Learn for WNBA-San Francisco Chapter. The interactive session on "Goals for Writers … No Matter What!" starts at noon. I will share a variety of goals for writers, strategies for rethinking your goals, tips for setting yourself up for success, and more! Get details and RSVP.
April 18 – 19: The Online Writer's Conference is the premiere digital writing conference in the world. Join us to learn everything you need to know about how to write, submit, and publish the best book of your life… and it's broadcasting absolutely free. Get details and schedule. My panel on Mindset and Pre-Writing – with Dr. Debra Holland and Sean McLachlan – is at 10am on April 18.
April 19:  #GoalChat at 7pm PT on Twitter. Topic is Staying Healthy.
April 20: #GoaChat Live at 4pm PT. Tune in on the Mango Publishing Facebook page.
April 26:  #GoalChat at 7pm PT on Twitter. Topic is Video.
April 27: The Productivity Mindshift Virtual Summit with Cindy Logan begins. Stay tuned for links and details about this fabulous event, designed to help people get out of their own way and get things done. Thrilled to be one of the speakers. Details and link coming soon!
April 27: #GoaChat Live at 4pm PT. Tune in on the Mango Publishing Facebook page.
May 3:  #GoalChat at 7pm PT on Twitter. Topic is May Goals.
May 9: LA BookFest: An Online Bookish Adventure. This online alternative to other bookfests and spring events includes Live Webinar Panels, Author Readings, Live Author AMAs (Ask Me Anything Chats), and Bookish Giveaways presented by Books That Make You. RSVP for Updates.
Plus
Need help figuring out what you want and how to get it? Are you having trouble starting or finishing a project? Check out TheDEBMethod.com. Give me an hour, I'll give you a plan.  To learn more, watch my appearance on Madalyn Sklar's #TwitterSmarter After Chat and on DIY Marketers pre-#BizapaloozaChat. Plus, check out Jim Katzaman's article covering my method behind "goal-setting madness." Contact me to get started.
For blogging inspiration read Write On Blogging: 51 Tips to Create, Write & Promote Your Blog. Whether you are starting or relaunching your blog, it will walk you through the process.
Do your kids love to write? Want to encourage them to hone and expand their writing skills? Check out Purple Pencil Adventures: Writing Prompts for Kids of All Ages.  Although it's geared towards kids, there are plenty of prompts adults can use to exercise those writing muscles! Write on!
* * *
Thanks, all, for your continued support, encouragement, and enthusiasm of my new book: Your Goal Guide: A Roadmap for Setting, Planning and Achieving Your Goals from Mango Publishing. If you love the book, please consider writing me a review on Amazon or GoodReads. It could just be a few lines, and would certainly be appreciated. Thanks!
And special thanks to Deborah Lyn Stanley and Sherry Richert Belul for their recent Amazon reviews.
* * *
Please email me if you have a 2-3 line news item or virtual event and/or if you are are interested in contributing a Write On! Review or Expert Column. Write On!
Tags:
#GoalChat
Debra Eckerling
Goals
Mango Publishing
Write On Wednesday
Your Goal Guide