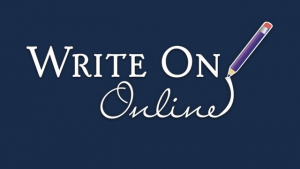 Hi, Everyone!
Exciting News: Thanks to Scribd, Your Goal Guide: A Roadmap for Setting, Planning and Achieving Your Goals is now available as an Audiobook. It's also included on their list of October's Best New Books.
Congratulations to this month's goal-posting winner, Cristina Deptula, who won a copy of Pliar Alessandra'sThe Coffee Break Screenwriter. Pilar was a recent guest on #GoalChatLive; watch the video.
To be eligible to win a book from Michael Wiese Productions, participate in the Write On Facebook Page and Group and/or post your October Goals. A winner will be chosen at random.
Stop by the Write On Online Facebook Group to participate in daily threads and stay connected with the Write On community. And, join me for the #GoalChat Twitter chat every Sunday at 7pm PT and #GoalChat Live, which takes place Mondays at 4pm PT on the Mango Publishing Facebook page.
Recently on #GoalChatLive:
Remember, keep an eye on The D*E*B Method Facebook page for announcements, as well as live-streams, links, and inspiration.
YOUR GOAL GUIDE
Need to rework your path or set a new one? Read Your Goal Guide: A Roadmap for Setting, Planning and Achieving Your Goals. Remember to join the Your Goal Guide Facebook Group to ask questions, make new connections, and get additional support. I am also available for one-on-one and group coaching, as well as virtual summits and speaking engagements. Contact me to get started.
Here are some of my recent articles, videos, and resources …
Thank you to everyone who voted for Your Goal Guide to be showcased on the professional-learning Twitter chat/book club #bookcamppd, run by Meredith Johnson. We did it! #YourGoalGuide came in third and will be featured on the chat – along with me – on November 29 and December 6 at 4:30pm PT. Learn more here. I will share details when it gets closer.
NEWS
Check out David Watson's interview with Jen Grisanti on her new seminar: The Wound That Drives Us on his Movies Matter website. Plus, check out his new reviews, as well as his interview with Chris Vogler in honor of The Writer's Journey 25th Anniversary. You can also watch my #GoalChatLive with author Chris Vogler.
The Women's National Book Association San Francisco Chapter is pleased and proud to continue the Effie Lee Morris WNBA Literary Awards in honor of Ms. Morris, who was a pioneering Black librarian and the founder of their chapter in 1968. The Effie Lee Morris WNBA Literary Awards Contest is actually three contests in one: nonfiction, fiction, and poetry. Get details.
Considering doing #NaNoWriMo? Check out Stephanie Bourbon's new course. She has now done #NaNoWriMo 16 times … and completed it every time.
* * *
Tip from Carolyn Howard-Johnson: "What's a calendar for? To list world-wide and national days of celebration for inexpensive (frugal!) ways to promote. Enter whatever might be related to your product or business once. Set an annual alert for a few days before. And then socially network  My favorite is #EarthDay and related environmental days (there are at least three other major ones!)  for the poetry book by Sublime Planet by Magdalena Ball and me. You could work your posts around a discount, a contest, a giveaway or just your altruistic self."
PLUS
Michael Wiese Productions Fans: If you are a podcaster interested in filmmaking, and want an opportunity to interview some of the amazing MWP authors, Please contact kenlee@mwp.com. Btw, you can find some awesome ebooks at my Write On Online MWP affiliate bookstore.
The Tahoma Literary Review is accepting narrative nonfiction, fiction, and poetry submissions. Full guidelines are here. They currently pay between $30 and $100.
EVENTS
October 10 – 11: The Alliance of Los Angeles Playwrights (ALAP) presents its all-virtual fall event, "DramaPajama." Each day features creative discussions with theatre professionals from across the U.S. The event will conclude on Sunday with a virtual cocktail party. Get tickets and details.
October 11:  #GoalChat at 7pm PT on Twitter. Topic is Endurance. We will also talk about NaNoWriMo (aka National Novel Writing Month), as well as other  November challenges, like National Podcast Post Month and Write Nonfiction in November.
October 12: #GoalChat Live at 4pm PT on the Mango Publishing Facebook page. We're going to talk about endurance, NaNoWriMo, and the benefit of monthly challenges with author Eddie Louise.
October 13: Today is Tomorrow Zula. This Global Networking Event with Jeff Pulver is every Tuesday at 6pm PT on Zoom in October. RSVP here.
October 14: Free webinar for spiritual creatives from Courtnay Francis. Learn How To Move From Your Headspace Into Your Heart Space at 5pm PT. Reserve your spot.
October 16: San Francisco Values Panel at 12pm PT on Zoom. Come listen to, and converse with three award-winning authors who have captured a world-changing megalopolis in thought-provoking books: Joan Gelfand, Geri Spieler, Aya de Leon, and moderator Kathleen Archembeau, native San Franciscan and WNBA-SF Board member. Get details and register.
October 18:  #GoalChat at 7pm PT on Twitter. Topic is Joy.
October 19: #GoalChat Live at 4pm PT on the Mango Publishing Facebook page with my fellow Mango author Sherry Richert Belul, Say it Now. 
October 22: Mythosophia Online Celebration of the 25th Anniversary of The Writers' Journey. 
October 23; Debra Eckerling is leading Virtual Networking Goals for Writers for the Women's National Book Association – San Francisco Chapter, starting at 12pm PT. Get details and register..
October 24: Women's National Book Association – Los Angeles Chapter presents Conversations with Authors, Fall 2020. RSVP on Facebook.
October 24 – 25: Desiree Duffy's The BookFest Fall 2020. Enjoy Panel Discussions and Conversations, Live Ask-an-Author Chats, Spooky Author Readings, Virtual Booths, Giveaways, and more! The live stream takes place on the Books That Make You YouTube Page. Free to attend.
October 25:  #GoalChat at 7pm PT on Twitter. Topic is Creativity.
October 26: #GoalChat Live at 2pm PT on the Mango Publishing Facebook page. Guest is art historical novelist Stephanie Storey. (Note the earlier time.)
November 1:  #GoalChat at 7pm PT on Twitter. Topic is November Goals.
PLUS
Ready to start or relaunch your blog? Check out my book Write On Blogging: 51 Tips to Create, Write & Promote Your Blog. And if you read the book, I would love a review. Please and thank you.
The Guided Goals Podcast is a series of expert interviews, designed to help people pursue their passion projects. Each episode wraps with action items, so listeners can take what they heard, and move forward right away. We are on hiatus, but you can listen to Season 1 podcasts on GuidedGoals.com. Also, watch on YouTube, listen, and subscribe on iTunes, listen on Stitcher, or listen on Google Play.
"Talking With Authors" is a podcast that features interviews with independent and small-press authors. Tell them about your books here.
Fiction Writing for Children is a 180-page book from award-winning children's author and ghostwriter Karen Cioffi. You'll be shown how to write your story, submit your work, establish your online platform, and book-marketing basics. Check it out today!
Writers, pen won't budge? Read The Morning Nudge! Get your free subscription.
* * *
Write On! Members: Let me know if you have a book being released or some awesome news, so we can include it in the next newsletter.
FRIENDS OF WRITE ON!
Write On Online's Facebook group has again been included in The Write Life's Top Facebook Groups for Writers. Thanks, The Write Life! Check out the entire list.
Want to learn more about me? Check out Madalyn Sklar's #TwitterSmarter Monthly Talk Show, Kristen Tsetsi's interview on Jane Friedman's blog, and Carrie Dils OfficeHours.fm podcast. Also, read my post on how to develop relationships with other writers on Aerogramme Writer's Studio. 
When you combine food with advice, you bring love to the table. Check out Ask Al A Carte.com. Also send questions to advicetochewon@gmail.com. Check out her Facebook page, Twitter, and Instagram for even more food for thought.
Check out BookPod, an online social platform for authors and aspiring authors centered around the world of books and publishing. Interested in joining BookPod? Email Jennifer Brody.
Need a transcriber? CLK Transcription can help! CLK employs more than 30 highly trained transcriptionists … and has great rates. Email carollee@clktranscription.com for more information.
Does your website or blog need a new look?  Does it work the way it's supposed to on desktops, smartphones, and tablets? Our friend Dennis Wilen can help. Email dwilen@yahoo.com and tell him Deb sent you!
Like Michael Wiese Productions on Facebook to learn about contests, workshops, special events, and new releases.
Payam Salehi is the Founder of Anam Cara, a writing startup that's a cross between Meetup and Masterclass.com. It is focused solely on writing with community. They have a 5-Week Online Writing Class, called a "Writing Quest," starting soon. Use the promo code: "writeon" to receive $20 off.
POPS the Club, a nonprofit that creates, trains and supports clubs in high schools for students whose lives have been impacted by incarceration and deportation now serves nine schools in the L.A. area, as well as schools in Pennsylvania, Northern California, and Minnesota. Get more information.
Have you lost a working or companion animal? Porsche Charities is a non-profit that offers no-cost group grief-counseling. Learn more on their blog.
Shannon Luders-Manuel recently added Sensitivity Consultant to her services. If you have black and black/mixed characters and want a sensitivity read, contact sludersmanuel@gmail.com for more information.
* * *
Do you need to make a life change, but are afraid of charting a new course? Are you overwhelmed by too many projects? I can help. Together, we will figure out your mission, set reasonable goals, and then create a plan to make the life you want happen. Get information on my coaching services. Contact me, Deb, to get started.
Tags:
Debra Eckerling
Mango Publishing
Newsletter
Scribd
The Bookfest
The D*E*B Method
Women's National Book Association
Your Goal Guide