This week's Write On! Q&A is with Jen Jones, author of Judy Blume: Fearless Storyteller for Teens (part of the "Authors Teens Love" series). Jones, a Los Angeles-based freelance writer and author with more than 30 middle-grade non-fiction books to her credit, is a trained life coach and teaches writing classes for MediaBistro, StoryStudio Chicago, and the Creative Dig.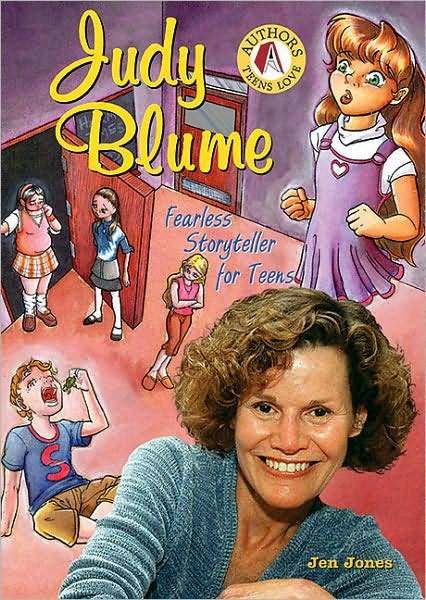 Why did you write a book on Judy Blume? How did that come about?
It is actually a story of networking at its finest! I had just joined the Society of Children's Book Writers and Illustrators and was browsing the website one day when I came across a memorial for Paula Danziger (an amazing YA author). As I was reading the tributes from other writers, I noticed a posting from an author who mentioned that she was writing a biography of Danziger for a book series called "Authors Teens Love." As an avid YA fan, I thought to myself, "I would LOVE to work on a series like that." I took a chance and emailed her to introduce myself and see if she would provide me with her editor's name. She was kind enough to write back and do so, and the next day, I emailed the editor with a note about some of my favorite authors (Blume chief among them), how they'd influenced me, and my desire to profile the people behind the pen. He wrote me back that it was good timing—they were seeking someone to do the Blume installment. And it went from there.
Another fun part of the process happened after it was published, when we did a book launch party with MediaBistro. Several of my actress friends stepped up to the plate to do monologues based on Blume books, and the musical comedy group Hero Style performed a song in tribute to Are You There, God? It's Me, Margaret. It was amazing to see how many people of all ages really connect to Blume's work and consider it an integral part of their youth!
What was your favorite part of the process?
My favorite part of the process was revisiting all of Blume's novels and learning more about her life. (And coveting it to some degree—I'd love to have a tranquil writing cabin in Martha's Vineyard and homes in Central Park and Key West!) I'd grown up riveted to books like Blubber, Are You There, God? It's Me Margaret, and Forever, and now I had a chance to read them again from an entirely different perspective. I also gained an appreciation for how timeless her books are and her ability to capture the teen voice so authentically.
When did you first catch the writing bug?
I caught the writing bug as a pre-teen; my family had a Coleco ADAM computer (am I aging myself?) on which I spent all my free hours typing out dozens of Sweet Valley High-esque novels. I also wrote plays and short stories, as well as fake magazine articles. My obsession with writing continued well into high school, where I dreamt of helming the "Reader-Produced Issue" of Sassy. By the time I reached college, I knew I wanted to major in magazine journalism and later received my degree from the E.W. Scripps School at Ohio University. Though I never thought I would actually become an author, I knew that writing would always be central to whatever profession I chose.
What specific differences are there in writing for the teen and tween market?
The first thing that comes to mind is the scope of a project—a book I write for the tween audience may be 2,000-3,000 words, whereas my books aimed at teens have been 16-18,000 words. To date, I have only been published in the non-fiction arena, which has less of a marked difference in my opinion. Age-appropriate content or "edginess" seems to come into play more for fiction writers, whereas on the non-fiction end, the reading level and topics of interest seem to be what differentiate projects for tweens and teens.
With your lifestyle, entertainment, and dance background, you appear to be the epitome of diversification. How does that work for you? How do all your elements of expertise work together?
It works beautifully, although it is a lot of hard work and many hours! I feel lucky that many of my projects truly ARE passion projects; I get to explore topics that fascinated me as a girl and still do: Judy Blume, cheerleading, gymnastics, dance, fashion, etc. For me, being a full-time freelancer means cultivating interests/skills/knowledge that are as diverse as the jobs you take on. In the past, I was lucky enough to have held full-time jobs in other industries besides publishing, such as entertainment, event planning, and creative services–now alongside writing books and magazine articles, I get to maintain my involvement on a freelance basis by working short-term on awards shows, copywriting for movie studios, etc. It is great when all of your worlds collide and I feel blessed to have been able to synergistically indulge so many professional aims!
At the heart of it all, though, is really an appreciation and love for the teen audience. That seems to be the common denominator among much for the work that I do, whether it be writing for Dance Spirit magazine, Capstone Press, Respect Rx, or many other clients.
Tags:
Author Q&A
Jen Jones
Judy Blume: Fearless Storyteller for Teens